From the experts who also bring you:



What are the Best Online Colleges?
Here at OnlineColleges.com,
your needs are important to us. When we rank online colleges, we place importance on factors that are relevant to nontraditional students – those who are more likely to be interested in attending college online. In addition to tuition costs and graduation rate, we consider factors such as number of fully online degree programs offered, the availability of tuition payment plans, and whether credit is offered for military or life experience.
Explore Online Colleges Offering Your Chosen Major!
What Are Online Colleges?
What is an online college? Here at OnlineColleges.com, we don't define an "online college" as a college that only exists on the internet. An online college might have a physical campus, or no campus at all. It might run on a semester system, or a quarter system, or its own unique system. It might offer one online degree program, or a hundred. Every student's needs are different, and every student should decide what kind of college best meets their individual needs.
In order for a school to be featured on our rankings and in our tools, they must meet the following criteria:
They
must
offer at least one degree program that can be completed fully or partially online.
At least 1 percent of their student body
must
be enrolled in distance learning courses.
What Should I Know About Online Colleges?
Similarities to traditional colleges:
Quality of education
Rigor of study
Credibility of degree
Wide range of programs
Communicating with instructors
Connecting with classmates
Advantages to online colleges:
Flexibility
With fewer constraints on time and place, students can organize their studies to learn whenever and wherever is convenient for them.
Affordability
If you have your heart set on a school in another city or state, see if that school offers online programs. Attending that school may be easier than you think!
No need to move
Commuting costs may be less relevant if you are attending school online. Some colleges even charge in-state tuition for online students, regardless of a student's state of residence.
Accessibility
Health or mobility issues can make navigating a campus a difficult proposition. An online program can allow a student to focus on their education without such challenges.
ONLINE COLLEGES:
Who's a Match for Online Colleges?
Students with Family Commitments
Family priorities such as a child or a sick parent to care for can make it difficult to commit to regular campus attendance. An online program can be a more doable prospect.
Returning Students
Students returning to school after a long absence might feel more comfortable getting back into academics from the comfort of their own home, rather than in a crowded classroom.
Working Professionals
Working professionals can have unpredictable schedules, or be sent off on long business trips on short notice. A flexible online program can help with working around a busy career.
Students Who Learn Differently
Not all students perform well in a rigid academic schedule. For example, students who work better at night might appreciate being able to set their own timetable and change it when necessary, rather than running on school-regulated hours.
Types of Online Degree Programs:
Online Course Delivery:
Synchronous:
Lecture is held at fixed times like an on-campus class, through online chat or video conferencing. This can be useful to students who prefer a regulated class schedule.
Asynchronous:
Lectures are typically pre-recorded and can be watched online. This can be preferable for students who are looking for full flexibility in their course schedule.
Hybrid:
Online lectures and assignments are mixed with in-person responsibilities. This may involve going to campus or utilizing a local facility or proctor.
Resources On OnlineColleges.com
Best Online Colleges by State
Finding the best school for each individual is our mission at OnlineColleges.com. And who knows your needs better than you do? That's why we've developed the following resources, which can help you to find the school with the quality, the programs and the price point you need.
It may surprise you to know that 72 percent of online students attend a school within 100 miles of home. After all, with schools around the world only a click away, why stay local? As it happens, there are some good reasons to search for online colleges in your state:
You may understand a local college's reputation, quality and atmosphere better than that of out-of-state college.
In many cases, the availability of financial aid is based on your state of residence rather than your school's.
Depending on your choice of program and courses, you may need to visit your school's campus to take an important test or attend a crucial lab.
For these reasons, we've taken the time to rank the best colleges for each and every state in America. On each state page, you can find a list of the best online colleges in that state, along with state-specific information on accreditation and financial aid.
Tools

to help you find the right online college

College Comparison Tool

There's a lot to keep in mind when choosing an online college. Use our College Comparison Tool to select and compare schools you are considering. The tool displays details about online colleges – such as tuition costs, number of online programs and availability of services – in easily comparable columns.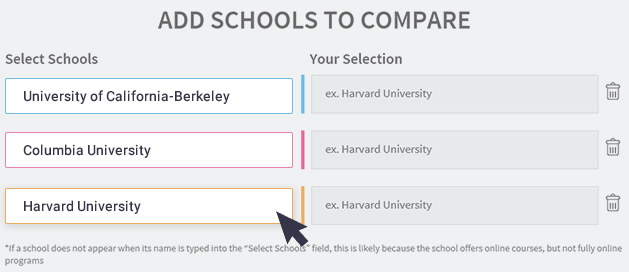 Online College Articles
The Best of Online Colleges
Discover our additional rankings of accredited online colleges based on different interesting factors, as well as rankings for other topics, such as popular degrees and growing careers.
Maryalene LaPonsie
|
January 5, 2019
Choose the best online college for you with data from our ranking.
Maryalene LaPonsie |
March 20, 2019
Megan Horner |
October 31, 2019
Financial Aid
Learn about grants, loans, scholarships and other common hallmarks of financial aid, such as the FAFSA. This section also offers advice on where to find financial aid and how best to utilize it.
Kenya McCullum
|
November 1, 2017
Financial aid can be complicated, but these 6 tips are simple.
Maryalene LaPonsie |
February 21, 2019
OnlineCollege.com Staff |
February 14, 2019
Online Colleges Insights
Find test-taking tips, glossaries, academic guides, career advice and other information that doesn't fall into one of our other sections.
Maryalene LaPonsie
|
July 4, 2019
First time applying for college? Let's walk through the process.
Anna Baluch |
June 17, 2019
Dawn Papandrea |
November 1, 2017