Individuals seeking to make an impact on the world might consider majoring in political science — which, according to the American Political Science Association (apsanet.org, 2013), is "the study of governments, public policies and political processes, systems, and political behavior." Political scientists can specialize in one of the many aspects of this wide-ranging profession, such as American politics or international relations, and may find themselves lobbying for the interests of their organizations in Washington, D.C.!
Political science majors aren't limited to becoming political scientists, either. An online degree in political science could serve as a solid foundation for becoming a teacher or tackling more advanced studies, such as law school.
Best Online Colleges for Political Science in 2018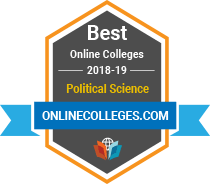 Learning how to conduct thorough research is an integral part of a political science degree program. However, students should start basic research well before the first day of school... in order to find the best political science program to meet their needs.
The following Top 10 list was created to take some of the legwork out of finding the right school for your online political science studies. We analyzed several schools offering online political science degree programs to ascertain which schools are the best for distance and nontraditional students. Our data is pulled directly from the National Center for Education Statistics' Integrated Postsecondary Education Data System (IPEDS), and details on our proprietary methodology can be found at the bottom of this page.
1
University of Central Florida
Distance Education Participation
58%
Number of Programs Offered
45
Between affordable tuition, a high graduation rate, and the number of political science degrees its students successfully earn (also known as "prominence,") it's no surprise that the University of Central Florida grabs our coveted No.1 spot. UCF has over 20 years of experience in the world of online higher education, and the school clearly knows how to support its online students for success. Not only do the same faculty teach the online classes as the on-campus ones, but UCF students have access to online tutors and academic advising.
Students pursuing a Bachelor of Arts in Political Science have the choice of three tracks of study:
American Politics and Policy
International Relations - Comparative Politics
Prelaw
All three tracks include a core of required courses at the introductory and advanced levels; elective courses that offer the chance to explore areas of interest; and a year of foreign language study. Students who perform exceptionally may be offered the opportunity to participate in an internship at a government or law office or campaign headquarters.
Accreditation:
Southern Association of Colleges and Schools Commission on Colleges
Location:
4000 Central Florida Blvd.
Orlando, Florida, 32816
2
University of Nebraska at Omaha
Distance Education Participation
52%
Number of Programs Offered
23
The University of Nebraska at Omaha, or UNO, offers two fully online options for students of political science. At the bachelor's level, UNO students can earn an online Bachelor of General Studies degree with a concentration in political science. In addition to general education courses, students take 30 credit hours in political science. Undergraduates interested in going on to graduate education can work with advisors to craft a program that meets those academic requirements.
UNO offers an online Master of Science in Political Science as well, with the option for a thesis or non-thesis track. A graduate certificate in Intelligence and National Security or Global Information Operations can be combined with this program. Additionally, students can choose an International Affairs Concentration.
Ranking 5th in prominence and 8th in admissions rate helped UNO rise high on our list. UNO also boasts award-winning faculty, with a student-to-teacher ratio of 17:1 at the undergraduate level, 13:1 at the graduate level.
Accreditation:
Higher Learning Commission
Location:
6001 Dodge Street
Omaha, NE 68182
3
University of Massachusetts-Dartmouth
Distance Education Participation
15%
Number of Programs Offered
12
Part of the well-regarded University of Massachusetts system, the University of Massachusetts-Dartmouth is a public research university. In keeping with that focus, its bachelor's program in political science places an emphasis on teaching solid research skills. UMassD also focuses on making quality education accessible. Not only did the school rank 2nd for tuition, it also has the Success by Degrees scholarship program, which waives 33 percent of qualifying students' tuition in order for them to complete a bachelor's degree through University Extension. UMassD further supports its online students with one-on-one advising and free online tutoring.
The political science bachelor's degree completion program accepts students with at least 24 hours of college credit. Students can apply up to 75 transfer credits toward this degree. Students are also asked to complete an internship as part of this program, with the location selected by the student and confirmed with the school's political science department.
Accreditation:
New England Association of Schools and Colleges
Location:
285 Old Westport Road
Dartmouth, Massachusetts 02747-2300
4
University of Wisconsin-Whitewater
Distance Education Participation
33%
Number of Programs Offered
2
Ranked 5th in our metrics for its admission rate and 6th for its graduation rate, the University of Wisconsin-Whitewater likes to say it supports students "from application to graduation." This includes academic advising, support for students with special needs and financial aid support.
At UW-Whitewater, students can pursue a Bachelor of Arts or a Bachelor of Science in Political Science online. Both courses of study present a wide breadth of topics in the field and introduce various research methods. The school also encourages students to concentrate their studies on the areas they find most interesting. Along this journey, students may find themselves participating in research projects or gaining practical experience through internships.
If you're considering this school, note that the online bachelor's degree at UW-Whitewater is a degree completion program. This means that not all of the program can be completed online through UW-Whitewater alone; most participants hold an associate degree or transfer credit before enrolling. If you want to complete the entire degree online and don't have existing transfer credits, consider getting the start you need by taking classes on campus at UW-Whitewater or online through the distance education institution University of Wisconsin Colleges Online.
Accreditation:
Higher Learning Commission
Location:
800 W. Main Street
Whitewater, Wisconsin 53190-1790
5
Fort Hays State University
Distance Education Participation
81%
Number of Programs Offered
37
With over 20 years of experience in delivering online education, Fort Hays State University's suite of student services is evidence of their commitment to online learning. FHSU offers a fully online Bachelor of Arts in Political Science, intended to balance theory and research. Internship opportunities offer students the opportunity for practical experience outside of the classroom. The home of the university's online education, the Virtual College, offers many amenities to online students:
Online orientation
Online, personal academic advising
Online career exploration with an online assessment tool and other resources
FHSU wants online education to be as accessible as possible, which might explain how they produced the numbers to be ranked 4th in admissions and 7th in affordability. Students access their courses through the Blackboard learning management system, and connect with professors and peers using Skype, email and online discussion tools.
Accreditation:
Higher Learning Commission
Location:
Hammond Hall 201, 600 Park Street
Hays, Kansas 67601
Distance Education Participation
37%
Number of Programs Offered
16
Misericordia means "heart of mercy." Open to students of all faiths, Misericordia puts the values of mercy, service, justice and hospitality at the center of its educational mission. The school boasts high freshman retention rates and ranks 2nd for both its graduation rate and its prominence ranking.
Online learning at Misericordia is geared toward adult learners with at least some college or an associate degree. The university works with prospective students to maximize transfer credit, in some cases offering college credit based on a student's life experience. Misericordia is also dedicated to providing students with merit- and needs-based financial aid.
This university's fully online courses are either seven or fifteen weeks in duration and are offered asynchronously, meaning students access content when it is convenient to them and at any time. Meanwhile, their hybrid courses combine two or three face-to-face classes with online classes, allowing students to give the online format a test drive rather than forcing them to commit to a fully online course if desired.
Accreditation:
Middle States Commission on Higher Education
Location:
301 Lake Street
Dallas, PA 18612
Distance Education Participation
49%
Number of Programs Offered
47
Troy University's commitment to distance education dates back to the 1950s, and Troy has been delivering online education for over 20 years. Boasting the second-highest admissions rate for prospective students out of all the colleges we surveyed, Troy clearly strives to make online learning accessible for its students.
Troy has three online degree programs in political science. The first is an Associate of Science in General Education-Political Science. The other two degrees are at the bachelor's level: the first is in American politics and public administration, and the second is in international politics. Considering that the school was able to award enough political science degrees to make it to 8th place on our prominence metric, the curriculum for these degrees must be doing something right in engaging its students!
Accreditation:
Southern Association of Colleges and Schools Commission on Colleges
Location:
600 University Avenue
Troy, Alabama 36082
8
University of Illinois at Springfield
Distance Education Participation
65%
Number of Programs Offered
24
The University of Illinois at Springfield's online bachelor's degree in political science curriculum mirrors that of its traditional on-campus counterpart in that they have identical curriculum. All courses, regardless of whether they are on-campus or online, are taught by the same faculty. In addition to the bachelor's degree, UIS offers a fully online political science master's degree and a fully online political science minor.
UIS is ranked 6th in prominence and 11th for its graduation rate. Course content for both the online bachelor's and master's programs are delivered using a combination of synchronous and asynchronous methods via the Blackboard learning management system. Students engage with their peers and professors through discussion boards and other collaborative learning tools.
It's important to note that students must have a minimum 3.0 GPA and reside at least 50 miles outside of Springfield, Illinois to be eligible for admission to either of these programs.
Accreditation:
Higher Learning Commission of the North Central Association of Colleges and Schools
Location:
One University Plaza
Springfield, Illinois 62703-5407
9
American Public University System
Distance Education Participation
100%
Number of Programs Offered
154
Originally founded in 1991, the American Public University System has a particular focus on educating our nation's military and public service professionals. And, APUS places an emphasis on preparing students for leadership roles within their future careers.
The school has a 100 percent admissions rate due to its open admissions policy. Its programs are designed to offer the flexibility that many students who are also military personnel or public service professionals require. APUS extends this concept of flexibility even further by facilitating learning for students around the world, even those stationed overseas. While APUS boasts a close connection with the military, civilians find a home here alongside active-duty soldiers and veterans.
APUS offers an entirely online Bachelor of Arts in Political Science. Because of the school's interest in service-minded professionals, it's worth noting that pre-law students at APUS may want to consider enrolling in this program as a springboard to pursuing a Juris Doctorate. It ranks 15th out of 37 schools for tuition as well as for prominence.
Accreditation:
Higher Learning Commission
Location:
111 W Congress Street
Charles Town, West Virginia 25414
Distance Education Participation
15%
Number of Programs Offered
N/A
Ask anyone to name the most prominent school in the country and it's likely that Harvard University tops their list. No surprise that Harvard ranks first place for prominence with OnlineColleges.com, too. It also boasts first place ratings for its graduation rate. If it weren't for high tuition cost and low admissions rate, this esteemed college would surely have ranked number one on our list.
Online students will find they can get the best of what's inside those iconic, ivy-covered halls through Harvard University's Extension School, where they can pursue a Bachelor of Liberal Arts in Government or a minor in that subject. Also available through Harvard Extension is a similarly structured master's degree program in government.
Many of Harvard Extension's courses are offered online through video lectures or streamed live on the web, but there is a caveat: students will need to complete at least 16 credit hours on-campus. Students can opt for traditional semester-long on-campus courses; active learning weekend courses; or courses that combine weekly online instructions with weekend intensives on campus.
Accreditation:
New England Association of Schools and Colleges
Location:
Massachusetts Hall, 51 Brattle Street
Cambridge, Massachusetts 02138
Degree Overview: Political Science
The goal of political science programs is to give students a deeper understanding of the current political climate while helping them develop key skills for a career in that climate. This page explores the curriculum that may be found in political science programs and the skills they foster.
Online Political Science Courses
From presidents to public policy to political theory, there are a wide range of courses that students enrolled in an online education for political science may want to take, based on their interests and career goals. The following are examples of possible subjects students will find in their political science departments.
International relations: This subject studies the ways different countries deal with conflict and cooperation. Classwork may include topics like war and diplomacy, terrorism, trade policy, poverty and ethical considerations national leaders have when dealing with other countries.
Comparative politics: Students who are interested in how other nations' political systems compare to the United States may be interested in courses in comparative politics. People who enroll in this class may study political change; instability and war; prosperity and peace; representative structures; and empirical theories about politics.
Public administration: Those who want to pursue public administration careers will want to take courses in public administration in order to learn the basics. The curriculum for these classes may cover how public service organizations work; the differences in how policy is made on the local, state and federal levels; international public policy strategies; and governance.
American politics and government: A multifaceted and controversial topic to be sure, it's always good to have the facts about the country you live in. These classes may cover topics such as the role Congress, the president, and courts play in American governance; the ideologies and goals of different political parties; major governmental institutions; federalism; voting laws; and campaign finance and lobbying.
Mass media and politics: A point of interest for political science and communications majors alike, courses in this area are meant to examine the role newspapers, radio and television have played in politics in the past, as well as how new media is changing the landscape of political coverage.
Career-Related Skills to Develop
Online political science degree programs work to foster a variety of skills needed in different areas of the political workforce. Students may want to take the opportunity to polish the following skills in their courses before they graduate from their programs.
Technology: It's virtually a given that modern political scientists will end up using analytical and scientific software to do their job. Technology skills are required to master programs such as SPSS, JudgeIt II, DataMystic TextPipe Pro, StataCorp Stata Hot and WinBUGS.
Learning and Research: Political theory is constantly evolving, so professionals need to have the intellectual curiosity and research skills to discover the new ideas being presented in this fast-moving industry. Doing research and absorbing information during political science programs helps to develop these learning skills, making it easier for graduates to keep pace with the innovations that will inform the work they do.
Social Perceptiveness: One poorly chosen word in a political speech can bring a promising politician crashing down into ignominy. Whether you are that politician, the politician's speechwriter, or a political scientist studying that politician's faux pas, understanding how people will react to a particular viewpoint or situation — or why they reacted in a specific way to said viewpoint or situation — is critical to success in the field. As one of the primary concerns of the field and its programs, students may be able to glean some insight into this complex subject during their studies.
Writing: Political scientists need strong writing skills to construct publishable research papers that explain the work they did and the conclusions they came to during their studies. The writing required for assignments in a political science program is a perfect way to sharpen those skills before the public — a harsher grader than any teacher — gets ahold of them.
Political Science Career Outlook
Political science is a very popular career with a lot of hopefuls looking to break into it. Earn your degree and work to stand out from the crowd if you want to make a name for yourself in this exciting field!
Projected Job Openings
800
Entry-level Education
master's degree
Political scientists study political systems used around the world. They dive deeply into the origins, development, and operation of local and national governments, then use the patterns and trends they discover to advise politicians and design policies. These professionals have their finger on the pulse of the political scene, and they use their knowledge and observations to bring about improvements in governments, administrations, laws and protocol.
More than half of political scientists work for government agencies, while the remainder are spread across professional, scientific, technical and educational firms.
Projected Job Openings
1,800
Entry-level Education
master's degree
Economists research trends in the distribution of resources among citizens so they can make predictions about the future of our economy. After completing their research, they prepare reports that illustrate their results. They advise businesses and governments on economic problems, design policies that solve economic issues and write professional articles for newsletters and academic journals. While economists focus a lot of their energy on finances, their research also helps them offer expert advice on other fields, including health care, education and the environment.
Since many businesses need this type of expertise, economists are employed in a wide range of fields, including government entities, scientific and technical consulting, scientific research and development, finances and insurance. While most economist careers begin with a master's degree or Ph.D., the Bureau of Labor Statistics notes that some entry-level careers are available for workers with a bachelor's degree.
Methodology
To be included in these rankings, all colleges had to meet the following criteria for the specific subject being ranked:
Offer at least one degree or certificate in that subject online
Have awarded at least one degree or certificate in that subject in 2015-16
Once we had our list of schools for each subject, we ranked them on six criteria:
In-state tuition, National Center for Education Statistics, 2015-16
Graduation rate, National Center for Education Statistics, 2015-16
Accessibility, based on the admissions rate, National Center for Education Statistics, 2015-16
Program prominence, based on how many of the degrees and certificates awarded by the school in 2015-16 were in this particular subject, National Center for Education Statistics, 2015-16
Related subjects, based on the number of similar programs that the school offers at any level, National Center for Education Statistics, 2015-16
Variety of degree levels, based on the number of degree and certificate levels out of a possible nine that the school offers in this particular subject, National Center for Education Statistics, 2015-16
Methodology Sources
Integrated Postsecondary Education Data System (IPEDS) 2017-18, National Center for Education Statistics, http://nces.ed.gov/ipeds/
X