Paralegals and legal assistants are integral to keeping law offices, courts and other types of government offices around the country running smoothly. Law firms in particular often employ paralegals to handle anything from interviewing clients to helping an attorney prepare for trial. Specialization among paralegals and other legal experts is common, and can include real estate, accounting, social services and more.
Most employers prefer an applicant who holds at least an associate degree in paralegal studies, though legal assistants and paralegals are sometimes trained on the job instead. Students who plan to juggle school with a full- or part-time job, or even with family responsibilities, might find an online degree program to be a convenient method to earn an education in the field.
Best Online Colleges for Paralegal Studies in 2018-19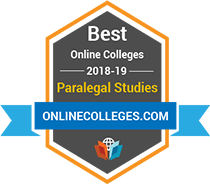 Finding online colleges for paralegal studies isn't difficult… but finding the right one can be. All students have their own individual needs, and they must keep in mind that not every program out there can meet those needs. In order to help future paralegals make this important choice, we've identified a list of the best colleges for paralegal studies. This list was constructed using a proprietary methodology made by OnlineColleges.com (more details at the bottom of this page) and using data from the National Center for Education Statistics' Integrated Postsecondary Education Data System (IPEDS).
1
Kaplan University-Davenport Campus
Distance Education Participation
100%
Number of Programs Offered
114
*NOTE: Kaplan University has merged with Purdue University Global since this list was made. Please contact Purdue Global University to learn whether the merged school can still fulfill your needs.
Kaplan University offers a post-bachelor's paralegal certificate program that is designed for students who want to earn positions as paralegals or legal assistants. The core curriculum of this program includes legal communications, research, ethics and evaluating legal resources. Multiple start dates are available each year for this certificate program, which requires between 36 and 37 credits to complete.
Accreditation:
Higher Learning Commission
Distance Education Participation
90%
Number of Programs Offered
127
Liberty University is a private Christian college located in Lynchburg, VA. Nestled in the scenic foothills of the Blue Ridge Mountains, Liberty University's Convocation convention is the largest gathering of Christian college students in America. Programs at Liberty University are taught from a Christian worldview by professors who view teaching as ministry, including the university's online programs.
Through Liberty University Online, students can access three different pathways in legal studies:
Associate of Arts in paralegal studies (60 credit hours)
Bachelor of Science in paralegal studies (120 credit hours)
Undergraduate certificate in paralegal studies (18 credit hours)
Accreditation:
Southern Association of Colleges and Schools Commission on Colleges
3
Eastern Kentucky University
Distance Education Participation
42%
Number of Programs Offered
45
Founded in 1906 in rural Richmond, Eastern Kentucky University has since expanded its statewide footprint with campus locations at Manchester, Hazard, Lancaster and Corbin. Online programs offered through EKU Online have six start dates each year to better accommodate students, and they run in eight-week terms.
EKU's associate, bachelor's degree and post-baccalaureate programs in paralegal studies are delivered primarily online -- however, 10 hours of study must be completed at a campus location for each program. Students can also benefit from dedicated online academic advisors, active job placement assistance and other resources.
Accreditation:
Southern Association of Colleges and Schools Commission on Colleges
Distance Education Participation
8%
Number of Programs Offered
24
Hampton University is a private, historically black university with a rich history. It was founded in 1868 and is home to the Emancipation Oak, an oak tree where the first southern reading of the Emancipation Proclamation was made. It is fitting that this site of such legal importance should also be host to educational opportunities in paralegal studies.
An online Bachelor of Arts degree program in paralegal studies can be pursued through Hampton University, requiring 122 credit hours for completion. The program has an emphasis on verbal and written communication, research techniques and critical thinking. A 30-credit hour certificate program is also available; courses from this program that are passed with a grade of "C" or better can be transferred to the B.A. program, if desired.
Accreditation:
Southern Association of Colleges and Schools Commission on Colleges
5
Western Piedmont Community College
Distance Education Participation
59%
Number of Programs Offered
9
Western Piedmont Community College is a member of the North Carolina Community College System, and its Associate of Applied Arts in paralegal studies program is the only paralegal degree program in the state that's offered entirely online. In addition to legal coursework, students also study English, math and use of computers. Although some of the courses for the program still require face-to-face instruction, these classes are delivered via videoconferencing software. In this manner, distance learners can satisfy the program requirements without being forced to travel to campus.
Accreditation:
Southern Association of Colleges and Schools Commission on Colleges
6
Georgia Piedmont Technical College
Distance Education Participation
53%
Number of Programs Offered
52
Georgia Piedmont Technical College has been educating residents of greater metro Atlanta since 1961. It's the oldest college in the 22-member Technical College System of Georgia.
GPTC's Associate of Applied Science program is taught at campus locations in DeKalb, South DeKalb and Newton, as well as online. Students must pass English with a C grade and attend a paralegal orientation to be admitted into the program, which requires 69 credits to complete. As of 2018, GPTC has transfer agreements with 25 different four-year colleges, helping paralegal students to continue their education at the baccalaureate level after completing the program.
Accreditation:
Southern Association of Colleges and Schools Commission on Colleges
7
Mount Wachusett Community College
Distance Education Participation
34%
Number of Programs Offered
11
Though it is a two-year college, Mount Wachusett Community College can still be a good choice for a student who is looking to earn a bachelor's degree in paralegal studies. This is because "the Mount" has many transfer agreements in place with other regional colleges. MWCC students can complete a 60-credit associate degree program at the Mount, then transfer to a university through one of these transfer agreements and complete 60 more credits and thereby their bachelor's degree.
When it comes to paralegal studies, MWCC offers two online programs: an associate degree program in legal studies, and a paralegal certificate program. The associate degree program takes 60 to 63 credits to complete, and the certificate program requires 28.
Accreditation:
New England Association of Schools and Colleges
8
Clovis Community College
Distance Education Participation
50%
Number of Programs Offered
22
Clovis Community College was founded in 1969 as a branch campus of Eastern New Mexico University at Clovis High School. A new campus opened in 1980, and since then CCC has been its own independent institution, offering online and on-campus education across the United States.
This college offers an online Associate of Applied Science degree program in legal assistant studies, which requires 62 credits to complete. The curriculum includes general education requirements such as public speaking and introductory psychology, with core coursework in legal writ, litigation, criminal law and more.
Accreditation:
Higher Learning Commission
9
Cerro Coso Community College
Distance Education Participation
57%
Number of Programs Offered
25
Cerro Coso Community College offers an online, two-year paralegal studies associate degree program, which is designed to teach students the skills they need in order to work as paralegals, legal assistants and legal document preparers. The curriculum for this program focuses on subjects such as legal research, civil procedure, law office management and legal ethics, with courses that address specific areas of the law: bankruptcy, criminal, family, probate and workers' compensation, to name a few.
In addition to the online associate degree program, Cerro Coso Community College also offers an online certificate program in paralegal studies. This shorter program and its more narrow focus may be more suitable for law-working professionals who are looking to earn a different position in their workplace, or for other professionals looking to change careers into a more law-oriented position.
Accreditation:
Accrediting Commission for Community and Junior Colleges
Location:
3000 College Heights Blvd.
Ridgecrest, California 93555-9571
10
Bryant & Stratton College Online
Distance Education Participation
98%
Number of Programs Offered
33
A private, for-profit college founded in 1854, Bryant & Stratton College hosts asynchronous online programs for distance learners and splits them into seven-and-a-half week sessions. The school operates on a 15-week semester schedule, but encourages students to take their courses in pairs. This allows students to take a full course load every semester, while still only focusing on two classes at any given time.
Bryant & Stratton College offers an online associate degree in paralegal studies that requires 60 credit hours to complete, 39 of which must be in the program major. The college also offers an online paralegal certificate program with six different concentrations, including domestic law, civil litigation, criminal litigation and business litigation.
Accreditation:
Middle States Commission on Higher Education
Degree Overview: Paralegal & Legal Services
Although lawyers are the face of a firm, paralegals help ensure a practice runs like a well-oiled machine. This is a big responsibility, and online colleges for paralegal and legal services have a lot to impart to help their students meet this challenge. This page provides a look at what may be taught in these programs and how it might prove useful for graduates looking for their careers.
Online Paralegal and Legal Services Courses
While the coursework that paralegals complete will depend on the specific program they enroll in, the following are examples of common classes students may take while earning their online paralegal and legal services degrees.
Legal research and writing: These classes are dedicated to interviewing witnesses; using Westlaw and LexisNexis systems; describing rules of evidence and trial procedure; properly formatting legal citations; conducting business and financial searches; writing demand letters and promissory notes; and learning to understand case information and statutes.
E-discovery: E-discovery is the process where parties of a lawsuit share information electronically. In order to teach students how this process works, a course in this subject may include topics such as internal and external litigation holds, e-discovery plan strategies, metadata and its uses, data preservation and protection methods, and the Federal Rules of Civil Procedure.
Criminal law: An essential component of this field, criminal law classes explore the role paralegals play when they assist attorneys with criminal cases. Students may be given information on the intake process; what happens during the pre-trial, trial, and post-trail stages of a criminal case; types of charges and defenses; and legal guidelines for obtaining evidence.
Professional ethics: Just as lawyers are expected to work by an ethical code of conduct, paralegals are expected to adhere to the guidelines of their profession. Courses in ethics might explain conflicts of interest, legal malpractice, the boundaries of the attorney-client relationship, unauthorized practice of law or what kinds of information are considered confidential.
Law office procedure: This class is designed to familiarize prospective paralegals with the realities of working in a legal environment. Associated subjects include file management, docket control, billing procedures, case management and types of legal office computer programs.
Career-Related Skills to Develop
In order to provide assistance to attorneys, paralegals need a battery of skills. This section provides an overview of some of the skills that student paralegals may want to pay particular attention to during their online courses.
Writing: Paralegals are responsible for drafting a variety of documents, such as briefs, contracts, wills, pleadings and real estate closing statements. Strong writing skills are required to accurately convey the information needed in these documents.
Communication: In addition to communicating with attorneys they work for, paralegals also regularly communicate with clients and witnesses. They must have the skills to speak to people in a professional manner to be successful.
Technology: Budding paralegals can benefit from proficiency in several computer programs, such as LexisNexis CodeMaster, Thomson West ProLaw, LexisNexis CourtLink Strategic Profiles, Thomson Reuters LiveNote Stream, The Sackett Group MacPac for Legal, American LegalNet USCourtForms and ProForce Paralegal Pro-Pack.
Organization: Law offices are busy, so chances are good that paralegals will be assisting more than one attorney or helping with more than one case at a time. They must be able to juggle several tasks, meet various deadlines and adjust their schedules accordingly as needs change.
Paralegal Studies Specializations
Paralegals are not required to obtain a certification in order to find employment; however, some employers prefer professionals with an industry credential, so earning one can be a wise move. The following associations offer certifications for workers in the field:
The National Association of Legal Assistants has a certification for those who pass a qualifying examination that covers areas such as legal research, industry ethics, contracts, civil litigation and communication.
The National Federation of Paralegal Associations offers the CRP™ and RP® certifications. In order to earn a CRP™, professionals must pass the Paralegal CORE Competency Exam™ (PCCE™), which is designed for those who are in the early years of their career. More seasoned professionals are eligible for the RP® certification, which requires a passing grade on the Paralegal Advanced Competency Exam® (PACE®).
NALS offers the Professional Legal Secretary (PLS) and Certified Legal Professional (CLP) designations for those with three years of work experience, as well as the Professional Paralegal (PP) credential for people who have either completed an ABA-approved legal studies or paralegal studies program or have obtained five years of work experience.
Paralegal Studies Career Outlook
Those who pursue paralegal studies might do so in the hopes of becoming a paralegal. This educational path, however, prepares students for several related jobs as well. Here are a few positions a paralegal studies graduate might find intriguing.
Paralegals and Legal Assistants
Projected Job Openings
40,400
Entry-level Education
Associate's degree
Attorneys rely on paralegals and legal assistants to help them organize files, draft documents and conduct legal research. These legal professionals gather the facts of a case, summarize their findings for attorney review, assist in case preparation and obtain affidavits and other documents used in court. They contact those involved in a case to set up appointments, assist attorneys during the trial process and file legal documents on behalf of the attorney.
An associate degree in paralegal studies, or a bachelor's degree in another field as well as a certificate in paralegal studies, is often the minimum acceptable education for paralegal or legal assistant careers. However, those who have strong experience in a technical field useful to the attorney's firm might be hired without these educational requirements.
Title Examiners, Abstractors, and Searchers
Projected Job Openings
5,500
Projected Job Growth
-0.1
Entry-level Education
High school diploma or equivalent
These individuals must have intense attention to detail and a good eye for research. Title examiners, abstractors and searchers work for real estate companies, financial institutions, insurance companies, attorneys and the like, where they search real estate records, summarize legal or insurance documents, examine titles and explore other documents related to a particular assignment. They are well-versed in searching public and private records to find information pertinent to a specific piece of land and the buildings on it.
Though title examiners, abstractors and searcher careers can start with only a high school diploma, applicants should expect short-term on-the-job training to help them get up to speed with the particulars of searching and understanding their results. Job candidates who have an associate or bachelor's degree in a field that requires strong research skills may find that that background enhances their job prospects.
Projected Job Openings
14,300
Projected Job Growth
-20.9
Entry-level Education
High school diploma or equivalent
Secretaries in a legal office handle all the work a secretary is traditionally responsible for — answering calls, taking messages, setting appointments, arranging meetings, handling correspondence and keeping up with a detailed filing system — but they do so in legal offices, where they must have familiarity with the legal world. This knowledge of legal terminology and procedure may also allow the legal secretary to prepare documents under the supervision of an attorney or paralegal. They might also review journals and assist with legal research.
Though most secretaries can begin work without a college degree, legal secretary careers typically require a working knowledge of the legal world. This can often be obtained through on-the-job training. However, those who want to impress at hiring time could take legal-related courses to better understand the terminology and procedures of the court.
Methodology
Using the National Center for Education Statistics' Integrated Postsecondary Education Data System (IPEDS), we generated a list of colleges and universities that met the following four criteria for the specific subject being ranked:
Offer a degree or certificate program in that subject, either in an online or hybrid format
Have at least 1% of students attending some form of distance education
Have awarded at least one degree or certificate in that subject in 2016-17
Have reported data for all 11 ranking variables listed below
We ranked 1,813 colleges and universities in the United States on 11 criteria, using 2016-17 data from IPEDS:
Program prominence, based on how many of the degrees and certificates awarded via distance education in 2016-2017 were in this particular subject
Related subjects, based on the number of similar topics for programs in relevant CIP codes that are offered via distance education at any level
Ratio of students participating fully or partially in DE to Total Enrollment
Average in-state tuition for undergraduates
Graduation rate
Retention rate
The availability of any tuition plans (Payment, Prepaid, Guaranteed, Other)
Services (Academic/Career, Placement for Completers)
Credit offerings (Dual, Life, AP, Military)
Percent of undergraduate students awarded federal, state, local, institutional or other sources of grant aid
Average amount of federal, state, local, institutional, or other sources of grant aid awarded to undergraduate students
All schools were scored on a 10-point scale for each of the points listed above. Individual data point scores were then multiplied by their respective weights, and the scores were added together, for a maximum possible score of 10 points.
NOTE: Schools' tuition amounts are based on 2016-17 undergraduate and graduate data reported to the National Center for Education Statistics. The actual cost of tuition may vary.
X