It might be one of the most common dreams: making it big in movies or television. It's not an easy dream to attain — the film and television industry is extremely competitive, after all — and because of this, people are often encouraged to give it up and pursue something more stable and reliable.
However, you may not need to give up your dreams of fame just yet! Every year there are new films and TV shows being made, each in need of actors, writers, film editors and more. The advent of the internet celebrity has created opportunities for anybody with a camera. And online courses in the field have become available, making it easier than ever to learn the techniques of acting, screenwriting or filming that you need in order to stand out from the crowd.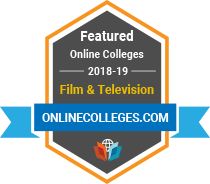 Featured Online Colleges for Film & Television in 2018-19
Students who aspire to write for the big screen or to act in their favorite TV show don't have to relocate to Hollywood to begin their careers. We compiled a list of five colleges that offer online degree programs in film and television to feature on this page by using data provided by the National Center for Education Statistics' Integrated Postsecondary Education Data System (IPEDS). You can learn more about the methodology we used for this list at the bottom of this page.
1
The University of Montana
Distance Education Participation
26%
Number of Programs Offered
12
University of Montana primarily serves residents of Missoula from its flagship campus in the state's largest city. The university has a much larger footprint through additional campus locations in Butte, Dillon and Helena, as well as its online college. Through the university's online School of Media Arts, students can pursue a Bachelor of Arts in media arts in which the required, general education, and elective courses can all be taken fully online. The degree plan detailed by the university is laid out in such a way as to take students through the principles of design in a well-ordered fashion, year by year:
Intent of Year One: Introduce the basic fundamentals of working with media art and several digital tools of the trade
Intent of Year Two: Explore the creative vision and how to convey it into artistic design
Intent of Year Three: Develop use of more advanced media tools with a focus on technology and the web
Intent of Year Four: Refine the topics and techniques of media in its various forms
Of the five schools we chose to feature on this list, University of Montana stands out for achieving the second-highest admissions and graduation rates, a combination that points to the college being both accessible and dedicated to its students' education.
Accreditation:
Northwest Commission on Colleges and Universities
Location:
32 Campus Dr.,
Missoula, MT 59812
2
Arizona State University-Skysong
Distance Education Participation
97%
Number of Programs Offered
100
More than 26,000 students were enrolled at ASU's popular Skysong campus in the fall of 2016. The university's fully online Bachelor of Arts in film and media studies program offers a range of discussion-based and writing-intensive courses in hopes of preparing its students for a wide range of potential jobs in the entertainment industry, including:
Story and production development
Media arts
Video game production
Film and television production and management
Film and media journalists
The program requires 120 total credit hours to complete, including 45 credit hours of upper-division coursework. Students can complete the degree in 10 terms by following the suggested course sequencing. Coursework is varied, from study in traditional film and scriptwriting to critical analysis of baseball documentary films. ASU also offers an online M.A.S. degree in American media and popular culture. The program requires 30 credit hours to complete, including nine credit hours in core courses and 18 credits in electives.
Accreditation:
Higher Learning Commission
Location:
1475 N. Scottsdale Rd., Ste. 200,
Scottsdale, AZ 85257
Distance Education Participation
90%
Number of Programs Offered
93
Grand Canyon University has campus locations in Arizona and New Mexico, and it serves a large student population through its online university. Through its College of Fine Arts and Production, GCU offers interested students an online Bachelor of Arts in digital film degree program with the choice of one of two different concentrations:
An emphasis on production
An emphasis on screenwriting
Regardless of concentration, this digital film program breaks down to require between 34 and 40 credits of general education, 60 credits in the program major, and 20-26 credits of open electives. In total, the program requires 120 total credits to satisfy degree requirements, an amount that is expected to take 48 months to complete for freshman students. If you have previous college credit to your name, you'll be pleased to know that students can transfer up to 90 approved college credits into the program.
Accreditation:
Higher Learning Commission
Location:
3300 W. Camelback Rd.,
Phoenix, AZ
Distance Education Participation
98%
Number of Programs Offered
74
Full Sail University has a long history in media: the school was originally founded as an audio recording workshop in 1979. The university serves more than 15,000 students each year from its campus in the Orlando suburb of Winter Park and through its online college, and quite a few of them are earning their degrees in film. In fact, Full Sail awarded the highest percentage of film and television degrees relative to its total degrees awarded in 2015 out of all five schools on this list.
Prospective film and television students at Full Sail have the option of two different bachelor's degree programs or a master's program in the subject:
Bachelor's in digital cinematography
Film bachelor's
Master's of Fine Arts in film production
The university is also noteworthy for its open admissions policy, a policy for accessibility that indicates that the school accepts any applicants so long as they have already earned a high school diploma or a GED certificate.
Accreditation:
Accrediting Commission of Career Schools and Colleges
Location:
3300 University Blvd.,
Winter Park, FL 32792-7429
5
Academy of Art University
Distance Education Participation
66%
Number of Programs Offered
103
Academy of Art University was founded in San Francisco in 1929 and began offering online classes in 2002. Regardless of your level of education, Academy of Art University has a film program for you: the institution offers associate, bachelor's and master's degree options in the study of motion pictures and television. Each program focuses on six core areas of study:
Directing
Editing
Production
Production design
Screenwriting
Cinematography
The A.A. degree requires 66 units to complete — expected to take two years — while the B.F.A. degree requires 132 total units to finish — which may take four years or longer. Academy of Art University offers a wider range of programs than any of the other schools featured on our list, and like Full Sail University, it subscribes to an open admissions policy, allowing the maximum range of students to make use of them.
Accreditation:
Western Association of Schools and Colleges Senior College and University Commission
Location:
79 New Montgomery St.,
San Francisco, CA 94105
Degree Overview: Film and Television
The behind-the-scenes film and television world is made of creative people, many of whom also possess technical knowledge. That's because telling a story involves both creative and technical parts. This section explores the courses that students could take in degree programs in film and television, as well as the skills that can be helpful to develop for a career in the field.
Online Film & Television Courses
Online programs for film and television cover numerous topics in the curriculum, which can vary by degree level and specific focus of a program. Examples of courses that could be found in an online education for film and television program are included below, but there can be others too, such as courses in motion graphics, sound design and lighting.
Script-writing development: Script-writing involves the basics of developing characters, building a plot, introducing conflict and using scenes to tell a story. The opportunity to use industry-standard software and to learn about formatting may help learners to build foundational film and television skills in the bargain.
Production planning: In a course focused on production and planning, students can learn the importance of pre-production for a project and begin to understand the entire production workflow. Included topics might cover logistics, planning and scheduling as well as set etiquette, safety and teamwork during the production phase.
Story-telling: A professional in the film and television world needs to understand the various components of a story. Rather than focusing on the written aspects of a story, as a script-writing course does, story-telling involves how art, directing, cinematography and producing also contribute to a story.
Post production: The process of creating film and television doesn't end once the cameras stop rolling. The processes of editing, sound and music, computer-generated special effects and focus group testing are collectively known as post production, and they are the subject of classes with the same name.
Career-Related Skills to Develop
Students who put in the hard work toward earning a degree in the field are usually doing so because they want to develop skills that will be useful for them in the industry. Here are some of the skills that may be helpful for aspiring film and television professionals to improve as they progress through their degree program.
Computer skills: A story can be changed entirely with the application of computer skills. Simply adding a cold blue sheen to a movie's lighting can completely change the movie's atmosphere and effect, to say nothing of creating whole characters or worlds out of computer generated imagery (CGI). Even if you're not intending to be the person manning the keyboard for these effects, understanding what can be done with programs such as Brightcove, Apple Final Cut Pro or Adobe After Effects is vital for fully comprehending what you can bring to your projects as a writer, director, producer, etc.
Creativity: Without a creative vision in mind, a story may come across as dull or unexciting on film. It is easy to fall into the trap of believing that creativity is for the writers alone, but professionals in film production need to keep their creative juices flowing whether they are designing a set, filming behind a camera or helping in the editing phase. Brilliant cuts between shots, the imaginative use of color, or sudden inspiration with the placement of a prop can elevate a piece to the level of genius; meanwhile, repetitive usage of shot-reverse shot, consistently samey lighting, or generic sets and costumes can sink the strongest script.
Time management: Nearly every film has to operate on deadlines in order to be produced. Professional films, in particular, are notorious for the strictness and severity of their schedules. You may resent the assignment deadlines for your film classes, but consider them practice for the deadlines you'll be scrambling to meet as you film your next blockbuster someday!
Production and processing knowledge: Professionals in film and television must know the processes for putting a film together, but also how costs, quality and distribution can come into play. As with computer skills, this whole-picture perspective is most important for the producers and directors who directly work with these aspects on a daily basis, but it is also important for fully understanding your role on any section of a film, from special effects to lighting to script-writing. Taking classes on all aspects of film-making, whether they are direct responsibilities of your intended career or not, can be extremely advantageous for this reason.
Film & Television Career Outlook
Film and television students have a wide variety of occupations available to them. From work in broadcast news to speaking to the public across the radio waves or internet to directing actors on a stage, there is no shortage of opportunity for those with a creative slant and flair for entertainment. Here are some of the most popular paths.
Projected Job Openings
900
Entry-level Education
Bachelor's degree
Though reporters and correspondents are often expected to provide unbiased news reporting, broadcast news analysts provide their opinion on events of the day. They might appear on radio and television, and their comments might appear in print. Most broadcast news analysts come from an area of expertise besides journalism; for instance, an analyst might have a strong background or education in medicine, law, politics or business.
Most broadcast news analyst careers are built over time as a person demonstrates their expertise in a subject. They are often hired on a contract basis to discuss a certain topic. Film and television students with a strong interest in a particular niche can be well-served by pursuing a degree in journalism as well as a minor that serves that niche. For instance, a student with interest in government might choose to pursue political science courses, while someone with interest in health care might choose to pursue courses in health administration.
Projected Job Openings
4,700
Projected Job Growth
13.9
Entry-level Education
Bachelor's degree
Film and video editors work with footage shot by camera operators and manipulate it to create an attractive final product. They work with a variety of editing software to organize and improve the footage, work closely with directors and producers to ensure their editing meets the expectations and vision on the creators, and help the camera operators determine the best way to shoot particular scenes or images.
Nearly all editing work is done on a computer, so film and video editors are usually well-trained on a variety of pertinent software. In addition to a having a bachelor's degree in a field related to film and television, film and video editor careers require a strong understanding of editing software and digital cameras, as well as other film mediums that might occasionally be used in the business. On-the-job training is quite common, and the most dedicated can prove their mettle through certifications.
Radio and Television Announcers
Projected Job Openings
4,000
Projected Job Growth
-7.3
Entry-level Education
Bachelor's degree
From the voices on the radio to the faces on early morning talk shows, radio and television announcers are dedicated to bringing information to their audience. They might work in a wide variety of formats, including delivering news, interviews with movers and shakers of the day, political or social commentary, information on community or sporting events and more. Other career options might include being a train or public address system announcer or an emcee.
Disc jockeys work in radio stations that provide music for listeners, as well as the occasional commentary or interview. Talk show hosts often specialize in a particular area of interest, such as politics or sports, often inviting guests to speak within their area of expertise. Much like those in talk radio, podcasters record shows that can be streamed by the listener at a time of their choosing.
Though some positions might only require a high school diploma, most radio and television announcers need a bachelor's degree in communication, broadcasting or journalism. No matter the position, on-the-job training is a requirement.
Projected Job Openings
12,800
Projected Job Growth
-0.1
Entry-level Education
Bachelor's degree
Someone has to write the incredible dialogue that comes from the world's most memorable films — that's the job of screenwriters. Screenwriters create scripts for television shows and movies, including original stories, dialogue and characters. They might adapt a book to the big screen or television, or might produce content for a variety of other formats, such as radio broadcasts. Screenwriters work closely with those in the entertainment industry to help ensure their vision comes to life in the way they intended.
The most important trait for screenwriters is strong writing skill; therefore, a college degree isn't a solid requirement. However, many companies who hire full-time screenwriters will require a bachelor's degree in journalism, communication, English or a related field. Experience matters a great deal, so film and television students with an eye on screenwriter careers should look into internships that can help beef up their resume.
Projected Job Openings
16,000
Entry-level Education
Bachelor's degree
Producers and directors work closely with actors, crew and other entertainment professionals to bring movies, television shows, stage plays and other performances to life.
Producers are in charge of the financial and business decisions. They raise money for the project, handle hiring the required personnel, set the budget, approve any major changes along the way and ensure the project is completed on time.
Directors handle the creative side of the project, including interacting with the cast and crew, leading rehearsals and helping actors figure out how to portray their characters. Those who work on documentaries might choose subjects, investigate the topic and interview experts on camera.
Though most producer and director careers begin with a bachelor's degree, experience is also of vital importance. Therefore, many producers and directors began their careers as actors, film and video editors, cinematographers, or even lighting and set crews.