If you want to help improve the way a corporation, nonprofit or other entity functions, you might want to consider an education in organizational psychology. While this field does have its basis in psychology and thus has a focus on analysis, research and statistics, you should also learn a lot about leadership, performance management and motivation. As an organizational psychologist, you can help to improve the qualify of life for employees, volunteers and staff members in the workplace, whether that means listening to concerns, solving problems or improving workplace processes and policies.
Featured Online Colleges for Organizational Psychology in 2018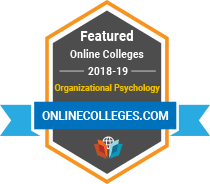 While many colleges and universities offer on-campus instruction for this field of study, online programs in organizational psychology are a rarity to come by. To make your search for the perfect school easier, we've collected this list of 10 featured schools that offer an online degree program in organizational psychology.
This list was created using data from the National Center for Education Statistics' Integrated Postsecondary Education Data System (IPEDS); for more details on our selection process, see the bottom of this page. Keep reading to learn more about these featured schools, what they offer, and why they might be a good fit.
1
Austin Peay State University
Distance Education Participation
46%
Number of Programs Offered
32
Austin Peay State University's Master of Science in Industrial-Organizational Psychology (MSIO) degree is fully attainable via online programming, and follows guidelines set by the Society for Industrial and Organizational Psychology (SIOP). The university holds its online program to the same high standards of quality it holds for any of its on-campus programs, and assures its online students of academic support via virtual classrooms, discussion boards, live video recordings and more. Students from all over the United States partake in Austin Peay's online courses, offering the possibility of rich and varied discussion from many different walks of life.
Accreditation:
Southern Association of Colleges and Schools Commission
Location:
601 College St.
Clarksville, Tennessee, 37044
2
Touro University Worldwide
Distance Education Participation
97%
Number of Programs Offered
13
If you're looking for online master's degree programs in organizational psychology, Touro University Worldwide (TUW) is another school to consider. This university offers an online industrial & organizational psychology master's degree that consists of 12 classes for 36 semester credits, ending with a capstone course that is focused on an organizational or career-related situation of the student's choice. There are three possible concentrations for this program:
Coaching and consulting
Human resource management
Occupational health psychology
One of the best aspects of Touro University Worldwide is its accepting open admissions policy. This means that the only criterion for entrance to the university is a high school diploma or a GED certificate, making TUW an accessible and welcoming school for students of all kinds.
Accreditation:
WASC Senior College and University Commission (WSCUC)
Location:
10601 Calle Lee #179
Los Alamitos, CA 90720
3
Missouri University of Science and Technology
Distance Education Participation
20%
Number of Programs Offered
40
The Missouri University of Science and Technology is yet another school that offers a high-quality online degree in organizational psychology. Through the school's online Master of Science in industrial-organizational psychology degree program, students can learn how to manage human resources within technological environments while also maximizing output and production. This online program requires a minimum of 36 credit hours and offers both a thesis and non-thesis option to accommodate the desires of their students. With the highest non-open-admissions-policy admissions rate out of the 10 schools on our list and the second-highest graduation rate, it's not hard to see why Missouri S&T was a must-mention for this list.
Accreditation:
Higher Learning Commission of the North Central Association of Colleges and Schools (NCAHLC)
Location:
1201 N. State St.
Rolla, MO 65409
4
Colorado State University - Fort Collins
Distance Education Participation
23%
Number of Programs Offered
66
Colorado State University at Fort Collins offers a Master of Applied Industrial/Organizational Psychology (M.A.I.O.P.) degree that's hard to beat. This program is offered entirely online, requires a minimum of 38 credits and may take 2 to 4 years to complete depending on how many courses students are able to take each semester. As a practitioner-oriented program, the curriculum has been designed to impart practical knowledge and skills that will be of use in the pursuit of an organizational psychology career, making it a highly practical program choice. Between this and other decisions, it seems safe to say this school knows what it's doing when it comes to education; CSU had the highest 2015 graduation rate of all 10 schools on this list.
Accreditation:
Higher Learning Commission (HLC) and the North Central Association of Colleges and Schools.
Location:
2545 Research Blvd.
Fort Collins, CO 80526
5
Carlos Albizu University-Miami
Distance Education Participation
28%
Number of Programs Offered
2
The M.S. in industrial and organizational (I/O) psychology program at Carlos Albizu University-Miami offers students yet another way to earn an online master's degree in this growing field. The program itself requires students to complete 42 academic credits and 6 applied/research capstone credits, and have a cumulative G.P.A. of 3.0. Students of the program are able to present their research findings at regional and national conferences, and the program's faculty consists of active I/O professionals. One of the best benefits to Carlos Albizu-Miami's program, however, is the practicum placement network, which can afford students field experience in a variety of work settings — an invaluable advantage for earning a post-program career in the field.
Accreditation:
Middle States Commission on Higher Education (MSCHE)
Location:
2173 NW 99
th
Ave.
Doral, FL 33172
Distance Education Participation
100%
Number of Programs Offered
129
Walden University offers three online degrees in organizational psychology: a post-baccalaureate certificate in organizational psychology and development, a Master of Science in organizational psychology and a PhD in I/O psychology. While each program differs slightly, each one can help students achieve a new level of learning in this dynamic and growing field.
The certificate program serves as a crash course in organizational psychology for somebody who earned their bachelor's degree in a different field. After completion, all credits from this program can be transferred into the M.S. program if a student wishes to continue to advance their organizational psychology education here at Walden.
The M.S. program (available in fully online or hybrid formats, as desired) offers two optional hybrid courses that feature an in-person component, allowing students to gain some valuable hands-on understanding of a career in the field. Up to 40 credits from this program can be transferred into Walden's PhD in I/O psychology program.
Like the M.S. program, Walden's PhD in industrial and organizational psychology is available in either a fully online or hybrid format, and offers two optional hybrid courses featuring an experiential in-person component. Eight specializations are available for this program, giving students a lot of flexibility in directing their education.
Accreditation:
Higher Learning Commission (HLC)
Location:
100 S. Washington Ave. #900
Minneapolis, MN 55401
Distance Education Participation
100%
Number of Programs Offered
205
Capella University is yet another school that offers dual programs in organizational psychology: a Master's in Psychology with a specialization in industrial/organizational psychology, and a Doctor of Philosophy in Psychology program with the same specialization. These programs make it possible for students to complete their graduate studies and PhD program all online and at the same school, although the PhD component may require some in-person training with an assigned mentor. Capella's big claim to fame is their FlexPath learning experience, which offers students several phenomenal advantages:
Courses are self-paced; you can complete a course in as many or as few weeks as is convenient for you, and can then move onto a new course without waiting for a new term to begin.
What you pay is determined by your pace; you can complete up to two courses simultaneously each quarter for one flat tuition fee, essentially getting two for the price of one.
Ample support is offered; tutors, detailed feedback from faculty and personalized planning from coaches are all at your fingertips to help you complete your education.
Topping it all off is an open admissions policy, making Capella highly accessible to any student who has earned a high school diploma or a GED certificate. If you're an organized, dedicated, independent individual, Capella University might be just the school for you.
Accreditation:
Higher Learning Commission
Location:
225 South 6th St.
Minneapolis, MN 55402
8
The Chicago School of Professional Psychology at Los Angeles
Distance Education Participation
70%
Number of Programs Offered
17
As a school focused on psychology, it's no surprise that the Chicago School of Professional Psychology at Los Angeles awarded the largest percentage of organizational psychology degrees in 2015 out of all ten schools on this list. What might be a surprise is that no fewer than four different programs for organizational psychology exist at this school, giving you several options for how you wish to approach your education! The school offers three variants on its M.A. in industrial and organizational psychology, as follows:
An internship track, combining coursework with two supervised internships to provide real-world practice utilizing the program's skills.
A thesis track, requiring the completion of a thesis in place of an internship and one elective. Students select one of the school's faculty members to act as their thesis advisor.
An Applied Research Project (ARP) track, a non-licensure program that combines aspects of I/O psychology with principles of consulting, culminating with an Applied Research Project that gives students an opportunity to apply their learning to an authentic workplace situation.
The final available educational option is that of an online certificate in industrial and organizational psychology, which consists of the school's Organizational Behavior course and two related electives. Predicted to take only five months to complete, this certificate can prove a quick way to boost your skills and knowledge while searching for or improving your career.
Accreditation:
Western Association of Schools and Colleges Senior College and University Commission (WSCUC)
Location:
617 W. 7
th
St.
Los Angeles, CA 90017
Distance Education Participation
33%
Number of Programs Offered
4
Featuring one of the more interesting educational models on this list: Adler University and its highly flexible, cohort learning M.A. in organizational psychology program. From a very basic level, Adler offers one of the most flexible programs on our list: it can be taken full-time or part-time, with weekend, evening, online and hybrid formats, and the second year's coursework and thesis can be completed from anywhere in the world. The truly interesting feature, however, is the university's cohort learning. Upon enrollment, students join a cohort — a group of students who will take classes together throughout the course of the program. This creates an element of reliability and teamwork throughout your academic career, offering a unique and rewarding experience.
Adler's student assistance doesn't stop there. The university offers individualized coaching and mentorship, helping students to tap into and refine their leadership skills. Adler is also justifiably proud of their Social Justice Practicum, a high-impact field experience that goes hand-in-hand with the program's core professional practicum, which is tailored to students' career goals.
Accreditation:
Higher Learning Commission
Location:
17 N. Dearborn St.
Chicago, IL 60602
Distance Education Participation
14%
Number of Programs Offered
1
We wouldn't want to complete this list without mentioning William James College, formerly known as the Massachusetts School of Professional Psychology until it took the name of William James, after the founder of American psychology. This psychology-oriented college offers an accelerated Organizational Psychology Master of Arts (MAOP) degree program that can be completed in a mere 11 months. The program can be completed online or in a special hybrid format called Weekends-in-Residence, where the online portions of the courses are completed during the week and students come to campus on the weekends for the on-campus portions.
William James College also offers a unique concentration for I/O psychology students. Known as the Talent Management concentration, this variation of the MAOP program focuses on improving organizations through personnel development. The curriculum is similar to that of the MAOP program, but three courses in talent management replace three of the general organizational psychology courses, and the program's field project and capstone work must address talent management rather than general I/O psychology.
Accreditation:
Commission on Institutions of Higher Education of the New England Association of Schools and Colleges, Inc.
Location:
One Wells Ave
Newton, MA 02459
Degree Overview: Organizational Psychology
Through coursework focused on both psychology theories and a scientific look at work environments and organizations, students can learn how to help solve workplace problems and improve employee productivity. In this section, let's take a look at common courses for online organizational psychology degree programs, as well as the skills these courses may be trying to help students develop.
Online Organizational Psychology Courses
Online programs in organizational psychology can come in many forms. While these programs usually cover similar concepts and foundations in psychology and workplace matters, higher level programs tend to go more in-depth and focus more on preparing graduates for managerial or leadership roles in their careers. Here's a rough idea of what you might experience in various online organizational psychology program tracks:
Bachelor's degree: Like most four-year degrees, students have to take a core curriculum of general requirements, along with required and elective courses in their chosen major field (in this case, organizational psychology). Some of the courses typically offered in this bachelor's program are:

Social psychology
Organizational development
Current Issues in Human Resource Management
Introduction to Group Dynamics
Stress Management

Graduate certificate: Certificates are designed for those already working in the field — generally those who have already earned a bachelor's degree, but who wish to increase their education further in order to better prepare themselves for advancement in their careers. Organizational psychology certificate students explore topics such as workplace motivation and attitudes, employee training, evaluation and leadership, organizational behavior and human resource management. These programs tend to comprise six courses, and usually take about one year to complete.
Master's degree: Possibly the most common education for organizational psychology, many people in this industry earn their bachelor's degree in psychology, then choose to pursue a Master of Science to focus on organizational psychology. This advanced degree is meant to drill into the practical applications of organizational psychology at the organizational level. Graduates should develop the ability to design and evaluate performance and training initiatives, for example, and/or to create programs that can improve workplace productivity and employee satisfaction.
Doctoral programs: There are also Ph.D. level programs in this field for those who wish to delve even deeper into research of this subject, either for intellectual or career-based reasons. As a general rule, doctoral coursework is heavily research-based, encouraging students to think critically about how organizational psychology issues impact organizations, and to develop empirically-based intervention practices.
Career-Related Skills to Develop
Those who complete a program of study in organizational psychology should be acquiring, not just knowledge about the subject, but skills that can be useful for a career in the field. Some of the more useful skills that organizational psychology students may want to focus on developing include:
Communications skills: This may go without saying, but applying organizational psychology principles to a work environment will inevitably require communication. The organizational psychology professional must communicate with all the many different employees of the workplace in order to understand what needs to be improved, then be able to communicate their plans and reasoning back to those employees in order to actualize them.
Analysis and problem-solving: Communication is the start and the end of most organizational psychology tasks, but what fills the middle is inevitably analysis and problem-solving. These professionals must be able to collect data, analyze it carefully, devise a plan based off their data and then further deduce how to best put that plan into action.
Research and observation: Whether the organizational psychologist is conducting assessments, observing subjects or analyzing performance metrics, understanding how to research effectively is critical. These professionals are often attempting to resolve issues that were hitherto unnoticed and have no gathered data or clear solutions. Without the ability to identify problems and collect data on them from scratch, fixing them can be nigh-impossible.
Organizational Psychology Career Outlook
What makes a good employee? What motivates workers? What career should I be in to best improve the workplace? Most of these questions are common in organizational psychology, but the last is one that every student in the subject is bound to ask themselves at least once. To help answer it, here are descriptions of a few of the many available careers in organizational psychology.
Industrial-Organizational Psychologists
Projected Job Openings
100
Projected Job Growth
12.8
Entry-level Education
master's degree
Industrial-organizational psychology is a subsection of the field that is concerned with how people behave in the workplace. Psychologists who focus on this area acquire specialized knowledge about employee motivation, small group behavior, training strategies and career assessments. Those who pursue industrial-organizational psychologist careers perform specific duties such as creating and implementing training programs in a company based on its needs; creating employee assessments and judging workers' performance; providing leadership coaching to people in managerial positions; and helping to resolve disputes within an organization. These professionals may also conduct research for professional journals and conferences in order to educate hopeful newcomers to the field.
Projected Job Openings
35,700
Projected Job Growth
10.2
Entry-level Education
Bachelor's degree
Whether they work in engineering, information technology, manufacturing or construction, project managers are responsible for ensuring that a company's projects are completed within a specific timeframe and budget. The daily work of professionals in project manager careers includes conducting a risk assessment for a project; establishing a budget and ensuring it is adhered to; creating a project schedule and monitoring milestones; and selecting personnel, consultants and vendors. Project managers need a variety of skills to perform these duties, including monitoring, critical thinking, writing, time management, persuasion and negotiation skills. Also, these professionals should have proficiency in several computer systems, including Microsoft Project, Oracle Primavera Enterprise Project Portfolio Management and Atlassian JIRA.
Projected Job Openings
67,700
Entry-level Education
Bachelor's degree
When organizations need to hire and train new workers, they rely on recruiters to help them find the best talent. These professionals are responsible for creating and carrying out recruiting plans; developing job descriptions and updating them as needed; reviewing resumes and job applications to create a pool of applicants; interviewing potential hires; and onboarding new workers. In addition, recruiters should keep abreast of the best practices of the field, so they must monitor changes in legal and professional standards. Required skills for people in recruiter careers include interviewing, assessment, interpersonal, project management, verbal and written communication, and recordkeeping skills.
Projected Job Openings
14,400
Entry-level Education
Bachelor's degree
Human resources managers are responsible for overseeing the relationship between organizations and their employees. This work includes planning for a company's workforce needs in order to ensure it has enough talent to meet workloads; creating and managing employee benefit programs; training managers on effective communication skills; creating pay policies and wage structures within an organization; and ensuring that companies are in compliance with labor laws. People in human resources manager careers may have job titles such as employee relations manager, payroll manager, labor relations director or staffing manager. These professionals may work for government agencies or private companies.
Sources
Methodology
Methodology
To be included in these rankings, all colleges had to meet the following criteria for the specific subject being ranked:
Offer at least one degree or certificate in that subject online
Have awarded at least one degree or certificate in that subject in 2015-16
Once we had our list of schools for each subject, we ranked them on six criteria:
In-state tuition, National Center for Education Statistics, 2015-16
Graduation rate, National Center for Education Statistics, 2015-16
Accessibility, based on the admissions rate, National Center for Education Statistics, 2015-16
Program prominence, based on how many of the degrees and certificates awarded by the school in 2015-16 were in this particular subject, National Center for Education Statistics, 2015-16
Related subjects, based on the number of similar programs that the school offers at any level, National Center for Education Statistics, 2015-16
Variety of degree levels, based on the number of degree and certificate levels out of a possible nine that the school offers in this particular subject, National Center for Education Statistics, 2015-16
X