A professional in quality control and safety can be a notable asset to companies and factories in many different industries. However, part of being a quality control professional is keeping up to date on laws, issues and decisions in the field. Online bachelor's degree programs in quality control and safety can be an excellent way to elevate your knowledge of quality and safety issues. Although some on-the-job training is a must, a degree in quality control and safety can be a huge boost for your career.
Featured Online Colleges for Quality Control and Safety in 2018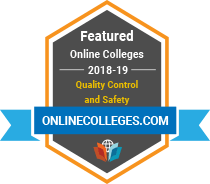 When enrolling in a school, it is important to choose a college that suits your educational and financial needs. To help with your decision, we've put together this list of five featured online colleges offering online programs in quality control and safety. Data for this list came from the National Center for Education Statistics' Integrated Postsecondary Education Data System (IPEDS), which we analyzed using our proprietary methodology (details at the bottom of this page). Check out these schools as you decide which program is right for you.
1
Central Community College
Distance Education Participation
42%
Number of Programs Offered
18
Central Community College (CCC) offers an online associate degree in quality technology. The Quality Technology A.A.S. degree intends to provide students with a solid educational foundation in the quality technology field. Topics and courses focus on root cause analysis, statistical process control, quality auditing and blueprint reading. A grounding in these topics can be the perfect stepping stone to careers as quality assurance technicians, quality inspectors, research analysts and more.
The associate degree program at Central Community College is available entirely online, helping the college stand out in our study. This college also receives recognition for its commitment to accessibility. CCC's open admissions policy, where the school will accept any applicant that has a high school diploma or a GED certificate, makes higher education easily accessible to students from all backgrounds.
Accreditation:
Higher Learning Commission (HLC)
Location:
3134 West Hwy. 34
Grand Island, NE 68802
2
Trinidad State Junior College
Distance Education Participation
21%
Number of Programs Offered
2
The Occupational Safety and Health Technology Program (OSHT) at Trinidad State Junior College also finds a spot on our list. This program lays the educational foundation for students seeking a career in occupational health and safety. Courses generally focus on how to perform basic occupational health and safety functions, identify problems, interpret data to solve those problems and evaluate the results.
Trinidad State Junior College offers both a professional certificate and an associate's degree program in OSHT. The fact that they have multiple degree options and the second-highest graduation rate of the schools we looked at earned the school high marks. Additionally, the open admissions policy at Trinidad State helps rank the college highly for accessibility.
Accreditation:
Higher Learning Commission (HLC)
Location:
600 Prospect St.
Trinidad, CO 81082
Distance Education Participation
52%
Number of Programs Offered
N/A
Odessa College's Associate of Applied Science (A.A.S) in Occupational Safety & Environmental Technology program seeks to keep safety professionals up to date on government regulations and introduce those just entering the field to concepts they are likely to use in related careers. The program focuses on a few different sets of safety regulations, from OSHA to DOT, and on various aspects of quality control, from presentation to management.
This A.A.S. can be pursued entirely online. Along with their open admissions policy, this helps Odessa College score high marks for accessibility. The school also awards the second-highest percentage of quality control and safety degrees of the institutions recognized here.
Accreditation:
Southern Association of Colleges and Schools Commission on Colleges (SACSCOC)
Location:
201 W. University Blvd.
Odessa, TX 79764
4
Columbia Southern University
Distance Education Participation
100%
Number of Programs Offered
51
Columbia Southern University offers a number of different postsecondary options for students exploring careers in occupational health and safety. These programs focus on a number of different industries such as healthcare, construction, manufacturing and more. Completion of these programs also meets the requirements for certain professional designations like the Associate Safety Professional (ASP) and Certified Safety Professional (CSP).
Offering one of the few online bachelor's degree programs in quality control and safety is reason enough to feature this university. However, Columbia Southern University actually offers 5 different degree programs and concentrations total in the field, ranging from certificate programs to master's degrees — over twice as many as the next highest on our list. The school also ranks first among schools listed for the percentage of quality control and safety degrees awarded.
Accreditation:
Distance Education Accrediting Commission (DEAC)
Location:
21982 University Lane
Orange Beach, AL 36561
5
Eastern Kentucky University
Distance Education Participation
42%
Number of Programs Offered
45
Students seeking online bachelor's degree programs in quality control and safety need look no further than Eastern Kentucky University (EKU). This school's occupational safety degree program aims to prepare students with the knowledge they need to operate an occupational safety program at their place of employment. The program helps develop leadership skills and professional strategies to prevent occupational hazards and accidents from occurring.
Offering a bachelor's degree helped EKU make our list of the best online colleges for quality control and safety. The university also boasts the highest graduation rate of all the schools we have profiled.
Accreditation:
Southern Association of Colleges and Schools Commission on Colleges (SACSCOC)
Location:
521 Lancaster Ave.
Richmond, KY 40475
Degree Overview: Quality Control & Safety
Quality control and safety can be a rewarding field, particularly when it results in food, healthcare, or manufactured items that are safer for their consumers. Quality assurance is an important part of the career and will be addressed in many different degree programs. The section below describes the coursework that a student might explore in online quality control safety programs, as well as the work-relevant skills that coursework may foster.
Online Quality Control & Safety Courses
Students often find that the breadth of their coursework depends on the degree program they are enrolled in. When it comes to online programs, most of the currently existing options are available at the bachelor's and master's degree levels. Some of the coursework that could be covered in different programs is described below.
At the diploma and certificate level, programs in quality control safety are often focused on food management. In a program like this, students might learn about regulations, laboratory instrumentation, sanitation, safety and more.
Programs in quality control safety include associate degrees in which students build knowledge about manufacturing, statistical process control, technical writing and value engineering. Students may also study the use of simulations, data analysis and improvements to system performance.
Online bachelor's degree programs in quality control and safety, one of the more common levels of quality control degrees, are often available as degree completion programs for students who have already obtained an associate degree. Principles of management, quality concepts, statistical tools and systems failure analysis are frequent components of a bachelor's program.
Programs at the master's degree level are often available online and may include coursework and discussion focused on customer satisfaction, benchmarking, process improvement and quality control. Six Sigma, a well-known system for process improvement, may be studied as well. In some programs, students may be able to customize their coursework to their professional field, such as food safety or healthcare.
At more advanced levels, graduate certificates or PhD degrees may be available in specific industries where advanced quality control and safety is necessary. For example, a student might be able to pursue a program in Patient Safety & Quality, which is specific to the healthcare industry. Accountability, evidence-based practices and risk reduction are topics that might be part of such a program.
Career-Related Skills to Develop
Online education for quality control safety highlights skills that students may want to develop in order to build success in their field. Quality control professionals can work in different industries, but many of the needed skill sets remain the same. Below are some of these commonly taught traits that quality control and safety professionals may want to specifically pursue.
Technical Understanding: Blueprints are not just for engineers to examine. Quality control workers need to know how to read them as well, in order to understand and analyze the construction of a product or facility and ascertain how safe or dangerous it might be. An ability to comprehend technical documents and manuals also is important, for the same reason.
Problem Solving: It's important to be able to spot a problem, but knowing the problem exists is little use if a solution cannot be found. Analytical problem solving skills may provide information that leads to improvements in processes that could be made in any industry. Online programs for quality control safety can help students to build these skills, to know what kinds of solutions to implement and to understand how to make the solutions practical.
Technology: Quality control specialists and analysts may need to be familiar with a range of technology software, such as LabWare LIMS, Minitab or The MathWorks MATLA. The ability to use program testing software may be necessary, too, depending on one's particular career in the field.
Physical Strength: It may seem like a given, but because quality control professionals often spend their time inspecting equipment, parts and processes, they should have the stamina to be up on their feet and constantly moving around for continued periods of time. Industrial engineers, don't skimp on those P.E. classes!
Quality Control and Safety Career Outlook
From workplace safety to clean drinking water, there are multiple ways that different professionals are contributing to reducing the effects of contaminants.
Occupational Health and Safety Specialists
Projected Job Openings
6,300
Entry-level Education
Bachelor's degree
Occupational health and safety specialists inspect workplaces to confirm that they're safe environments for employees. The specific job duties of this position include collecting samples of materials that may be toxic; training workers on hazardous materials and how to prepare for emergencies; identifying threats to workers; and ensuring the offices they inspect have the necessary fire safety equipment and first aid supplies. In addition, these professionals may be required to know how to use compliance software programs such as Primatech AUDITWorks, ESS Compliance Suite and Mannus Compliance: EHS. People who work in occupational health and safety specialist careers may find employment at state, local and federal government agencies, construction companies, hospitals and manufacturing companies.
Environmental Engineering Technicians
Projected Job Openings
2,000
Entry-level Education
Associate's degree
Environmental engineering technicians are the movers and shakers of the environmental science world. After scientists and engineers devise an appropriate plan for cleaning up or correcting an issue, these professionals take that plan and put it into action, digging in and getting their hands dirty for the sake of our planet.
Environmental engineering technicians have multiple responsibilities, including installing, testing and maintaining environmental cleanup equipment; collecting and analyzing air, water and soil samples in order to conduct pollution surveys; creating assessment reports; ensuring that hazardous materials are disposed of properly; and overseeing processes designed to reduce emissions. They are also important resources in laboratories, where they record observations, test results, and document lab work, as well as keep the lab supplied by identifying and ordering from the best suppliers.
Methodology
Methodology
To be included in these rankings, all colleges had to meet the following criteria for the specific subject being ranked:
Offer an undergraduate degree (either associate or bachelor's) in that subject online
Have awarded at least one degree or certificate in that subject in 2015-16
Once we had our list of schools for each subject, we ranked them on five criteria:
In-state tuition, National Center for Education Statistics, 2015-16
Graduation rate, National Center for Education Statistics, 2015-16
Accessibility, based on the admissions rate, National Center for Education Statistics, 2015-16
Program prominence, based on how many of the degrees and certificates awarded in 2015-16 were in this particular subject, National Center for Education Statistics, 2015-16
Related subjects, based on the number of similar topics for programs in relevant CIP codes that are offered at any level, National Center for Education Statistics, 2015-16
Methodology Sources
Integrated Postsecondary Education Data System (IPEDS) 2017-18, National Center for Education Statistics, http://nces.ed.gov/ipeds/
X