Religious studies programs can help students to reach a deeper understanding of how various world religions, traditions and disciplines have worked as cornerstones of human history and how they continue to influence modern society around the globe. Undergraduate programs typically cover major world religions, while graduate programs tend to either drill down into a particular religion (such as Islamic studies or Christianity) or cover broader topics (such as theology or philosophy of religion). Students who have earned an online associate, bachelor's, master's or even doctoral degree in religious studies may go on to work in a number of religious vocations, from ordained positions such as pastors, priests or chaplains, to lay positions such as deacons, youth and children's ministries or lay leaders.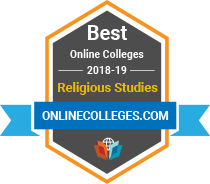 Best Online Colleges for Religious Studies in 2018-19
Our list of the top five colleges for religious studies was designed to help students select an institution that could meet their educational expectations. We considered a wide range of data to compile our list of best colleges to earn online religious studies degrees, gathering our data from the National Center for Education Statistics' Integrated Postsecondary Education Data System (IPEDS). You can read more about the unique methodology we used to create this list at the bottom of this page.
1
Faith International University & Seminary
Distance Education Participation
42%
Number of Programs Offered
5
Faith International University is a bible-centered evangelical college located in the urban port city of Tacoma. The university's Bachelor of Arts in religion program is designed to prepare students for work in Christian ministry, but it's also for students who want to complete their general education requirements while exploring religious and biblical studies. The B.A. program requires 180 total credit hours to complete. The program breakdown is as follows:
Orientation 5 hours
General education 55 hours
Social sciences 20 hours
Natural sciences 15 hours
Bible and ministry 55 hours
Religion 45 hours
Electives 20 hours
Faith International University also offers four master's degree programs in religious studies, as well as a doctoral program for students who wish to further their education past the undergraduate level. Faith International University heads our list of the top five schools for online religious studies degrees based on its cost of in-state tuition, an 80 percent graduation rate in 2015, and its open admissions policy, guaranteeing enrollment to students who are interested in applying.
Accreditation:
Transnational Association of Christian Colleges and Schools
Location:
3504 N. Pearl St. Tacoma,
Wash. 98407-0186
2
Virginia University of Lynchburg
Distance Education Participation
25%
Number of Programs Offered
8
Founded in 1886, Virginia University of Lynchburg is a historically black college located in the foothills of the Blue Ridge Mountains of Virginia. The university offers an online Bachelor of Arts in Religious Studies degree, as well as a master's degree in divinity. Students enrolled in the undergraduate program study topics such as church history, the spread of Christianity throughout Africa, Christian doctrine, black theology, and more general religious coursework such as survey of Old and New Testament and world religion. Students who wish to enroll at Virginia University of Lynchburg must have earned a grade-point average of at least 2.0 in high school and scored a minimum of 530 on their Standard Achievement Test. VUL places second on our list due to a combination of noteworthy factors, including cost of in-state tuition, open admissions and number of undergraduate religion degrees awarded by the university in 2015.
Accreditation:
Transnational Association of Christian Colleges and Schools
Location:
2058 Garfield Ave.
Lynchburg Virg. 24501
3
Eastern New Mexico University-Main Campus
Distance Education Participation
69%
Number of Programs Offered
26
The Bachelor of Science or Arts in religion degree from Eastern New Mexico University is geared toward students who wish to begin careers in ministry or increase their spiritual and theological knowledge. Either degree path requires 120 total credit hours to complete, including a minimum of 38 credit hours in general education and 34 credit hours of study in religion courses. The program examines many major world religions, with a particular focus on Judeo-Christian traditions, and offers a variety of courses to explore, including study in archaeology, church history, religious philosophy and sociology, and ministry. Minor options include study in Greek, Hebrew and other biblical languages. Eastern New Mexico University was the leader out of 19 schools for lowest cost of in-state tuition.
Accreditation:
Higher Learning Commission
Location:
ENMU Station 2, 1500 S. Ave. K,
Portales, NM 88130
Distance Education Participation
49%
Number of Programs Offered
22
Gardner-Webb University is a private Christian university with deep Baptist-related traditions. Gardner-Webb University's online Bachelor of Science degree in religious studies helps students develop and hone their skills in Christian theology and history, biblical studies, ministry and spiritual formation. Students with a minimum of 48 transferable credit hours from an accredited college can complete their bachelor's degree at GWU. The B.S. in religion degree requires a minimum of 36 credit hours in the program major, and at least 18 credit hours must be completed at Gardner-Webb University. The university also offers campus-based B.A. degrees in biblical studies, discipleship and youth discipleship studies, philosophy and theology, world religions and missiology. GWU lands in the fourth spot in our list of best online colleges for religious studies degrees due to a combination of favorable rankings in cost of in-state tuition, graduation rate and religion degrees awarded by the university in 2015.
Accreditation:
Southern Association of Colleges and Schools Commission on Colleges
Location:
110 S. Main St. Boiling Springs,
NC 28017-0997
Distance Education Participation
20%
Number of Programs Offered
23
Founded in 1887, Campbell University bills itself as an inclusive Christian university. It serves more than 6,800 students each year from five campus locations in North Carolina and through its online university. Campbell University offers an Associate of Arts degree in Christian Studies and Bachelor of Arts in Christian Studies. The A.A. degree requires 62 total semester hours to complete, including 36 semester hours of study in general education and 18 semester hours in Christian Studies. The B.A. degree path requires 124 semester hours to complete. Students pursuing the bachelor's degree are required to complete 45 semester hours in general education, 37 semester hours in elective courses, and 42 semester hours in Christian studies. Coursework for both degrees includes study in Old and New Testament, world religions, Christian beliefs and related theological topics. Having earned respectable ranks in all areas of our metrics, Campbell University is a solid school to round out the end of our list.
Accreditation:
Southern Association of Colleges and Schools Commission on Colleges
Location:
450 Leslie Campbell Ave.
Buies Creek, NC 27506
Degree Overview: Religious Studies
Students pursuing a religious studies degree can expect exposure to a wide range of beliefs, customs and traditions from around the world. With so many different cultures and faiths to learn about, it's difficult to know what to expect from a degree program in religious studies — what kinds of courses might you encounter? What kind of skills should you be focusing on while you take them? Let us shed some light on what to expect from online education in religious studies.
Online Religious Studies Courses
Programs in religious studies are available at every level of higher education, from the associate to the doctorate, and each degree level offers a different approach that can be beneficial to a prospective student. Students who enroll in an online associate degree program should prepare for a curriculum that provides a broad foundation in religion, covering all kinds of faiths and concepts in context with one another. This foundation can be helpful for somebody who wants to quickly get their feet wet in preparation for a religious career. Here is a sampling of courses that might be offered at the two-year level:
World Religions
Introduction to Philosophy
Cultural Anthropology
Introduction to Sociology
Four-year online bachelor's degree programs in religious studies typically start with foundational coursework, similar to that of an associate program, and gradually allow students the freedom to focus their studies onto the religions and/or concepts that interest them. Courses such as Ritual, Symbol and Myth, Religious Thought, Non-Western Religious Traditions and Approaches to Studying Religion are examples of what might be made available in a bachelor's degree program.
Though a bachelor's degree can be a great endorsement to potential employers for many entry-level careers in faith-based organizations, some employers prefer to see a master's degree on a resume. The curriculum of a master's degree program usually results in a much more specialized experience than that of an undergraduate degree program, and the courses taken will depend heavily upon which areas of religion you choose to study. For instance:
Buddhist Studies may be complemented by similar philosophy courses.
History of Christianity will likely be accompanied with courses on European history.
Jewish Thought and Culture has a strong connection to Jewish history and Kabbalah studies.
Religions of South Asia is closely tied to South Asia-focused ethnic studies courses.
Should you wish to pursue your studies even further, out of faith or the desire for knowledge, a doctoral degree program is the pinnacle of an education in religious studies. Designed to be highly research- and critical thinking-based, a PhD in religious studies might include courses such as Islamic Studies, Religion in the Americas or Medieval and Early Modern Studies.
Career-Related Skills to Develop
A religious studies program is not meant just to teach you about religion, but also to teach you how to prepare for a career in religious service. There are many skills that can be useful to a professional of religious service, and an online religious studies program can help to hone several of these skills. One of the most vital skills to be had in a religious career is communication, including both the ability to listen to others and to engage listeners in a congregation, classroom or the like. Pastors must convey their thoughts to a congregation; counselors must work closely with individuals who need guidance; teachers must capture and hold the attention of students… and doing all of this requires strong communication skills.
There are many other aspects of a religious career that these degree programs can assist you in learning, however. Since many religious texts are quite in-depth and can be difficult to read, strong reading comprehension skills, especially of extensive or translated text, are certainly helpful. Fortunately, religious studies students will likely be working with such texts throughout their college career, helping them not only with reading comprehension but to become familiar with religious texts and the way they are written. Finally, religious figures will find themselves interacting with many very different people, often people with different — sometimes contradictory — viewpoints. Learning to establish and maintain interpersonal relationships and help others work through conflicts is a critical skill for a religious professional, be they a researcher, a minister, a counselor or any other such position.
Religious Studies Career Outlook
As long as churches, mosques and synagogues still stand, people will be needed to lead their services and explain their tenets. Job openings can vary widely, but if you are passionate and persistent enough, a position will likely present itself.
Religious Studies Professors
Projected Job Openings
3,100
Entry-level Education
Doctoral or professional degree
Religious studies professors endeavor to better understand the world's most popular religions. They study historic texts, learn about past civilizations and their gods, and share their knowledge with the students they teach.
While many religious studies professors are religious individually, their role as a teacher requires them to study and explain all the world's religious convictions, along with how those religions and cultures impact society. Religious studies professors teach their students to ask the big questions: Who is God? Further, how has religion shaped our world?
The Bureau of Labor Statistics notes that most postsecondary teachers need a Ph.D. However, some religious studies professor careers begin with a master's degree.
Ethnic Studies Professors
Projected Job Openings
1,200
Entry-level Education
Doctoral or professional degree
Ethnic studies professors use their intellect and insight to portray the historical background, cultural patterns, and nature of various ethnic groups throughout history. By helping students learn about the past, ethnic studies professors create well-rounded, knowledgeable young people who can build new worlds free of racial bias and misunderstanding.
While most postsecondary teaching positions require a Ph.D., it's possible to get started in ethnic studies professor careers with a master's degree. According to the U.S. Department of Labor, most ethnic studies professors worked for colleges and universities in 2016, yet some professionals worked for junior colleges.
Projected Job Openings
27,500
Entry-level Education
Bachelor's degree
While the term "clergy" can be used to describe many different religious positions within a church, workers given this title are recognized as representatives for a religion in an official capacity. Clergy are typically charged with overseeing most of the church events, and may be involved in creating church budgets, fundraising, welcoming new members, and planning events.
Clergy positions require a huge level of dedication to the church, and should only be considered by those who are serious about their religious faith.
According to the Bureau of Labor Statistics, most clergy careers begin with a master's degree or Ph.D. in religious studies. Some clergy also need to become ordained in their faith before they can serve in an official role.
Projected Job Openings
20,900
Entry-level Education
Bachelor's degree
Ministry directors often wear many hats at their home church. They are typically in charge of planning, directing, and coordinating church programs. However, they may also provide counseling or guidance to church parishioners who need pastoral care.
Since ministry director's main job is promoting the religious education and activities of the church, it's essential for job candidates to have a strong faith in their religious denomination. With enough education and faith, ministry directors can lead church members toward a greater understanding of their religion and their role in the universe.
Ministry director careers often begin with related work experience within a church setting. However, a two-year or four-year degree is often preferred by employers.