Even one short decade ago, who would have expected video games to achieve the level of acclaim they have today? From professional e-sports players and sponsored Let's Players, to casual RPG strategists and devoted longtime fangirls, to children playing with vocabulary and mothers killing time with farm animals, it seems that there's a video game for any person or genre. But just like books or movies, there's always another brilliant idea just waiting to be discovered in the world of video games. If you want to be one of the people putting together the graphics, the music, the writing and the coding for those ideas, then a degree in video game development can be an excellent way to start your journey.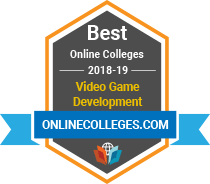 Best Online Colleges for Video Game Development in 2018-19
Looking for an online college for video game development? We describe the five best schools for the subject here, which we ranked by comparing data from the National Center for Education Statistics' Integrated Postsecondary Education Data System (IPEDS). Focusing on the online and nontraditional student, we weighed data points such as graduation rate, in-state tuition cost and number of online programs to create our list. To read more about our methodology, see the bottom of this page.
Distance Education Participation
98%
Number of Programs Offered
74
Full Sail University gives students the opportunity to work toward an online Bachelor of Science in game design degree or to pursue a campus-based program. The school also offers a related Bachelor of Science in game art. The game design degree can be completed in as little as 32 months and includes project and portfolio courses. Key topics that instructors aim to cover include:
Character development
Game economics
Storytelling
Usability
Among the 14 online colleges for video game development considered for this list, Full Sail University took the top spot for granting the highest percent of degrees in the field. The school has an open admissions policy, indicating that anybody who applies will be accepted into the school as long as they have either a high school diploma or a GED certificate, and placed No.3 out of 14 schools on the metric for highest graduation rate.
Accreditation:
Accrediting Commission of Career Schools and Colleges
Location:
3300 University Boulevard
Winter Park, Florida 32792-7429
2
Central Piedmont Community College
Distance Education Participation
57%
Number of Programs Offered
13
Students wanting to learn more about BluePrints, C#, Java, MEL Scripting, Python and Unreal Engine can look into Central Piedmont Community College's online Associate of Applied Science in simulation and game design program. The school also offers the following online:
Certificates in Game Development
A certificate in Mobile Game Development
Simulation and Game Design Diplomas in Animation, 3D, Design and Programming
Students are given a full motion capture system with wireless/camera-less motion capture capabilities as part of the associate degree program. Out of all 14 colleges ranked for online video game development degrees, Central Piedmont Community College took the second place ranking on this list for tuition affordability. The community college ranked fifth for the most degrees awarded in the field; an open admission policy completes the package.
Accreditation:
Southern Association of Colleges and Schools Commission on Colleges
Location:
1201 Elizabeth Avenue
Charlotte, North Carolina 28204
3
Rocky Mountain College of Art and Design
Distance Education Participation
100%
Number of Programs Offered
17
Students interested in online bachelor's degree programs in video game development can look into the program offered through Rocky Mountain College of Art and Design, a college that was founded in 1963. 3D sculpting, modeling and gaming psychology are all part of the school's Bachelor of Arts in game arts degree. A proprietary learning management system enables students and instructors to interact with one another. The program also includes coursework in:
Art History
Character Rigging
Digital Sculpting
Life Drawing
Also known as RMCAD, this college made it onto our list of online colleges for video game development largely due to earning second place in the graduation rate metric. Additionally, it ranked sixth for the percentage of degrees it awarded in video game development in 2015-16 and, like the colleges above it, also has an open admissions policy.
Accreditation:
Higher Learning Commission
Location:
1600 Pierce Street
Lakewood, Colorado 80214
4
Academy of Art University
Distance Education Participation
66%
Number of Programs Offered
103
The Academy of Art University makes game design an important component of its online education, which has been available at the school since 2002. A Bachelor of Fine Arts in game development degree can be pursued, but students also can enroll for an Associate of Arts or Master of Fine Arts in game development program. A Bachelor of Science in game programming degree is another route. No matter what option is chosen, students produce an art and gaming portfolio as part of their degree program.
This school ranked number three for the percent of its degrees that were awarded in the game development field. It took the number four spot for graduation rate, out of all 14 online colleges analyzed in this list. The Academy of Art University is also the final school on our list to have an open admissions policy.
Accreditation:
WASC Senior College and University Commission
Location:
79 New Montgomery
San Francisco, California 94105
5
Savannah College of Art and Design
Distance Education Participation
19%
Number of Programs Offered
18
Numerous online video gaming development degrees are available through Savannah College of Art and Design, such as a Bachelor of Arts, a Master of Arts minor and a Master of Fine Arts in interactive development and game design. Of note, the school:
Won the E3 College Game Competition for the past two years
Offers the choice of a Game Development or Interactive Design and Physical Computing concentration at the bachelor's level
Includes multiple options for electives
Savannah College of Art and Design took the number one spot for graduation rate and the second spot for the percentage of game design degrees it awarded in 2015-16 among the online colleges for video game development considered for this list. Although it does not have an open admissions policy, it accepted nearly 70 percent of applicants to its video game development programs in 2015.
Accreditation:
Southern Association of Colleges and Schools Commission on Colleges
Location:
342 Bull Street
Savannah, Georgia 31402-3146
Degree Overview: Video Game Development
People who play video games can often think of ways to improve their favorite games, or even have ideas for brand-new ones. But aspiring video game designers cannot get by on creative talent and passion for gaming alone. They need a thorough understanding of the skills used in the field, which can be earned in an online program for video game development. This section gives a general overview of these programs and some of the skills that can be learned from them.
Online Video Game Development Courses
Strange though it may seem today, gaming is a field that is relatively young, and as such it is changing at a rapid pace. New technology and techniques are constantly evolving, and colleges with online video game development degree programs strive to provide the most up-to-date information available to prepare students for today's jobs.
One of the areas in which this medium is currently evolving is in how its professionals are taught, and different colleges have very different approaches to video game development for this reason. Most colleges focus on the technical side of gaming, with an emphasis on coding and computers. Some colleges opt for a more project management- and leadership-based stance. Still others paint the subject with a more artistic tint, oriented towards storytelling and/ or visual design. Consider what exactly it is you would like to do in video games before you commit to a program that has a different approach than you would like.
That being said, there are some subjects that are consistently important to the subject, even across different approaches. Some of these more general topics that come up in the majority of online programs for video game development are:
History of games and gaming
2-D and 3-D graphics
3-D modeling, texturing and animation
UI/UX design
Artificial intelligence
Computer programming
Digital music and sound
Character and level design
Digital sculpting
Storytelling for games
Interactive design
Business ethics and copyright
Game design and development
Some video game development programs lead to associate degrees — these programs tend to be more concentrated on the specific skills required to conceptualize and create games. Online bachelor's degree programs in video game development, on the other hand, are usually more broad-based and may include courses such as art history, humanities, foundational drawing, color theory and more. Some colleges have relationships with major companies in the game development or entertainment industry, providing students the opportunity to do internships. And project, thesis or portfolio courses give students a chance to hone their talents while creating career-quality work that can then be used as a work sample for prospective employers after graduation.
Career-Related Skills to Develop
As you might expect, technology and solid visual design skills are important in this field, and are likely to be the primary focus of online education for video game development. However, there's more to game development than concept art, coding and animation (although those are all vitally important). Anyone who plays video games know that they are, at heart, stories. Players take a journey, assuming some degree of control in the progress as well as stakes in the narrative, so game developers must understand storytelling, including how to create compelling characters, anticipate all the paths and decisions players may take and build drama into stories that players want to be part of.
The stereotype of solitary video game designers working alone in dark rooms isn't terribly accurate. In fact, future video game developers should develop good interpersonal skills and learn how to work well in teams. After all, games are usually designed by teams — often made up of people from different departments, such as artists, programmers and designers — who have different perspectives and opinions. Knowing how to communicate effectively and work together to arrive at solutions are crucial skills in this field.
Additionally, a bit of business savvy — marketing, management, budgeting — especially for those who wish to become team leaders or managers, might be helpful for students to emphasize in their programs.
Video Game Development Career Outlook
With the popularity of video games and virtual entertainment on the rise, it's only natural for young people to consider a career in this thriving industry. With the right skills, it's possible to learn how to develop video games and game concepts and bring them to life. Keep reading to learn more about jobs available in this field and where they could lead.
Projected Job Openings
15,100
Projected Job Growth
-7.2
Entry-level Education
Bachelor's degree
Computer programmers use their in-depth knowledge of computer code to write programs people use in their everyday lives. This can encompass programs for computers, phones, tablets… or video games. Programmers guide the progression of code all throughout its existence: sometimes they write fresh code to create a new program; sometimes they test, simplify and improve existing code. Programmers work closely with software developers, and in some businesses — particularly smaller or indie game companies — their duties may even overlap.
Projected Job Openings
30,300
Entry-level Education
Bachelor's degree
Graphic designers are charged with creating visual concepts for a wide range of digital projects, focusing on the way that people will interact with these visuals and how these visuals can be used. Generally speaking, graphic designers dedicate their time to projects such as a game studio's logos, brand or advertising, but they fulfill an important role for the games themselves as well. Every game needs icons and interfaces in order for players to interact with the game's world in an understandable way, and designing those integral components to be clean and comprehensive requires a graphic designer's expertise.
In addition to their bachelor's degree, individuals interested in graphic design careers would be wise to put together a professional portfolio that demonstrates their creativity and skill.
Projected Job Openings
99,200
Projected Job Growth
25.6
Entry-level Education
Bachelor's degree
Application developers are the creative minds behind popular web-based or computer applications. They come up with new ideas for applications, visualize computer programs that could make their ideas work in real life, then write the code that makes applications work. Once their application has become a reality, these professionals troubleshoot their ideas, patching any problems that arise and developing new add-ons and enhancements for their work. Lastly, application developers put aside time to continue to test their products for quality, making sure they continue to function and attract new users. Since these professionals need to understand a wide range of computer programs and technical concepts, most application developer careers start with a bachelor's degree in a computer-related field.
Multimedia Artists and Animators
Projected Job Openings
8,300
Entry-level Education
Bachelor's degree
In the world of video game creation, multimedia artists and animators are the geniuses behind all visual effects. They brainstorm with graphic designers and other visual artists to come up with game characters and concepts, then use software programs to turn their ideas into tangible components of games and applications. While the work may be creative in nature, these workers need plenty of skill with computers in order to master the software used in this career.
These workers do much of the "fun work" regarding video game creation, using their artistic talents to craft the characters, landscapes, animations and cutscenes that breathe life into the world of a game. Whether they're working with the latest technology to create sprawling, hyperrealistic masterpieces or invoking the past with stylistic, pixelated splendor, the work of the multimedia artists is likely the first thing a gamer will see and the last thing they'll forget.
Projected Job Openings
11,100
Entry-level Education
Bachelor's degree
Art directors are in charge of overseeing the creation of video games and concepts from beginning to end. They make big decisions regarding game style and scope, then communicate their ideas to other artists working on a given project. They also develop budgets and timelines, then oversee a wide range of artists and designers working on a specific project. Because these professionals are in charge of overseeing entire departments, many art director careers start with a bachelor's degree and plenty of related work experience or management experience.
While art directors don't do a lot of the artistic "grunt work," they are charged with ensuring the final product is high quality and, most importantly, fun or engaging for the consumer. Ultimately, art directors answer to their clients. In the case of video game design or production, that usually means they answer to the game companies who will market and sell the games created by their department.