The stars of the courtroom are often the attorneys and judge, but the most underrated person in the room may very well be the court reporter. This individual is responsible for documenting the court proceedings, and their records can prove crucial to resolving legal disputes and determining the outcome of appeals. While court reporters traditionally used stenotype machines to record judicial proceedings, new technology has made voice and electronic recording more prevalent. Between the importance of this information and the many methods of recording it, it's no surprise that education is paramount to success in this career.
Featured Online Colleges for Court Reporting in 2018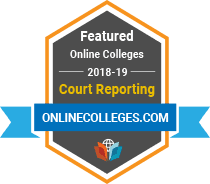 Students looking for an online program for court reporting could be interested in our list of schools directly below. This list of featured schools for court reporting was compiled using data, such as in-state tuition costs and graduation rate, accessed from the National Center for Education Statistics' Integrated Postsecondary Education Data System (IPEDS). More information about the selection criteria used to build this list is at the bottom of this page, but first: our list.
1
Cuyahoga Community College District
Distance Education Participation
49%
Number of Programs Offered
19
Cuyahoga Community College, also known as Tri-C, offers both a certificate in captioning & court reporting and an Associate of Applied Business in captioning & court reporting degree. These two programs are available entirely online, but also can be pursued on-campus or through a hybrid program that combines both. More specifically, the associate degree can be completed in either of the following areas:
Steno Machine Writing
Voice Writing
The school's court program began in 2004 and provides online courses in a 16-week format. Blackboard is used for Cuyahoga's distance-learning platform. The school carries the distinction of offering an "Earn While You Learn" Realtime Writing Mentoring Program, which can enable students to earn money as they build skills. The community college's open admissions policy means it's possible for anyone to be accepted into the program, so long as they apply after earning either a high school diploma or a GED certificate.
Accreditation:
Accredited by the Higher Learning Commission (HLC)
Location:
700 Carnegie Avenue,
Cleveland, Ohio 44155-2878
2
SUNY College of Technology at Alfred
Distance Education Participation
24%
Number of Programs Offered
8
Pursue a certificate in court report & captioning or an Associate of Applied Science in court and realtime reporting degree at SUNY College of Technology at Alfred State. Both of these programs are 100 percent online and use the Blackboard Online Learning System. Students can be confident in the fact that both programs are certified by the National Court Reporters Association.
SUNY College of Technology at Alfred stands out for having the highest graduation rate of all five schools on our list. The percentage of students that graduated from SUNY College of Technology at Alfred in 2015 was almost twice that of the second- highest school.
Accreditation:
Middle States Commission on Higher Education
Location:
10 Upper College Drive,
Alfred, New York 14802
Distance Education Participation
100%
Number of Programs Offered
11
Founded in 1940, Bryan University offers students the opportunity to pursue an associate degree in stenography. Among the many online degrees that can be completed at the school, this one could lead to work in many different environments, such as deposition firms, federal and state courts or legislator offices. Bryan University helps make it easy for students to learn online, making all of the following accessible through its learning management system:
Assignments
Notifications
Schedules
Syllabi
Immediate feedback also can be provided through the online dashboard. To connect with students in other ways, adults in the stenography degree program can join the Bryan University Facebook App. The school's online library provides access to databases, electronic books and more. Bryan University is included on this list of featured online colleges for court reporting because of its open admission policy and the fact that it awarded more than 11 percent of its degrees specifically in the field in 2015- 16.
Accreditation:
Accrediting Council for Independent Colleges and Schools
Location:
3580 Wilshire Boulevard,
Suite 400, Los Angeles, California 90010
4
Brown College of Court Reporting
Distance Education Participation
73%
Number of Programs Offered
3
With more than 40 years of experience providing court-reporting instruction, this school may be right for students who want a program with an established history. Actually, there are several programs that students can pursue at the school. These include its:
Court reporting certificate program with realtime voice writing track
Certificate of court reporting
Judicial reporting associate degree program
Brown College of Court Reporting requires students to pass speed tests and accuracy levels before progressing to the next level. To make online learning accessible, the school uses platforms such as Blackboard Collaborate, Moodle and RealTime Coach, which is a tool designed specifically for court-reporting learning. Brown College of Court Reporting was a shoo-in for inclusion on this list: not only does the school award 100% of its degrees in court reporting (hardly surprising, considering the name,) but the school also has the second highest graduation rate and the highest admissions rate without an open admissions policy of any school on this list.
Accreditation:
Accrediting Commission of the Council on Occupational Education
Location:
1100 Spring Street, Suite 101,
Atlanta, Georgia 30309
5
College of Court Reporting Inc.
Distance Education Participation
100%
Number of Programs Offered
1
The College of Court Reporting Inc., or CCR, has been offering a court-reporting education to students since 1984. A total of three online court-reporting programs are available through this college, including:
Court reporting diploma
Voice-to-text captioning certificate
Associate of Applied Science in court reporting degree
Students in these programs can expect to build their skills in the three 'R' areas essential to court reporting - that is, Reading, wRiting and Repetition. The programs' students in class meet live online at least once a week with their instructor, but also have the opportunity to complete up to 18 hours of live or recorded speedbuilding classes each week. CCR has been approved by the National Court Reporters Association. The college follows an open admissions policy, which practically guarantees a spot for anyone in possession of a high school diploma or a GED certificate who is looking for an online college for court reporting.
Accreditation:
Accrediting Council for Independent Colleges and Schools
Location:
111 West 10
th
Street, Suite 111,
Hobart, Indiana 46342
Degree Overview: Court Reporting
Online colleges for court reporting are designed to educate students interested in doing this important work, but how do they do so? This section details the curriculum these schools may offer, as well as the career-relevant skills students might have learned by the time they complete their degrees.
Online Court Reporting Courses
Coursework for online court reporting programs can vary greatly depending on the school students enroll in. However, the following are some examples of classes that court reporting departments generally offer.
Court reporting basics: The purpose of this course is teaching students the basic principles of the field, making this one of the courses a court reporting student is almost guaranteed to take at some point. Topics covered may include the history of court reporting, career options, closed captioning and computer-compatible stenotype theory.
Legal terminology: This class helps students master the legal terminology they need to know to accurately document court proceedings. Coursework may cover the terms used in everything from civil and criminal cases to appellate hearings to the discovery period of a case. In addition, the class is likely to emphasize the correct spelling and pronunciation of legal terms.
Jury charge: Exactly as it sounds, students have the opportunity to learn techniques for documenting jury charge material in this class.
Speedbuilding: The action in a courtroom moves fast, so court reporters need to be able to keep up. This course is designed to teach students how to increase their dictation speed, as well as accuracy. Depending on the school, the professor may set goals for how many words per minute students must master.
Question and answer: A question and answer course serves the purpose of teaching students how to develop and read back courtroom testimony.
Medical terminology: This class is meant to prepare students to document cases that include language used in health care professions. Professors might cover areas such as surgical procedures, diagnostics, disease symptoms, pathology, and anatomy and physiology.
Career-Related Skills to Develop
In order to be successful, court reporters must draw upon several different skills, many of which which can be learned or refined through online education for court reporting. The following are some of the abilities graduates may have when they finish their program and may benefit from as they enter the workforce.
Time management: Professionals in this field often work independently, so they should have time management skills to prioritize their work and deliver multiple transcripts by their due dates.
Concentration: Court reporters work long hours and must be able to pay attention to everything going on in court, despite any distractions that may occur. People entering the field need the concentration skills to remain focused on the courtroom dialogue, even if it is complicated (or even somewhat boring).
Detail oriented: These professionals are tasked with the responsibility of creating an accurate transcript of everything that happens in court. It takes careful attention to detail to write up these documents and ensure they are free from any grammatical and/or spelling errors that might later interfere with the case. A simple misplaced comma or incorrect conjunction could change the entire meaning of a witness' statement!
Technology: There are several tools of the trade that court reporters must be proficient in to be successful at their jobs. Knowledge of programs like OMTI ReporterBase, Acclaim Legal Acclaim DepoManage, ReporterWorks, and Courtroom Data Solutions Techlennium is required, and technology skills are needed in order to master them.
Legal: Although court reporters aren't expected to have an intimate knowledge of the law, they should know how the court system works. In order to accurately document depositions, the swearing in and questioning of witnesses, and jury selection, professionals should have the legal skills to understand the flow of the courtroom and anticipate what's going to happen during a case.
Court Reporting Specializations
In some states, people in the court reporting profession are required to obtain a certification to gain employment. Depending on the criteria established by the state, professionals may be able to satisfy the certification requirements by earning a credential from the following organizations:
The American Association of Electronic Reporters and Transcribers offers certified electronic court reporter (CER) and certified electronic transcriber (CET) designations. To earn one of these certifications, professionals must take an examination covering areas such as general court procedures, vocabulary, transcript formatting, proofreading and court reporting technology.
The National Court Reporters Association offers the Trial Presentation Professional and Realtime Systems Administrator designations for those who have expertise in different types of industry technologies.
The National Verbatim Reporters Association has a variety of credentials available, including the Certified Verbatim Reporter, the Realtime Verbatim Reporter and the Registered Broadcast Captioner. In addition, the association has the Military Verbatim Reporter certification for active military court reporters.
Court Reporting Career Outlook
The judiciary relies on many employees who do their work behind the scenes to guarantee the system runs smoothly. The care these professionals exhibit helps to ensure that information is correct and thorough, which leads to cases being adjudicated properly.
Projected Job Openings
1,600
Entry-level Education
Postsecondary nondegree award
In order for juries, attorneys and judges to review the facts of a case, an accurate account of the proceedings must be created. The judicial system relies on court reporters to create transcripts of depositions, trials and administrative hearings, which entails specific duties such as capturing the dialogue of court cases, proving information about speaker's nonverbal communication, proofreading transcripts to ensure they're free of typographical errors and proving copies of transcripts to people involved in a case.
Those who work as court reporters must be familiar with technologies like Chase Software Solutions Court Reporting Software, OMTI ReporterBase and Acclaim Legal Acclaim DepoManage. In some states, professionals may be required to obtain a license in order to enter the field.
Title Examiners, Abstractors, and Searchers
Projected Job Openings
5,500
Projected Job Growth
-0.1
Entry-level Education
High school diploma or equivalent
Title examiners, abstractors, and searchers are required to locate a variety of documents, including insurance, mortgage and real estate records. This often includes obtaining maps from county surveyors, tax records from assessors' offices and property records from title plants. Title examiners, abstractors, and searchers are also likely to help prepare statements for real estate closings, assess fees for the registration of property-related documents, and summarize documents like trust deeds and mortgages.
Those employed in this field typically need to have strong communication skills through speaking, listening and writing, in addition to critical thinking and time management abilities. They also need technological proficiency because they may be required to use systems such as Property Insight TitlePoint, Data Trace Title IQ, Microsoft Access and Landtitle USA.
Projected Job Openings
800
Entry-level Education
Doctoral or professional degree
Judges are the face of authority in the courtroom, but those in judicial law clerk careers do the behind-the-scenes work that helps them maintain their influence. This job involves conducting research on documents, judicial opinions, cases and briefs; checking on the progress of a case by reviewing the court docket; scheduling judges' appointments; informing judges of new developments in the law; preparing briefs, statements of case issues and legal memoranda; and writing and editing judicial citations, opinions and decisions.
In order to perform the duties of this job, professionals must have strong reading, listening, critical-thinking, decision- making and monitoring skills. Workers are also expected to be reliable, take initiative and maintain integrity as they do their job.
Methodology
To be included in these rankings, all colleges had to meet the following criteria for the specific subject being ranked:
Offer an undergraduate degree (either associate or bachelor's) in that subject online
Have awarded at least one degree or certificate in that subject in 2015-16
Once we had our list of schools for each subject, we ranked them on five criteria:
In-state tuition, National Center for Education Statistics, 2015-16
Graduation rate, National Center for Education Statistics, 2015-16
Accessibility, based on the admissions rate, National Center for Education Statistics, 2015-16
Program prominence, based on how many of the degrees and certificates awarded in 2015-16 were in this particular subject, National Center for Education Statistics, 2015-16
Related subjects, based on the number of similar topics for programs in relevant CIP codes that are offered at any level, National Center for Education Statistics, 2015-16
X