Modern homeowners across the U.S. may not agree on religion or politics, but they probably agree on this: The house comes to a standstill when a key appliance breaks. A malfunctioning refrigerator could mean the loss of hundreds of dollars of groceries. A broken washing machine could mean hours spent at the nearest coin-operated laundromat. And while refrigerators and laundry machines have been a required part of most homes for years, another device has become just as much of a fixture: the computer. Though it was still optional in the 1980s and 1990s, homeowners of the 2000's would likely have difficulties living their daily life without Internet access. Because of these expectations, the role of the computer and appliance repair professional is critical to the daily life of most homeowners.
Learning to repair these critical appliances may not sound like something you can learn to do online, but in fact there are a number of online computer and appliance repair programs. Because advances in home appliances occur so frequently, staying well informed is key to job success, and that is precisely what education in computer and appliance repair exists for.
Featured Online Colleges for Computer and Appliance Repair in 2018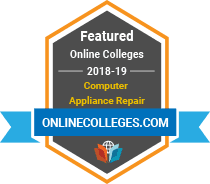 Online colleges for computer and appliance repair are designed to provide technical skills for working with computers in corporate, professional or governmental job settings. With computer repair degree programs available online, students can complete their studies at home and in accordance with their own busy schedules.
Before you choose a program, it's wise to research colleges to make sure you're attending the right school for you. To help with that search, we have used data from the National Center for Education Statistics' Integrated Postsecondary Education Data System (IPEDS) to identify several noteworthy online colleges for computer and appliance repair. Keep reading to learn more about the programs offered at these schools, and if you're interested, check out details on our methodology at the bottom of the page.
1
University of Alaska Fairbanks
Distance Education Participation
58%
Number of Programs Offered
47
The University of Alaska Fairbanks is a school that stands out in multiple ways. Its percentage of applicants admitted to the university is the highest of the schools on this list that do not have an open admissions policy, demonstrating its accessibility. Furthermore, the university offers not one but two online programs in the field of computer and appliance repair.
Through the information technology specialist certificate program at the University of Alaska-Fairbanks, students can learn how to troubleshoot common computer issues and perform repairs, necessary skills for finding entry-level work in information technology. The University of Alaska Fairbanks also offers an online Associate of Applied Science in information technology, a program that takes two years to complete and focuses on implementation and support of information technology systems in educational, governmental and corporate settings.
Accreditation:
Northwest Commission on Colleges and Universities
Location:
505 South Chandalar Drive
Fairbanks, Alaska 99775-7500
2
Seminole State College of Florida
Distance Education Participation
45%
Number of Programs Offered
26
Seminole State College of Florida offers a computer repair and installation technical certificate program aimed at preparing new students for electronics and information technology careers. Emphasis is placed on all stages of computer support, from installation up to troubleshooting and repair. This program can be completed online on its own, or used as a stepping stone to earning the school's A.S. degree in network systems technology. The best part about this program is the fact that you can complete it entirely online and at your own pace, across all 18 credit hours.
The school's open admission policy is one of its most noteworthy features: a policy that indicates the college will accept any applicant who has earned a high school diploma or a GED certificate. Seminole State also boasts the third highest graduation rate of the colleges featured on this list.
Accreditation:
Southern Association of Colleges and Schools Commission on Colleges (SACSCOC)
Location:
100 Weldon Blvd.
Sanford, Florida 32773-6199
3
Tennessee College of Applied Technology-Elizabethton
Distance Education Participation
5%
Number of Programs Offered
3
Tennessee College of Applied Technology-Elizabethton offers an interesting online program focused on computer repair. Their administrative office technology program can be specialized to work towards one of two different certificates or three different diplomas:
Certificates: General office assistant, office software specialist
Diplomas: Accounting assistant, administrative assistant, medical administrative assistant
This program and its many variations can be completed entirely online and within less than 12 months. Interestingly, the program operates on an "open-entry, open-exit" basis, where students may enter the program anytime during the school year as long as it has space for them. This accessibility is clearly being put to good use by TCAT-Elizabethton's students, as the college has by far the highest graduation rate out of all five schools featured on this list.
Accreditation:
Commission of the Council on Occupational Education (COE)
Location:
426 Highway 91
Elizabethton, Tennessee 37643
4
Laramie County Community College
Distance Education Participation
40%
Number of Programs Offered
27
Laramie County Community College (LCCC) offers an Associate of Applied Science degree program in computer information systems that can be completed entirely online. The courses from this degree program, however, can contribute towards earning one of a wide variety of certificates, which can be applied to the AAS degree as an area of specialization:
Cisco Certified Networking (CCNA) Associate
Computer Support Specialist
Computer Technician
Microsoft Systems and Networks
Office Application Specialist
Web Design
The versatility of this program would have been worth featuring on this list on its own, but LCCC takes things a step further by also offering prospective students the accessibility of an open admissions policy. If you're considering a location to earn an online associate degree in computer repair, you should definitely keep this college in mind.
Accreditation:
Higher Learning Commission of the North Central Association of Colleges and Schools
Location:
1400 E College Dr.
Cheyenne, Wyoming 82007-3299
5
Southeastern Technical College
Distance Education Participation
38%
Number of Programs Offered
29
Southeastern Technical College covers multiple bases by offering programs that allow you to pursue computer information systems - computer support specialist as either a degree or a diploma. Courses for both programs are offered in semesters, and students may enter either program at the start of any semester in the year. Graduation is contingent upon earning a minimum of 66-67 credit hours for the degree program, or a minimum of 59-60 credit hours for the diploma program.
Quality is clearly a hallmark that Southeastern Technical College strives to maintain, as they scored positively in all of our metrics for this study. The college had the second highest graduation rate and the second highest percentage of degrees awarded in computer repair out of all degrees awarded by the school during 2015. Top this off with the accessibility of an open admissions policy, and it's clear that Southeastern Technical College deserves a position on this list.
Accreditation:
Southern Association of Colleges and Schools Commission on Colleges (SACSCOC)
Location:
3001 E First St.
Vidalia, Georgia 30474
Degree Overview: Computer and Appliance Repair
Those interested in repairing everything from computers to refrigerators usually need formal training to do the job. Earning a degree, diploma or certificate through a college with an online computer and appliance repair program is a great first step toward jumping into a promising career. Here's what students can expect from the educational pursuit, regarding both courses and important skills learned from those courses.
Online Computer and Appliance Repair Courses
In order to build up the skills necessary to work in this field, students usually begin with a certificate or diploma program. These programs might take only a few months to complete, or they might be more in-depth and require a few years of education. Those that do require that higher level of coursework often result in an associate degree in the field.
Some programs focus only on appliance repair, while others hone in on computer repair. But then there are those that offer courses that pertain to both. The courses listed below are common in a program that targets appliance repair:
Electric Heating Appliances and Fans
Motor-Driven Small Appliances
Electric Ranges and Water Heaters
Solenoids, Relays and Motors
Electric Refrigeration
And these courses are often found in a program that targets computer repair:
Introduction to PC Hardware
Operating System Fundamentals
Network Protocols and Internet
Understanding Computer Storage
Computer Devices and Media Tools
Though many online programs for computer and appliance repair don't require a student to ever visit campus, some do require a hands-on component for better understanding of the material. Check with your chosen school to determine whether any hands-on work is involved, and if so, where it will be expected to take place.
Career-Related Skills to Develop
Online programs for computer and appliance repair build their courses in hopes of teaching their students the skills they will need to succeed in a computer and appliance repair career after graduation. While some skills will need hands-on experience to master, the foundations learned in a degree program are essential for getting your career started so you can acquire that masterful quality over time.
Attention to detail is one of the most crucial skills for a computer and appliance repair expert. When it comes to appliances, individuals might be working in small spaces and with small parts; for computer repair, sometimes just one small mistake can ruin an entire day's work… or worse.
Another critical skill for appliance repair is visualization: the ability to imagine how something will look or function after its parts are moved or rearranged. A natural extension of this skill is deductive reasoning, a fancy way of saying "figuring out and solving a problem." The many creative ways computers and appliances can break down is boggling, and these professionals may need to get just as creative to be able to fix them.
Doing this is easier for somebody who learns how to troubleshoot, or test a device to figure out what is wrong with it and what may fix it. Troubleshooting is necessary to succeed in the world of appliance and computer repair, as is time management, or the ability to finish tasks efficiently while accounting for priority and deadlines. In addition, excellent customer service is important for those who will be working directly with customers and/or vendors.
Computer & Appliance Repair Specializations
Computer and appliance repair certifications serve as proof that a person is well-versed in a particular appliance, computer brand, software or hardware. In the world of computers, there are numerous certifications available that focus on various computer brands, hardware and software. Some of the more common certifications include:
CompTIA Server+
CompTIA A+
ACMT: Apple Certified Macintosh Technician
CTT Routing and Switching: Cisco Certified Technician
BICSI Technician
The requirements for computer hardware and software certifications vary widely. Some take only a few months to complete, while others require up to a year as well as work experience to back up the education. Those interested in computer certifications should look into the requirements, including those for recertification, to ensure a particular certificate is right for their career goals.
When it comes to appliances, one of the top certifications is the ISCET National Appliance Service Technician Certification. There are four levels of this certification available: refrigeration and air conditioning; cooking; laundry and dishwashing; and universal technician (which includes all three levels plus basic skills). Every two years, this certificate must be renewed, which requires taking a certain number of computer and appliance repair continuing education courses to make sure your skills and knowledge are current. Such courses can often be found at colleges that offer computer and appliance repair programs.
The Professional Service Association also offers numerous certifications, such as technician; service manager; certified appliance professional; and more. Like the ISCET certificate, these must eventually be renewed. Though requirements are different for each, most technicians — regardless of certification — will take advantage of continuing education courses to keep up their certification. Finally, Technician Certification through the Environmental Protection Agency is required for those who work with refrigerants and similar chemicals. There are four variations of this certification available, depending upon the equipment a person works with in the course of their day-to-day job.
Computer & Appliance Repair Career Outlook
In a world with hundreds of different appliances and mechanical devices running throughout our lives, it is only natural that there needs to be enough people capable of maintaining and fixing these many devices. However, much like you can't expect your cell phone to air-condition your house (yet,) you can't expect somebody who can fix your printer to also be able to fix your plumbing. In fact, there are many different careers available in the field of computer and appliance repair. Here are a few of them:
Computer, Automated Teller, and Office Machine Repairers
Projected Job Openings
11,900
Projected Job Growth
-1.5
Entry-level Education
Some college, no degree
People working in computer, automated teller and office machine repair careers are expected to maintain and repair a wide range of equipment. While computer and automated teller repairers typically focus on those machines, office machine repairers work with several different kinds of equipment, such as printers and copiers.
Repairers work in a diverse range of settings. Automated teller repairers typically work at banks or remote banking locations to diagnose, fix and upgrade automated teller equipment. Office machine repairers, meanwhile, visit client businesses during service requests or as part of routine maintenance schedules. Computer repairers often run their own businesses or are employed by electronics stores to fix customer machines and devices.
Most people employed in computer, automated teller and office machine repairer careers have received appropriate training at a vocation or technical school. Some repairers hold associate degrees or post-secondary specialty certificates as well.
Electrical and Electronics Repairers
Projected Job Openings
5,400
Entry-level Education
Postsecondary nondegree award
Electrical and electronics repair careers encompass a wide range of industries and equipment, including:
Transportation and motor vehicles
Powerhouse, substation and relay
Power tools and electric motors
Commercial and industrial
Workplace setting varies greatly by industry. Electrical and electronics repairers who specialize in fixing power tools oftentimes work at small private businesses or equipment rental facilities. Those who work in powerhouse and substation repair, on the other hand, might find themselves working at remote power generational facilities.
Regardless of workplace setting, most electrical and electronics repairer careers require specialized instruction through vocational or technical colleges prior to employment.
Projected Job Openings
156,900
Entry-level Education
High school diploma or equivalent
The best maintenance workers are jacks-of-all-trades — they have the skills to perform many different jobs well. As such, the nature of their work varies. One day they might be painting; the next working on plumbing and mechanical systems; and they could end the week disassembling air-conditioning units.
Maintenance workers are employed in similarly varied settings. They can work in hospitals, casinos, colleges and universities, elementary schools, or large commercial buildings. Most maintenance workers don't have formal training, the BLS notes. Instead, people employed in maintenance worker careers typically have strong mechanical aptitude and hone their skills on the job.
Electronics Engineering Technicians
Projected Job Openings
12,700
Entry-level Education
Associate's degree
Electronics engineering technicians typically work under the supervision of electrical engineers to develop, test and modify electrical machinery or electrically controlled equipment such as computers, medical devices, and navigational and communications equipment. In additional to helping evaluate engineering proposals, drawings and designs, electronic engineering technicians also write or co-author engineering specs that help shore up and correct design issues and improve functionality prior to implementation.
Electronics engineering technicians typically hold an associate degree. Some eventually continue their education to the baccalaureate level to land jobs as electronics engineers. They are usually employed in private commercial manufacturing plants, facilities and laboratories, although some electronics engineering technician careers involve working in government research and development facilities.
Projected Job Openings
23,600
Projected Job Growth
-5.6
Entry-level Education
Postsecondary nondegree award
No two days are quite the same for home appliance repairers — their work setting constantly changes depending on the nature of service calls. One day they might work on a refrigerator in a million dollar mansion; the next they might repair a dishwasher in an apartment complex.
With such a varied work environment, people who pursue home appliance repairer careers should be masterful at all aspects of appliance repair, as well as soft skills such as customer service. They work very closely with customers to determine the nature of appliance problems and are often in customer's homes for several hours conducting maintenance and repairs.
Methodology
To be included in these rankings, all colleges had to meet the following criteria for the specific subject being ranked:
Offer at least one degree or certificate in that subject online
Have awarded at least one degree or certificate in that subject in 2015-16
Once we had our list of schools for each subject, we ranked them on six criteria:
In-state tuition, National Center for Education Statistics, 2015-16
Graduation rate, National Center for Education Statistics, 2015-16
Accessibility, based on the admissions rate, National Center for Education Statistics, 2015-16
Program prominence, based on how many of the degrees and certificates awarded by the school in 2015-16 were in this particular subject, National Center for Education Statistics, 2015-16
Related subjects, based on the number of similar programs that the school offers at any level, National Center for Education Statistics, 2015-16
Variety of degree levels, based on the number of degree and certificate levels out of a possible nine that the school offers in this particular subject, National Center for Education Statistics, 2015-16
Methodology Sources
Integrated Postsecondary Education Data System (IPEDS) 2017-18, National Center for Education Statistics, http://nces.ed.gov/ipeds/
X