History, like many liberal arts disciplines, is often mistakenly thought of as a too-specialized, low-potential field. But a 2015 report from the Georgetown Center for Education and the Workforce found that by mid-career, history graduates with bachelor's degrees earn more on average and have a higher earning potential than any other social sciences major. Those who go on to earn master's degrees see a nearly 48 percent earnings increase.
The skills history majors develop frequently qualify them for careers in fields such as teaching, politics, government, research, communications and library and archival science. According to the American Historical Association, history degrees can be particularly useful in the business world, as graduates are usually well-equipped to predict how societal events will impact financial events.
Online colleges make history degrees more accessible and convenient than ever before. Online programs can be just as rigorous and demanding as campus-based degrees, but often give students more control over how and when they study.
Best Online Colleges for History in 2018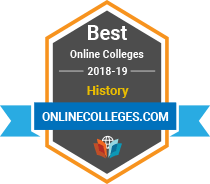 In order to help aspiring history students find the best education for their needs, OnlineColleges.com brings to you this list of the 10 best online colleges for history. We evaluated accredited online colleges using criteria such as in-state tuition cost, admissions rates, graduation rates and more, drawn from the National Center for Education Statistics' Integrated Postsecondary Educational Data System (IPEDS). You can learn more about our methodology at the bottom of this page.
1
American Public University System
Distance Education Participation
100%
Number of Programs Offered
154
American Public University System is composed of two colleges — American Public University and American Military University — both of which specialize in online education. It also offers at least three times more online history degree programs than any other school featured here. Options:
A.A., B.A. and M.A. in History
A.A., B.A. and M.A. in Military History
Graduate Certificates in American History; The American Revolution; Ancient and Classical History; Civil War Studies; European History; World War II
American Public University System boasts monthly start dates for online students and an open admissions policy, which means all applicants who meet the university's basic admissions requirements are accepted.
Accreditation:
Higher Learning Commission
Location:
111 W Congress St
Charles Town, WV 25414
2
Nicholls State University
Distance Education Participation
51%
Number of Programs Offered
13
Nicholls State University's online B.A. in History is ideal for students interested in modern America, Europe and Asia. It features 8-week accelerated courses, which students can attend any time, night or day. According to NSU's official website, its online history graduates have gone on to successful careers as teachers, analysts, archivists, campaign workers, researchers, intelligence agents and more.
As a public school, NSU is the most affordable school featured on this list. Its 90-plus-percent admissions rate also makes it one of the most accessible. Admitted students can take heart in knowing the institution — and its online bachelor's degree in history — are held in high regard: U.S. News & World Report also ranked it among the top 50 public schools in the country in 2017.
Accreditation:
Southern Association of Colleges and Schools Commission on Colleges
Location:
906 East 1st St
Thibodaux, LA 70301
Distance Education Participation
15%
Number of Programs Offered
N/A
Harvard University — one of the oldest and best-known colleges in the United States — likely needs no introduction, but the private Ivy League's online degree programs are relatively new. Note, however, that online history students must attend a 3-week, on-campus intensive once each summer. It offers two online programs:
Bachelor of Liberal Arts (BLA) in extension studies: History
Master of Liberal Arts (MLA) in extension studies: History
Harvard is the most selective school featured here, but its graduation rate of nearly 98 percent is the highest of all 50 colleges evaluated. Likewise, its relatively high cost is offset by graduates' stellar employment and earnings rates.
Accreditation:
New England Association of Schools and Colleges' (NEASC) Commission on Institutions of Higher Education (CIHE)
Location:
Massachusetts Hall
Cambridge, MA 02138
4
University of Illinois at Springfield
Distance Education Participation
65%
Number of Programs Offered
24
The University of Illinois at Springfield offers a 100 percent online degree program that culminates in a B.A. in History. Students enrolled in the program are by no means isolated, however: small class sizes help to foster solid peer communication and personalized faculty instruction. Honors programs, internships, and study abroad opportunities allow for independent research and face-to-face interaction, often within one's home community. According to UIS, all its online faculty hold Ph.Ds.
The University of Illinois at Springfield claimed the third-highest graduation rate among our Top 10, while the fact that 2.7 percent of all its 2015 graduates studied history translates to a no. 5 history-prominence ranking among all 50 colleges evaluated.
Accreditation:
Higher Learning Commission of the North Central Association of Colleges and Schools (NCACS)
Location:
One University Plaza
Springfield, IL 62703-5407
5
University of North Alabama
Distance Education Participation
51%
Number of Programs Offered
17
There are many reasons the University of North Alabama is one of our top online history schools, but its affordability is perhaps one of the most significant: the university offers the second-lowest tuition among all schools featured here. Its history programs are ideal for students interested in both ancient and modern history. The institution offers a number of degree options, three of which are available online:
B.A. in History
B.S. in History
M.A. in History
The University of North Alabama aims to make its online history programs as convenient as possible. Courses are small, flexible and available 100 percent online. According to the University's official website, students pursuing its M.A. in History can even defend their theses online. Graduate students are also encouraged to attend and contribute research papers to the History Graduate Student Association's annual colloquium, where they have a chance to network and interact face-to-face with online classmates.
Accreditation:
Southern Association of Colleges and Schools Commission on Colleges
Location:
One University Plaza
Florence, AL 35632-0001
6
Sam Houston State University
Distance Education Participation
50%
Number of Programs Offered
37
Sam Houston State University is a public school with a broad reach regarding overall accessibility: the university is the second-most-affordable school featured on our list. That it also has the second-highest graduation rate only underscores its value. According to its website, SHSU's History Department is one of its largest and fastest-growing, owing to its award-winning faculty and the wide variety of opportunities offered. The university offers two fully online history degree programs: one bachelor's and one master's.
Students attending either program can choose from a number of specialty tracks - another fact driving the department's growth. Bachelor's students can, for instance, specialize in U.S., Latin, European, World, Military or African American history. Graduate students have even more options: Early American, U.S. Social/Cultural History, Women's History, Migrations, Trade Networks and World Empires, to name a few. While students can complete all courses online, those interested in working in museums are encouraged to establish a cooperative internship between the Department and the Sam Houston Memorial Museum near campus.
Accreditation:
Southern Association of Colleges and Schools (SACS)
Location:
1806 Ave. J
Huntsville, TX 77340
7
Eastern Oregon University
Distance Education Participation
63%
Number of Programs Offered
21
Eastern Oregon University is yet another institution that scores high on accessibility: it is the third most affordable college on this list and has the fourth-highest admissions rate among all 50 schools evaluated. One of EOU's defining features is its variety of study options. For online history students, these include the following:
Bachelor's degree in history
Undergraduate minor in history
Bachelor's degree in integrative studies: Two EOU Minors
Bachelor's degree in integrative studies: Individualized Plan
Students pursuing EOU's online bachelor's degree in history take classes ranging from early world civilizations to modern U.S. history plus historical methods and historical research. All courses are available online, including the program's required capstone project, which offers theses, public history projects and teaching options. The University's integrative studies programs, on the other hand, let students combine their love of history with another online EOU minor or discipline.
Accreditation:
Northwest Commission on Colleges and Universities (NWCCU)
Location:
One University Blvd
La Grande, OR 97850
Distance Education Participation
72%
Number of Programs Offered
36
Columbia College is a private liberal arts school. Unlike the vast majority of similar institutions, however, it has an open admissions policy for applicants who meet a few basic requirements. This policy of accessibility extends to its online programs. While CC only formally offers one online history degree — the B.A. in History — it also has an online history minor and a highly relevant bachelor's in American studies. All options are notably flexible: CC notes that online students have full control over their studies and can start, stop or resume them at any time, and students who pursue internships can do so in their home communities.
Columbia College's online history degree program is designed to provide a broad but thorough understanding of U.S. and world history, and it also promotes the development of research, writing, reading, critical thinking, analysis, and problem-solving skills.
Accreditation:
Higher Learning Commission (HLC)
Location:
1001 Rogers Street
Columbia, MO 65216
Distance Education Participation
49%
Number of Programs Offered
22
Mary Baldwin University was founded as a women's college in 1842, but has gone on to function as two institutions: Mary Baldwin College for Women and the co-ed University College. Baldwin Online offers any admitted student with internet access a chance to study at the historic college. For history students, that means pursuing an online B.A. in History or completing a minor in public history or historic preservation. According to MBU, online B.A. students explore American, British, African American and European history in courses that range from basic survey classes to highly specialized topics (think studying European culture through film).
One of the university's most unique opportunities for history students is the Virginia Program at Oxford in which students from a handful of Virginia colleges travel to Oxford to spend the summer studying late 16th- to early 17th-century England. It is little wonder history majors accounted for more than 5 percent of MBU graduates last year, giving the university the No. 3 prominence score out of all 50 online schools evaluated.
Accreditation:
Southern Association of Colleges and Schools Commission on Colleges (SACS-COC)
Location:
318 Prospect Street
Staunton, VA 24401
10
SUNY Empire State College
Distance Education Participation
62%
Number of Programs Offered
56
Empire State College is part of the State University of New York system and one of the most affordable schools on this list. It is also one of the few schools reviewed that offers associate, bachelor's and master's degree programs, including online associate and bachelor's degrees in historical studies. A few of the more popular concentrations: American history, women's history, Asian American history, military history and history and literature. The college's online undergraduate classes are especially diverse; topics include modern and historic civilizations, African American history, fashion in U.S. history, technology in Western culture and even the history of fire.
While SUNY-ESC's online bachelor's in history is a popular option, students seeking a multidisciplinary understanding of history may want to research its M.A. in Liberal Studies degree. The M.A. in Liberal Studies program lets online students create an individualized course of study composed of courses in history and a second relevant field. Students pursuing the M.A. in Liberal Studies can concurrently earn advanced graduate certificates in American Studies, Heritage Preservation, Public History and more.
Accreditation:
Middle States Commission on Higher Education
Location:
2 Union Avenue
Saratoga Springs, NY 12866
Degree Overview: History
Online colleges for history provide students an ample opportunity to learn about the past and apply those lessons to the future. Those in online history degree programs can expect to start with a broader view of world history, then narrow their focus as their studies become more advanced. Here's more about the journey in store.
Online History Courses
Though the courses a student will take depend greatly upon their chosen specialization in the history field, there are some courses that students will likely dip into during their pursuit of the history degree. This is especially true for the online bachelor's degree programs in history, where students are more likely to take the same courses as their peers to learn the basics of historical research and content before they specialize in courses that suit their ultimate educational goals. Here are some examples of common history courses a student may take early in their pursuit of the degree:
United States Civil War and Reconstruction
Western Civilization to 1500
The History of Money
Global History Literacy
Why War: A Historical Perspective
Students further along in their bachelor's program or pursuing a master's degree will begin specializing their studies into a particular concentration — such as American History, World History, Military History or Public History. Accordingly, these students will begin taking courses with a narrower, more specific focus in order to drill down into the intricacies of historical events or periods. For example, a student in the Military History concentration might take courses such as:
The Holocaust in its History
The United States and Vietnam, 1945-1995
The Arab-Israeli Conflict
Most master's degree and doctoral programs in history are research-driven, so students at these graduate levels can expect to take a wide variety of research courses in addition to those that focus on the chosen concentration. Courses such as Comparative History and Research, Historical Lenses and Scholarship and Graduate Research Seminar are common, alongside the specialization courses attached to a student's concentration.
Career-Related Skills to Develop
Perhaps the most important skill a history student learns is research — specifically, how to find the best sources, evaluate studies with a discerning eye and apply critical thinking to a variety of situations. This is a crucial skill for completing research papers in college, and it only becomes more important after graduation. Professionals who work as archivists, archaeologists, broadcast journalists and even teachers at every educational level will use these skills on a regular basis.
In addition to research skills, history coursework is designed to hone perception of the world and prediction of events. As students learn about the circumstances that led up to certain events in history, they can begin to apply that knowledge to the modern world. This is especially true for those who work in social services, political science or politics, from local to national or international scale. Reviewing the series of choices, victories and missteps of a project, event, career or situation in the historical context can inform the steps of a history professional's endeavors and help them to avoid possible pitfalls in their work, choices and interactions.
While these are probably the two most important skills for a history professional, the pursuit of online history degrees often provides several other skills that serve students well over the course of their careers, including the ability to manage time and priorities effectively; think objectively about new situations; work on in-depth projects without direct supervision; and question, summarize and negotiate effectively.
History Career Outlook
History is the study of the past, but those who dive into it will often find a bright outlook for their future. From collecting documents to analyzing artifacts to teaching students about history, there are many career paths a history lover can take.
Projected Job Openings
400
Entry-level Education
master's degree
Historians have the important job of keeping the past alive. They do this by researching, analyzing and interpreting historical documents; determining authenticity and significance of ancient artifacts; tracing changes in the world and its events over time; and introducing the public to their findings.
Historians aren't just found in museums, though they certainly do have a presence there. Historians can also work in government, private business, nonprofits, and even post-secondary schools. Though much of their time is spent researching and writing reports, they might also attend conferences, meet with the public, conduct interviews or spend time in areas pertinent to their research.
Most historian careers require a master's degree, at minimum; often a doctoral degree is required. This is especially true of research positions in government, higher education and well-established museums or historical centers.
Projected Job Openings
1,700
Entry-level Education
master's degree
Also known as museum directors, curators are responsible for museum collections and exhibits, from acquisition to storage to display of museum items. They might specialize in one particular field, such as botany or paleontology. Depending upon the work setting, some curators might be very hands-on, working directly with collections, while others might focus more on the administrative side. In smaller museums, one curator might handle it all.
Curators also serve as the face of the museum, representing the institution in the media or at public events. They are expected to attend conferences, conduct research and educational programs, and speak to the public about new exhibits.
Though curator careers at small museums might be available to those with a bachelor's degree, most museums require a master's degree in history, art history, museum studies or the like.
Projected Job Openings
1,000
Entry-level Education
master's degree
Archivists work to preserve historically significant documents and records. Their work includes authenticating and appraising historical materials, preserving and maintaining documents and related objects, creating systems to maintain and preserve electronic records and organizing all records to make them easily searchable. They create backups of documents via film or photograph, set guidelines for public access to the materials and work to collect new pieces for the archive.
Archivists might also work closely with those who arrange and exhibit the materials. They provide assistance to users of the material, as well as visitors to the exhibits in which the documents are displayed. Many choose to focus on a specific type of archival record, such as photographs, maps, sound recordings or journal writings.
Those interested in archivist careers must earn a master's degree in archival studies or a closely related field. An internship can also provide valuable hands-on experience.
Museum Technicians and Conservators
Projected Job Openings
1,800
Entry-level Education
Bachelor's degree
Museum technicians, also known as collections specialists or registrars, ensure the safety of objects in museums and exhibits. Their job is all about logistics, including overseeing acquisitions; the loaning, transportation, storage and care of objects; insurance issues; and much more. All this requires intense attention to paperwork.
Conservators work hands-on with various items in a museum, handling preservation, restorations, and treatment that minimizes deterioration. They might work with x-rays, microscopes, special lighting equipment, chemical testing and more. They usually specialize in one material or type of object, such as books or paintings.
Museum technician and conservator careers require different educational paths. Museum technicians must hold a bachelor's degree in museum studies or a related field. Some positions require a master's degree. For conservators, a master's degree in conservation or a closely related field is required for entry-level work. An internship can be quite beneficial for future employment prospects.
High School History Teachers
Projected Job Openings
80,300
Entry-level Education
Bachelor's degree
High school teachers work with students to prepare them for the rigors of college or entering the workforce. Those who teach history have the potential to focus on a variety of classes, teaching anything from world history to very specific historical periods.
High school history teacher careers are available in both public and private schools. In either setting, teachers are generally expected to work closely with classrooms full of students as well as provide one-on-one instruction to those who need extra help with the material. They grade papers, quizzes and tests; monitor student participation; meet with parents if necessary to discuss progress; and more.
High school teachers must have a bachelor's degree, at minimum; many school districts prefer to hire those who hold a master's degree. Those working in public schools must also hold a license to teach.
Methodology
To be included in these rankings, all colleges had to meet the following criteria for the specific subject being ranked:
Offer an undergraduate degree (either associate or bachelor's) in that subject online
Have awarded at least one degree or certificate in that subject in 2015-16
Once we had our list of schools for each subject, we ranked them on five criteria:
In-state tuition, National Center for Education Statistics, 2015-16
Graduation rate, National Center for Education Statistics, 2015-16
Accessibility, based on the admissions rate, National Center for Education Statistics, 2015-16
Program prominence, based on how many of the degrees and certificates awarded in 2015-16 were in this particular subject, National Center for Education Statistics, 2015-16
Related subjects, based on the number of similar topics for programs in relevant CIP codes that are offered at any level, National Center for Education Statistics, 2015-16
Methodology Sources
Integrated Postsecondary Education Data System (IPEDS) 2017-18, National Center for Education Statistics, http://nces.ed.gov/ipeds/
X