The mathematics and statistics fields are actually some of the oldest sciences around and are considered the building blocks for many other industries and disciplines. While the common vision of a math major's career might be that of someone scribbling complicated formulas on a whiteboard, careers in math are actually highly variable, ranging from actuaries to financial analysts to survey researchers to economists. Whether your intention is to immerse yourself in your own research or to work with scientists in related scientific fields, such as engineering or computer science, chances are that earning a degree in mathematics can help you on your way.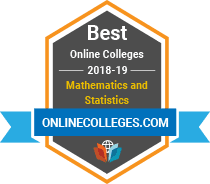 Best Online Colleges for Mathematics and Statistics in 2018-19
We used a wide range of data from the National Center for Education Statistics' Integrated Postsecondary Education Data System (IPEDS) to compile our list of the five best online colleges for math and statistics. You can read more about the data points and methodology we used to create our list at the bottom of the page. We hope this list can help you select an accredited school that meets your educational goals and financial considerations.
1
Mayville State University
Distance Education Participation
65%
Number of Programs Offered
12
Founded in North Dakota in 1889, Mayville State University had a total enrollment of 1,110 students in fall of 2015, more than 20 percent of which were located outside of the state of North Dakota. The B.S. in mathematics degree from Mayville State University begins each fall. The program runs for eight semesters, or approximately three years, and it is designed for students who wish to apply principles of mathematics in real-world applications rather than in teaching positions. Students must complete 120 semester hours to satisfy degree requirements, including 29 semester hours in mathematics courses. Other coursework includes 18 semester hours in business administration and 20 semester hours in general sciences. A minimum of 36 upper-division semester hours must be taken at Mayville State University. MSU heads our list due to a strong combination of factors: it was sixth of 13 schools for cost of in-state tuition, and first in prominence for number of mathematics degrees earned by MSU students.
Accreditation:
Higher Learning Commission
Location:
330 Third St.
N.E. Mayville ND 58257-1299
2
Cerro Coso Community College
Distance Education Participation
50%
Number of Programs Offered
23
Cerro Coso Community College serves a wide swath of Kern County in California. The main campus in Ridgecrest had total enrollment of 1,893 in fall of 2015, but CC online had total enrollment of nearly 3,000 students. Quite impressive! CC Online offers 18 fully online associate degrees, including a transfer degree in mathematics for students who intend to transfer to a four-year university and earn a B.A. degree in math. Cerro Coso Community College's associate transfer degree in mathematics guarantees students transfer as juniors to institutions within the California State University system. CCCC ranks so highly on our list of best online colleges for math and statistics degrees due largely to having the lowest cost of in-state tuition. It also has an open admissions policy, which led to a 100-percent admissions rate in 2015 that was tied for first with two other institutions.
Accreditation:
Accrediting Commission for Community and Junior Colleges of the Western Association of Schools and Colleges
Location:
3000 College Heights Blvd.
Ridgecrest, Calif. 93555-9571
3
University of Massachusetts-Lowell
Distance Education Participation
32%
Number of Programs Offered
48
University of Massachusetts-Lowell has many degree options for students interested in earning online math and statistics degrees. Their Bachelor of Science in Mathematics helps students develop quantitative analysis and critical-thinking skills that may be useful across a wide range of fields. Students study:
Calculus, physics and applied statistics
Discreet structures
Propositional logic
Relations and functions
Methods of proof
…and many more related advanced mathematical concepts. The B.S. degree requires 126 total credits to complete. Umass at Lowell also has a Bachelor of Arts degree in mathematics for students who wish to pursue a wider range of liberal arts classes. As such, students in the B.A. degree program in mathematics do not have to complete as many technical math classes as those in the B.S. degree path. The university also offers bachelor's degrees for students interested in statistics, applied mathematics, or a teacher concentration. Although many classes for each degree can be completed entirely online, some classes must be taken on campus. Umass-Lowell was second of 13 institutions for cost of in-state tuition and had the highest graduation rate of any college on our list.
Accreditation:
New England Association of Schools and Colleges
Location:
1 University Ave.
Lowell Mass. 01854-5104
Distance Education Participation
74%
Number of Programs Offered
15
Chadron State College is a small four-year state college serving the rural northern Nebraska Panhandle. Total enrollment in fall of 2015 was just under 3,000 students. The fully online Bachelor of Science degree with a major in mathematics is available as a degree-completion program. To satisfy degree requirements, students must complete 120 semester hours, including 36 hours of study in the course major, and transfer students must complete at least half of the degree major requirements at the university. Major coursework includes study in advanced calculus, linear algebra, statistics and mathematical analysis. Chadron State College was fifth of 13 schools for cost of in-state tuition and tied for first with two other schools for 100 percent admissions rate in 2015 due to its open admissions policy. The college also scored favorably in graduation rank.
Accreditation:
Higher Learning Commission (HLC)
Location:
1000 Main St.
Chadron, Neb. 69337-2690
Distance Education Participation
78%
Number of Programs Offered
16
IU East rounds out our top five online colleges for bachelor's degree programs in mathematics, which is no surprise when you see that it ranked No.2 in prominence, awarding more degrees in math & statistics than any other school but one. The B.S. in Mathematics from Indiana University East requires 120 total credit hours to complete, including 45 credit hours in mathematics. Common Core requirements consist of 27 credit hours of coursework in mathematical modeling, real analysis, calculus and linear and modern algebra. The remaining 18 credits are electives in the mathematics department. Students who have earned 60 or more credit hours at another college can complete the B.S. degree program fully online; however, a minimum of 30 credit hours must be completed at Indiana University East. Transfer students who have already completed their general education requirements can usually complete the degree requirements in roughly two years.
Accreditation:
Higher Learning Commission (HLC)
Location:
2325 Chester Blvd.
Richmond Ind. 47374-1289
Degree Overview: Mathematics and Statistics
Students with an interest in facts and figures can hone their skills by enrolling in online programs for mathematics and statistics. In these programs, students take classes that help them prepare for specialized careers as actuaries, statisticians and mathematicians, among others. For information on some of the possible classes and skills that math programs provide, continue reading this section.
Online Mathematics & Statistics Courses
Online education for mathematics and statistics offers students many options of courses they can take. Below is a sample of some of the classes that may be available in math departments, depending on which college students choose.
Algebra: One of the building blocks of mathematics, elementary and intermediate algebra coursework cover different aspects of this expansive subject. Elementary algebra consists of topics such as word problems, linear equations, polynomials and rational and irrational numbers, while abstract algebra includes more complex concepts such as symmetry groups, geometric constructions, counting theorem and polynomial equations.
Calculus: Similarly to the different levels of algebra, introductory calculus focuses on fundamental theories of the subject such as derivatives, antiderivatives, rate-of-change interpretations, applications and power series. More advanced calculus courses might cover inverse trigonometric functions, partial derivatives, Green's theorem and multiple integrals.
History of math: This class focuses on math from a historical perspective and the way different areas of math — such as algebra, geometry, probability, trigonometry, statistics and calculus — have developed over time. Students in this course can study seminal theories in each kind of mathematics and how these theories have evolved in order to better understand where mathematics may develop in the future.
Actuarial math: Students who are considering becoming an actuary after graduation can become familiar with the type of math that is required through these courses. Specific topics may include annuities, loans, stocks, bonds, cash flows, assets and liabilities, capital budgeting, investment income and valuation.
Probability: In its simplest form, probability can be as straightforward as a coin toss; when used to its fullest, probability can practically see the future just by looking at the present. Probability classes may cover random variables, integration theory, stochastic simulation, joint distributions, random experiments, expectation and limit law.
Career-Related Skills to Develop
Students who earn online mathematics and statistics degrees are obviously looking to gain strong math skills. However, there are many other useful skills that math majors can acquire through their coursework, including the following.
Problem solving: Mathematics professionals must use preexisting data and formulas to devise new theories and hypotheses that can provide solutions to real-world problems. Whether their work is being put to use in a business, engineering or scientific environment, a mathematician needs strong problem solving skills.
Analytical: Math programs are designed to teach students how to identify patterns in large amounts of data — often with the help of various machines and programs built for this very purpose — and interpret what those patterns mean. Understanding how to plug what may appear to be a shapeless mass of numbers into formulas and computer programs in order to make sense of it is an integral part of a mathematical career.
Communication: People in math-related fields must know how to communicate about complex theories. Although their colleagues will likely understand such concepts, mathematics professionals also need the ability to explain mathematical ideas to those without this specialized knowledge — not only for the sake of their (usually) less-mathematically-informed friends and family, but for the sake of communicating their theories to mathematicians of other mathematical fields; scientists hoping to utilize their theories in experiments; and journalists looking to report their theories to the general public.
Mathematics and Statistics Career Outlook
A fast-growing industry with a lot of potential for growth across a variety of industries, mathematics is likely to be a reliable career with opportunities in areas that are of interest to you. This time-honored field is one well worth considering.
Projected Job Openings
300
Entry-level Education
master's degree
A common question in high school math classes is, "What's the point?" A mathematician understands exactly what the "point" of mathematics is: to make our lives better and more efficient.
Theoretical mathematicians are concerned with pushing mathematics to its limits, discovering new equations and solving seemingly impossible problems. They conduct research using complex math and algorithms, analyze data and develop new mathematical concepts in areas such as algebra and geometry.
Applied mathematicians apply those theories and equations to real-world problems, utilizing calculations to perform tasks that range from plotting the course of businesses to testing the aerodynamics of planes.
As the Bureau of Labor Statistics notes, many mathematician careers start with a master's degree. However, some mathematicians get their start with a bachelor's degree.
Projected Job Openings
5,300
Projected Job Growth
30.7
Entry-level Education
master's degree
Statisticians are masters of manipulating data. They collect information with surveys, polls, questionnaires and other forms of research, organize that information into charts and reports that make it comprehensible, and then apply their understanding of sampling and probability to draw informed conclusions about their findings. These professionals are instrumental to solving problems in healthcare, business, engineering and an array of other fields; only through their work can the scope of problems and situations that span our entire globe be understood and tackled.
Most statisticians work for the government or for research organizations, although many others work for insurance companies or colleges and universities. According to the Bureau of Labor Statistics, most statistician careers begin with a master's degree. However, some entry level careers can begin with a bachelor's degree.
Projected Job Openings
2,200
Projected Job Growth
20.1
Entry-level Education
Bachelor's degree
Actuaries weave together math and statistics to help businesses price their products and predict their profitability. Using statistical data and other numeric values, they aim to help businesses anticipate profit and loss, death, sickness and even natural disaster. A common place to find actuaries is in the health insurance industry, where they calculate how best to price premiums so they cover anticipated medical costs while still turning a small profit. If you ever wanted to determine the amount of money that should be paid out for the insurance claim "Struck by a duck," this is the career for you.
Because of the nature of their work, almost two-thirds (71 percent) of actuaries work in the finance and insurance industries. Actuary careers typically begin with a bachelor's degree, and some careers require special certification.
Projected Job Openings
30,900
Entry-level Education
Bachelor's degree
In the space between statisticians and actuaries, the financial analyst works. By assessing past and present trends in economics and finances, these professionals plot the best course for their clients' investments, from an individual's savings to a business' assets. Part historian, part economist, part businessperson and part mathematician, a financial analyst must think quickly and act responsively, always predicting and advising to the best of their ability.
Most financial analyst careers begin with a bachelor's degree, notes the Bureau of Labor Statistics. However, a master's degree may be required for advanced positions.
Projected Job Openings
1,500
Entry-level Education
master's degree
Information is one of the most valuable tools any person or organization can have, and surveys are a key way of gathering that important data. When presented with a topic that needs to be understood in more detail, a survey researcher goes to work: designing a survey and its attendant methodologies using statistics; adjusting for potential errors and biases in the data with complex formulas; summarizing the findings into charts and graphs; and evaluating the results to see what could be done better next time. Although no individual piece of data can tell the whole story, a collection of survey responses can be used to note trends and help us understand people better.
As the Bureau of Labor Statistics notes, most survey researcher careers begin with a master's degree or Ph.D. However, a bachelor's degree is common for certain types of entry-level positions. Either way, employers prefer to hire candidates with plenty of experience performing research, analyzing data and using statistics.