Teachers may be front and center in the classroom, but they don't have to work alone. Teacher aides — sometimes called paraprofessionals, instructional aides, or teaching assistants — can help to ensure that all students in a classroom have access to the instruction or support they need. According to the National Education Association (NEA), most teacher aides work in kindergarten and elementary classrooms to supervise students, perform administrative tasks or provide personal assistance to children with special needs. Teachers count on these assistants to maximize learning in the classroom, and online teacher aide degree programs offer a convenient way to prepare for entry into this enriching career.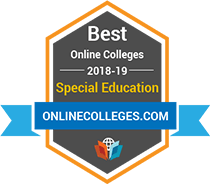 Best Online Colleges for Teacher Aid 2018-19
It can be difficult to wade through all of the online colleges for teacher aides and find the one that's best for you. That's why we compiled this list of the five best online colleges for teacher aides. We accessed information from the National Center for Education Statistics' Integrated Postsecondary Education Data System (IPEDS) and generated a rating system that identified these top online schools for teacher aide. (Detailed information about our methodology is available at the bottom of the page.)
Please note that all five schools on this list have an open admissions policy, meaning they accept anyone with a high school diploma or a GED certificate who applies for entry.
1
Dakota College at Bottineau
Distance Education Participation
75%
Number of Programs Offered
21
This two-year public college founded in 1906 offers two online degree options for undergraduate students seeking an Associate of Applied Science degree in the paraprofessional educator field: a preschool option focused on education and a family childcare option integrated with business management. For students interested in a quicker course of study, a paraprofessional educator certificate is available.
DCB earned our No. 1 spot based on its prominence ranking, which was No. 1 overall. This metric determined how many degrees and certificates the school awarded in the field in 2014-15 compared to other degrees and certificates it awarded. Additionally, the school is fairly affordable, ranking third out of 14 for its in-state tuition.
Accreditation:
Higher Learning Commission of the North Central Association of Colleges and Schools
Location:
105 Simrall Boulevard
Bottineau, ND 58318-1198
2
Clovis Community College
Distance Education Participation
51%
Number of Programs Offered
21
Our No. 2 school focuses on programs in early childhood education with opportunities that include a certificate of achievement in early childhood education, available online, and an Associate of Arts degree in early childhood education, offered on-campus. The online certificate program covers early childhood education components, such as child growth, health, safety, and nutrition, and can be completed online in as few as two semesters.
Part of the reason Clovis Community College ranked so high on our list was its tuition affordability. In fact, Clovis had the lowest in-state tuition of all 14 schools ranked in our analysis. Almost as impressive was Clovis' graduation rate, which was the highest of all five schools on this list and second-highest out of the total 14.
Accreditation:
Accrediting Commission for Community and Junior Colleges
Western Association of Schools and Colleges
Location:
417 Schepps Boulevard
Clovis, NM 88101-8381
3
Gateway Community and Technical College
Distance Education Participation
43%
Number of Programs Offered
23
Ranking as our No. 3 school is Gateway Community and Technical College, one of 16 schools comprising Wisconsin's Technical College System. This two-year school offers an online Associate of Applied Science degree in foundations of teacher education that provides:
A focus on reading and language arts, behavior management, and child and adolescent development
A program that meets federal guidelines to qualify as a paraprofessional
This school ranked No. 3 overall due to its second place prominence rating, out of 14, and a No. 4 rating for lowest in-state tuition. Of all the schools rated for teacher aide programs, Gateway Community and Technical College additionally earned the No. 5 spot for graduation rate.
Accreditation:
Higher Learning Commission
Location:
500 Technology Way
Florence, KY 41042
4
Genesee Community College
Distance Education Participation
31%
Number of Programs Offered
8
Our No. 4 school is part of the State University of New York System, and draws in students from more than 20 countries. This two-year school's offerings for paraprofessionals include a teaching assistant certificate and an Associate of Arts degree with a teaching assistant focus. Keeping the interests of distance education students in mind, Genesee Community College's certificate program is available 100 percent online, while its associate degree includes approximately 50 percent online classes.
One of Genesee Community College's highlight rankings was its No. 3 prominence rating, meaning that the school awarded an impressive number of certificates and degrees in the teaching assistant category.
Accreditation:
Middle States Commission on Higher Education
Location:
One College Road
Batavia, NY 14020
5
Northland Community and Technical College
Distance Education Participation
42%
Number of Programs Offered
23
This two-year school ranked fifth on our list of 14 schools rated for teacher aide programs. Northland Community and Technical College offers an online Associate of Science degree in early childhood and paraprofessional education that covers components like imaginative learning, integrative play and art appreciation.
Northland Community and Technical College earned fifth place in our rankings thanks to its No. 3 graduation rate in 2014. It also took fifth place for prominence rating, reflecting the number of degrees awarded at the school in this field compared with other areas of study.
Accreditation:
Higher Learning Commission of the North Central Association of Colleges and Schools
Location:
1101 Highway One East
Thief River Falls, MN 56701
Degree Overview: Teacher Aide
To learn how to handle their important responsibilities, teacher aides turn to formal education. This section provides a birds-eye view of what students can expect from online programs for teacher aide, as well as the skills they can expect to develop during their educational journey.
Online Teacher Aide Courses
Those who want to work as a teacher aide or teaching assistant usually need at least two years of formal education in order to work in a public school district. In many cases, earning an associate degree in education will fulfill this requirement most admirably. Those who choose to pursue a certificate or diploma can complete their college work in less than two years, but keep in mind that for some school systems, less than two years of education will not be enough.
Those who choose to attend online college for teacher aide to earn an associate degree can expect to encounter the following courses in addition to their general education requirements:
Instructional Supervision
Organization and Management of the Learning Environment
The Teacher Assistant in the Diverse Classroom
Language Development and Activities
Educational Psychology
It's important to remember that the requirements for teacher aides vary from one state to the next, and even from one school district to another. Therefore, students should always check with their state board of education and local districts to ensure they are pursuing the correct program and courses that will allow them to work in that area or state.
In addition, those who want to work with certain groups of students — such as those with special needs — might need to pass a skills-based test. Again, the requirements depend on the state.
Career-Related Skills to Develop
Teacher's aides perform any number of tasks in the classroom. They might work with entire classrooms full of students, handle some administrative duties for a teacher or work individually with those students who need a little extra help. In order to do their job to the best of their ability, some particular skills are necessary.
The ability to establish and maintain personal relationships, whether they be with administrators, teachers, parents or students, is a vital skill. So is the ability to communicate well, and tailor that communication to suit the audience — for instance, a teacher's assistant will communicate very differently with an administrator than they will with a student under their care.
Resourcefulness is also important. Teacher aides must learn to use the materials and funds they have on hand in order to create the best experiences for their students. If your student is a visual learner and you can't draw the images you wish to use for your lesson, printing the images you'll need or learning to use a classroom projector may be ways around the problem. If your student learns through experience and you're teaching a module on volcanoes, the use of a computer game or a salt-dough volcano project may be just the trick to drive your lesson home. Such creative solutions are one of the hallmarks of a good teacher aide.
And finally, patience is a virtue, especially for those in the educational system. Working with students who have special needs, come from challenged backgrounds, have trouble focusing in class or are struggling with the material all require some level of patience and understanding from a teacher's aide — to say nothing of working under an abrasive principal or meeting with uncooperative parents.
Teacher Aide Career Outlook
Employment in many different areas of education is predicted by the BLS to continue growing from 2014 to 2024. Teaching aide is one of these areas expected to keep growing; if you are considering a job in this expanding field, one of the following careers might be worth looking into.
Projected Job Openings
153,900
Entry-level Education
Some college, no degree
Teacher assistants perform an array of important tasks meant to reinforce lessons and lighten their lead teacher's load. Generally speaking, a teacher will introduce new material and concepts, and then the teacher assistant will work with the students individually or in small groups to reinforce the information.
Also known as "paraeducators," these professionals typically offer students individual attention when their teacher cannot, while also providing much-needed supervision in and out of the classroom. Many teacher assistants also help with record-keeping and the preparation of classroom materials, although duties depend heavily on the individual position. While most teacher assistants operate under the guidance of a teacher, some of the work may be performed independently.
According to the Bureau of Labor Statistics, teacher assistant careers typically begin with at least two years of college coursework. Some schools or school systems may require a two-year associate's degree.
Adult Basic Education Teachers
Projected Job Openings
6,600
Projected Job Growth
-10.3
Entry-level Education
Bachelor's degree
Adult basic education teachers teach adult students basic skills such as reading, writing, and math. Since many of their students tend to be immigrants, most adult basic education teachers also help students learn to speak and write in English. Beyond lessons, adult basic education teachers also follow up with students, monitor their progress and help them develop study skills required for school and work. Though the description may sound simple, it is no exaggeration to say that these instructors can turn a person's life around, and open doors for them that would have otherwise have been permanently closed.
Most adult basic education teacher instructor careers begin with a bachelor's degree in education or a related field, notes the Bureau of Labor Statistics. Employers may also show preference to candidates with previous teaching experience.