From the near-abstract art of high fashion design to the historical replicas of Renaissance theater costuming, from the polished tribute of professional cosplay to the advertising prowess of fashion marketing, the world of fashion is alluring to many. Though this field may seem out of reach for those who don't live in a bustling major city, you don't have to live in New York or Los Angeles to attend some of the country's top fashion schools. You can earn associate, bachelor's or even master's degrees in fashion from the comfort of your home through distance learning, and we're here to tell you some of the best places to do it.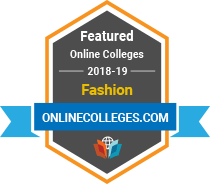 Featured Online Colleges for Fashion in 2018
After analyzing a range of data provided by the National Center for Education Statistics' Integrated Postsecondary Education Data System (IPEDS), we selected five colleges offering online programs in fashion to feature on this page. You can learn more about the methodology we used to create our list at the bottom of this page.
1
Academy of Art University
Distance Education Participation
66%
Number of Programs Offered
103
The Academy of Art University has been serving students interested in fashion and design since 1929. In 2002 the university began offering online fashion degrees, and it offers more variety in this area than any other school on our list. In addition to completely online degree programs in fashion at the associate, baccalaureate and master's level, the school also offers A.A. and B.A. programs in fashion journalism for aspiring writers. That's not even the end of it: the university also offers focuses in:
Merchandising
Marketing
Product development
Styling
Visual merchandising
All online classes at Academy of Art University have no set time schedules, so students can study completely at their own pace. Fashion program content is divided into 15 modules that are spread out over the course of a semester and include videos, slideshows and interviews. Coursework includes study in merchandising, technology, textiles, knitwear and other related topics. The Bachelor of Fine Arts degree requires 132 semester units to complete; however, students who already hold a bachelor's degree can enroll in the university's Second Degree program and complete only 66 semester units instead.
Accreditation:
Council for Interior Design Accreditation
Location:
79 New Montgomery
San Francisco Calif. 94105
2
Berkeley College-Woodland Park
Distance Education Participation
47%
Number of Programs Offered
21
Berkeley College serves more than 8,000 students annually. It has New York campus locations in Manhattan, Brooklyn and the White Plains business district, while students in New Jersey attend campuses in Woodland Park, Dover, Newark, Paramus and Woodbridge. In fall of 2016, Berkeley College also served more than 550 international students from nearly 80 different countries through Berkeley College Online.
The bachelor's degree program in fashion merchandising and management was the second-most pursued degree at the school in 2016, and its A.A.S. counterpart was quite popular as well. The A.A.S. degree requires 60 semester credits to complete, while the B.B.A. degree requires 120. Berkeley College is the second most affordable school on our list, and it also boasts an open admissions policy, meaning it accepts any applicant as long as they possess a high school diploma or a GED certificate.
Accreditation:
Middle States Commission on Higher Education
Location:
44 Rifle Camp Rd.
Woodland Park NJ 07424
3
Fashion Institute of Design & Merchandising-Los Angeles
Distance Education Participation
24%
Number of Programs Offered
2
More than 5,300 students attended courses at this prestigious institute in 2015, either at one of its four campuses or through distance learning. Fashion Institute of Design & Merchandising offers an online Associate of Arts degree program in merchandising and marketing. During this program, students are exposed to the principles of many key drivers of the fashion industry, including:
Brand management strategies
Trend analysis and styling concepts
Merchandise planning and allocation
Business fundamentals and strategies
Textile science
Merchandise math, buying strategies and technologies
Due to its focus in the field, this institute is the runaway first for graduation rate and for percentage of fashion degrees awarded in 2015. Prospective students should be warned that applications are quite competitive, however.
Accredited by the Senior College and University Commission of the Western Association of Schools and Colleges
Accreditation:
Higher Learning Commission
Location:
919 S. Grand Ave.
Los Angeles, Calif. 90015-1421
4
Southern New Hampshire University
Distance Education Participation
94%
Number of Programs Offered
102
Southern New Hampshire University's long history dates back to 1932, when it was founded as an accounting and secretarial school. The university has added to its program offerings over the ensuing decades and has come to offer a wide range of degrees, including A.S. and B.S. degrees in fashion merchandising management. The online Associate of Science degree requires 60 credits to complete and includes a mix of study in marketing, textiles, design and sales promotion. The Bachelor of Science degree requires 120 credits to complete. Additional coursework includes more in-depth study of the following:
Retailing and retail management
Consumer behaviors
Global sourcing
Merchandising management and planning
Textiles and color theory
A strong graduation rate and a healthy admissions rate — the highest of any school on our list that does not also have an open admissions policy — combine to make Southern New Hampshire University a tempting option for the prospective fashion student.
Accreditation:
Commission on Institutions of Higher Education of the New England Association of Schools and Colleges
Location:
2500 N. River Rd.
Manchester, NH 03106-1045
Distance Education Participation
11%
Number of Programs Offered
14
The Parsons School of Fashion within the New School is one of the oldest design programs in the country, originally founded in 1904 as a school for costume design. With the second highest ratings in graduation rate, admissions rate and percentage of fashion degrees awarded in 2015, it's no surprise this school is the perfect candidate to round out this list of featured fashion schools.
Parsons offers an Associate of Applied Science degree in fashion marketing. Students of the program are shown how to build a strong foundation in fashion history, color theory and textiles, as well as the business principles needed for potential success in the fashion industry. The program typically takes two years to complete, but students with eligible transfer credits can cut down that time frame: students can transfer up to 21 credits in liberal arts courses, and up to 10 in the program major.
Accreditation:
Middle States Commission on Higher Education
National Association of Schools of Art and Design
Location:
66 W. 12
th
St.
New York NY 10011-8603
Degree Overview: Fashion
For students who linger for hours in clothing stores or know 10 ways to wear a simple dress, a career in fashion can be a dream come true. But making that dream a reality takes more than great fashion sense: it takes a solid professional education in the field to land that dream job. You might be asking, "What can a school possibly teach me that I don't already know about fashion?" To help answer that question, this section highlights the coursework usually found in online programs for fashion and the skills you may find yourself learning from that work.
Online Fashion Courses
People often think only of fashion design when considering a potential major at colleges with online fashion degree programs. Certainly, fashion design is a glamorous field, popularized by movies and reality TV shows. But in real life, the industry benefits from a wide array of activities, including fashion merchandising or marketing, textile design, apparel industry management, manufacturing, fashion journalism and more. Plus, many students may opt to focus their studies on a particular type of clothing, such as shoes, jewelry, denim, knitwear or theater costumes.
Online programs for fashion typically lead to associate or bachelor's degrees, though a handful of schools may offer graduate programs. Though specific coursework depends on the major, many programs offer similar courses across the board. These may include:
Color and design theory
Computer-aided design (CAD)
Fashion sketching
History of costume fashion
Textile fibers and fabrics
Fashion marketing
Fashion buying
Product development
Whether it's an associate or bachelor's degree program, the program generally will culminate in creating a portfolio that students can take into the professional world to showcase their style and technical expertise. Online bachelor's degree programs in particular may more heavily emphasize use of CAD or other computer skills, provide a broader theoretical foundation in the history and philosophy behind fashion, and delve more into marketing and management than associate programs.
Career-Related Skills to Develop
Of course, students are likely expecting to strengthen their artistic ability through a fashion program, whether they are studying design, merchandising and marketing, product development or other related subject. However, students may hone more than just their creativity while earning an online education for fashion. Some of the more important skills that can be picked up from such a program include:
Computer skills: That's right: fashion professionals need to be able to bring their designs to life with not just fabric, but with computers as well! For most work in the fashion world, students will need to utilize technology to bring their ideas to market, through CAD as well as graphic editing software and certain machinery for manufacturing.
Effective communication: Whether they're conveying instructions to sewists about garment construction, working on teams to design or package products, managing a staff of retailers, writing up a fashion critique or presenting a marketing strategy, the ability to communicate effectively is crucial in fashion.
Making decisions: Fashion is an industry filled with style and individuality, and in this industry, fashion professionals can bet money that they will be exposed to lots of (often conflicting) opinions, products and methods for doing things. Through their degree programs, students should gain confidence in their knowledge and talent, giving them the security to quickly and effectively make decisions without being unnecessarily influenced by others.
An eye for details: Quality of fabrics and stitching, careful measurements, slight variance in color… whether you're a designer, a merchandiser, a manufacturer of clothing, a buyer or some other fashion professional, being detail-oriented is a must.
Fashion Career Outlook
From the clothing people wear to the crafts they use to decorate their homes, the creativity of fashion workers can be seen everywhere on a daily basis. This page explores the work of these professionals and what it takes to be successful in these visionary types of careers.
Projected Job Openings
1,100
Projected Job Growth
-0.3
Entry-level Education
No formal educational credential
Consumers who want to add an artisan's touch to their homes often turn to craft artists for the decorations they're looking for. These creative professionals make objects from materials such as textiles, glass, metal, paper and wood. In order to do this, they become masters at different artistic techniques, including glassblowing, painting, sculpture and weaving. People in craft artist careers use tools to cut, shape and mold the pieces they work on; create prototypes of artwork that guide how to make it; and brainstorm new and unique ideas for artwork. With a good head for marketing, craft artists can lucratively sell their work at fairs, online marketplaces and auctions, or even become a professional designer for a furniture or crafts company.
Projected Job Openings
2,600
Entry-level Education
Bachelor's degree
From the runway of a fashion show to the pages of a popular magazine to the rack at a department store, the work of fashion designers helps shape the public's taste in clothing, footwear and accessories. This job requires an eye for style, the research skills to keep up to date with — or, even better, a step ahead of — the current trends, and the technical skills to execute the designs. Specific duties for people in fashion designer careers include selecting fabrics, patterns and adornments for garments; determining what the theme of a collection should be; working with a team to make design prototypes; and negotiating to obtain material samples from manufacturers. In addition, these professionals need to work with computer design programs, such as Autodesk AutoCAD Design Suite, Fashion Toolbox and Optitex 3D Suite, to plan out their breathtaking designs before they begin to cut all that expensive fabric.
Projected Job Openings
26,000
Entry-level Education
Bachelor's degree
When consumers are lured into a store by an advertisement or the hot new styles displayed in the window, retailers have those in fashion merchandiser careers to thank for that. These professionals combine their fashion sense with business acumen in order to display merchandise in a way that ensures it flies out of the store. In order to do this, fashion merchandisers stay up-to-date on the market trends to offer what customers want, buy designs, create displays for retail store windows, craft marketing plans to sell the stock in the store and develop pricing strategies that ensure products are affordable.
Projected Job Openings
8,000
Entry-level Education
Bachelor's degree
Interior designers are responsible for influencing a space to become beautiful, safe and functional, through the use of lights, color and materials. Equal parts architect, artist and analyst, these professionals may work small-scale — designing rooms of houses for individuals or families — or larger-scale — constructing workspaces for corporations or organizations. In order to succeed, interior designers must have strong interpersonal, visualization, active listening, artistic, problem solving and learning skills. The daily duties of this position include determining what clients want in terms of aesthetic qualities and goals; selecting furniture, flooring, plumbing fixtures and lighting; creating a schedule and budget for every project; ensuring design elements are installed properly; and supervising the work of general contractors.
Fabric and Apparel Patternmakers
Projected Job Openings
600
Projected Job Growth
-12.6
Entry-level Education
High school diploma or equivalent
Before a piece of clothing makes it to a runway or store rack, it starts with a pattern. Fabric and apparel patternmakers help to bring a fashion designer's vision to life by creating master fabric patterns and layouts by hand or with the help of computer-aided drafting programs. Specific job duties for those in fabric and apparel patternmaker careers include attending clothing fittings to adjust a pattern as needed, creating patterns in several different garment sizes, making paper patterns that are used to mass-produce a design, examining sketches to make decisions on how much fabric should be used and developing strategies to minimize fabric waste.