Human behavior is a complex and multilayered subject, to say the least. Behavioral scientists can spend their entire careers delving into the innumerable factors that shape human behavior. They may also help individuals overcome mental and emotional challenges, or connect individuals with community resources, or promote strategies to help strengthen family bonds. For those interested in this subtle, psychological field, earning an online degree in behavioral science can help build an understanding of the process of human development as well as how social structures can affect behavior.
Best Online Colleges for Behavioral Science in 2018-19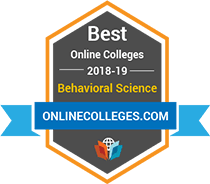 If you intend to pursue an online behavioral science degree program, you are likely looking for the college that can best suit your needs. To assist with this search, we've compiled a list of the top five online colleges for behavioral science degree programs using data provided by the National Center for Education Statistics' Integrated Postsecondary Education Data System (IPEDS). We put together this list by comparing data points relevant to online and nontraditional students, such as graduation rate and tuition costs, with our unique methodology (more details at the bottom of this page).
Distance Education Participation
88%
Number of Programs Offered
39
Granite State College is one of four institutions within the University System of New Hampshire, serving residents at its full-service campus locations in Concord, Claremont, Conway, Manchester and Rochester. This institution offers an online Associate of Science in behavioral science degree program that requires 60 credits to complete, at least 16 of which must be completed at Granite State. Students in the program can expect to study a broad range of topics related to the body and the brain, including psychology, biology, sociology, human development and research methods. Conveniently, this A.S. program is also designed to help students transition smoothly into the college's Bachelor of Science in psychology degree program, making it easy for students to continue their undergraduate education at Granite State if they so choose.
Accreditation:
New England Association of Schools and Colleges
Location:
25 Hall St.
Concord, NH 03301-3471
Distance Education Participation
47%
Number of Programs Offered
45
Texas Tech University's dedication to distance learning dates all the way back to 1967, when the school began delivering programs via closed circuit television. With the advent of online education, the university has begun to offer many of its degree and certification programs completely online, including the 18-credit hour applied behavior analysis graduate certificate.
The applied behavior analysis graduate certificate can be pursued as a stand-alone certificate, or as an area of emphasis alongside the online Master of Education in special education degree program. The program is designed to meet requirements established by the national Board Certified Behavior Analysis Credential (BCBA®).
Distance learners at TTU are afforded 24/7 eLearning support, self-help articles and assistance by phone and online chat.
Accreditation:
Southern Association of Colleges and Schools, Commission on Colleges (SACSCOC)
3
University of Wisconsin-Green Bay
Distance Education Participation
47%
Number of Programs Offered
6
University of Wisconsin-Green Bay earned its place in our top five with their Bachelor of Science in human development degree program. The school offers its distance learners assistance with studying through the Learning Center, e-Tutoring through the Online Writing Center and a plethora of online job search resources.
UWGB hosts program-specific guides to help prospective students plan the transfer of their credits from other select institutions. Prospective transfer students should also note that the school typically grants credit for the completion of AP and IB courses, as well as military experience.
Accreditation:
The Higher Learning Commission (HLC)
4
Clovis Community College
Distance Education Participation
50%
Number of Programs Offered
22
Clovis Community College first began broadcasting interactive classes to rural New Mexico school districts in January of 1991. As technology has changed, so has CCC's delivery for distance learners, with several degree programs being offered online through the Canvas learning management platform. The Associate of Science in behavioral science degree program, in particular, consists of 60 credit hours and is designed to be useful to students who may want to eventually transfer to a four-year school and pursue studies in psychology, social work or sociology.
Online learners at CCC have access to academic coaching, tutoring and writing centers, a library and a whole host of other student success resources. This college also has an open admissions policy, meaning that it accepts any applicant who has earned at least a high school diploma or GED certificate, which makes it very accessible.
Accreditation:
The Higher Learning Commission (HLC)
Distance Education Participation
39%
Number of Programs Offered
42
Founded in 1950, Mercy College is a coeducational and nonsectarian college made up of five schools: business, education, health and natural sciences, liberal Arts, and social and behavioral sciences. Seeing as it has a whole school devoted to the subject, it's no surprise that Mercy also offers an online bachelor's degree program in behavioral science, with three possible concentrations:
Community health
Gerontology
Health services management
Posited as an intersection between psychology and sociology, Mercy College's bachelor's in behavioral science program requires 120 total credit hours to complete, and encourages transfer students to transfer previously completed academic credits toward that number. The program also offers opportunities for credit-earning internships that can help build not only academic credits but also hands-on skills in the field.
Accreditation:
Middle States Commission on Higher Education
Location:
555 Broadway
Dobbs Ferry, NY 10522
Degree Overview: Behavioral Science
Behavioral science is an interdisciplinary field that can lead to many different career paths. That is because the subject incorporates courses from various areas, including counseling, psychology and sociology. People with an education in this field could pursue a career in mental health care, social services or even sociology. In this section, courses that could be taken in a degree program and helpful skills they can impart are discussed.
Online Behavioral Science Courses
Online programs for behavioral science have different coursework components depending upon the degree level being pursued and the college at which it is being pursued. Certificate programs are the shortest in length; as they move up in degree level, students can build knowledge and advance toward research. Example topics and courses, divided by degree level, are covered below.
Certificates in behavioral science can introduce students to relevant topics in the field, such as sociology of aging, psychology of health, brain and behavior and lifespan development. Students may be able to transfer some of this coursework toward an associate degree program.
In an associate degree program, students typically study basic behavioral science topics such as sociology, general psychology, child growth and development and lifespan growth and development. Associate degree students are also expected to complete core curriculum in subjects such as math, language arts or science to satisfy their school's general education requirements.
Online bachelor's degree programs in behavioral science will usually introduce coursework in human services, counseling theories, social deviance, and diversity in human services. Such coursework is intended to delve into behavioral science in greater depth; it may be finished off with the assignation of a capstone project to finish out the program.
Online master's degrees in behavioral science exist to give students even more opportunity to advance their understanding. Coursework may delve into fields as diverse as alcohol use and misuse, obesity in the 21st century, qualitative methods in research, applied research methods and more. Master's programs that are particularly heavy in research may require students to conclude their program by completing a thesis.
At the doctoral level, students can find PhD programs that are focused specifically on the social and behavioral sciences, or related programs that put a different spin on the field, such as a Doctor of Psychology (PsyD) degree in behavioral health leadership. Students may be able to choose a specific focus for their doctoral degree, such as "health education and communication" or "social and psychological influences on health." They may additionally need to produce a dissertation or pass a final oral examination as part of their degree program.
Career-Related Skills to Develop
A variety of skills are necessary to succeed in the behavioral science field. Some of these skills might be developed through an online education for behavioral science, while others can be strengthened when working in the field. A sample of some particularly important skills to focus on is provided below.
Listening: This skill is important to anyone who intends to pursue a career in behavioral science, especially a career such as social work, the social services or counseling. Being able to hear and understand a client's challenges is the first step to being able to help them overcome those challenges. Even a more research-oriented behavioral scientist will likely be gathering some portion of their data from interviews or social experiments; carefully listening to this data is the only way to draw accurate conclusions about it.
Verbal communication: In addition to listening, speaking can be an important part of a behavioral science career. Whether behavioral scientists are working one-on-one with a client or presenting their research results at a conference, they need to be able to communicate their points clearly and convincingly, with consideration for their audience. Verbal presentations in behavioral science courses can be good preparation for these responsibilities.
Sensitivity: The more you learn about why people act the way they do, the easier it becomes to understand their actions, sharing in their struggles and sympathizing with their situation. As such, behavioral science courses can be a great way to develop sensitivity to others. This sensitivity can enable behavioral science students to better be respectful of a client's feelings and frustrations, as well as help them to pick up on subtle behavioral clues that indicate possible solutions to a problem.
Organization: This can be a nearly essential skill for anyone working with a range of clients or conducting ample amounts of research, regardless of field of study. Notes need to be organized and easy to locate; relevant documents should be nearby for discussion or completion. Keeping track of your assignments in school is only the beginning!
Behavioral Science Career Outlook
Professionals in the behavioral science field use their knowledge of mental health theory to help people with their real-world problems. Continue reading to get information about these types of careers, including the skills that are needed to be successful and the daily duties of workers.
Projected Job Openings
14,000
Entry-level Education
master's degree
Addictions counselors are on the front lines in helping change the lives of those who have addictions to drugs or alcohol, as well as people who are hooked on tobacco or suffering from eating disorders. In order to provide this help, these professionals conduct assessments on patients to determine the nature of their problems, explore treatment options and create a plan, and monitor patient progress to update plans and goals accordingly. People in addictions counselor careers also help patients develop healthy habits in their daily lives and advise family members on how to help their loved one get well.
Projected Job Openings
15,500
Projected Job Growth
17.8
Entry-level Education
Bachelor's degree
People in clinical social worker careers help those who are in crisis for a variety of reasons — including when they're going through abuse, struggling with the death of a loved one, or dealing with challenges related to a disability. In addition, clinical social workers diagnose and treat people with emotional, mental and behavioral disorders and work closely with medical professionals to provide this treatment in individual or group settings. These workers may find employment at government agencies, hospitals, nursing homes, correctional facilities, senior centers, residential care facilities, schools, military bases and employee assistance programs.
Projected Job Openings
57,500
Projected Job Growth
12.6
Entry-level Education
High school diploma or equivalent
Caseworkers provide social work services in public health, children and family services, and mental health settings. The job duties of these professionals include maintaining client records and ensuring they're up to date; monitoring expenses and cutting costs as needed when expenditures exceed a budget; conducting client intakes in order to determine what services they need; and collecting and compiling treatment data. In order to be successful in caseworker careers, professionals should have strong verbal, written, conflict resolution, documentation and research skills. Also, since these workers are aware of the intimate details of patients' personal lives, caseworkers must have the integrity to handle this information with discretion.
Projected Job Openings
14,000
Entry-level Education
master's degree
Behavior analyst careers are concerned with the study of human behaviors and the impact that biological and environmental factors have on the way people act in daily life. Specific job duties include performing behavioral assessments to determine patients' needs, creating treatment plans and training staff on the best practices for patient interventions. In some cases, these professionals may specialize in a specific patient group, such as juvenile offenders or children with autism. Behavior analysts may find employment at nonprofit organizations, government agencies, schools, addiction treatment centers and hospitals. Some professionals work in private practice, and others even treat patients out of their homes.
Projected Job Openings
7,500
Projected Job Growth
22.3
Entry-level Education
master's degree
People with an interest in human behavior and a desire to help others may pursue therapist careers. These professionals provide support for those who need mental and emotional health assistance by encouraging patients to reflect on their problems and make positive changes in their lives when needed, keeping records of patient sessions and shifting treatment tactics as a patient's situation changes. In order to be successful in this career, therapists should have listening, problem solving, writing, speaking and decision making skills. They should also be compassionate and service oriented in order to help their patients feel better about their lives.
Methodology
Using the National Center for Education Statistics' Integrated Postsecondary Education Data System (IPEDS), we generated a list of colleges and universities that met the following four criteria for the specific subject being ranked:
Offer a degree or certificate program in that subject, either in an online or hybrid format
Have at least 1% of students attending some form of distance education
Have awarded at least one degree or certificate in that subject in 2016-17
Have reported data for all 11 ranking variables listed below
We ranked 1,813 colleges and universities in the United States on 11 criteria, using 2016-17 data from IPEDS:
Program prominence, based on how many of the degrees and certificates awarded via distance education in 2016-2017 were in this particular subject
Related subjects, based on the number of similar topics for programs in relevant CIP codes that are offered via distance education at any level
Ratio of students participating fully or partially in DE to Total Enrollment
Average in-state tuition for undergraduates
Graduation rate
Retention rate
The availability of any tuition plans (Payment, Prepaid, Guaranteed, Other)
Services (Academic/Career, Placement for Completers)
Credit offerings (Dual, Life, AP, Military)
Percent of undergraduate students awarded federal, state, local, institutional or other sources of grant aid
Average amount of federal, state, local, institutional, or other sources of grant aid awarded to undergraduate students
All schools were scored on a 10-point scale for each of the points listed above. Individual data point scores were then multiplied by their respective weights, and the scores were added together, for a maximum possible score of 10 points.
NOTE: Schools' tuition amounts are based on 2016-17 undergraduate and graduate data reported to the National Center for Education Statistics. The actual cost of tuition may vary.
Methodology Sources
Integrated Postsecondary Education Data System (IPEDS) 2017-18, National Center for Education Statistics, http://nces.ed.gov/ipeds/
X