In a world powered by film, television and text, writers are more important than ever. Between an entertainment industry thirsty for new content, a bevy of corporations stressing over the wording of their advertisements, and the nigh-infinite frontier of articles, blogs, memes, wikis and indie media that is the internet, graduates with excellent writing skills can make themselves indispensable to employers across industries. While there is some truth to the notion that some individuals are born writers, there are technical aspects of the field that can be learned or refined through hard work and careful study. What better way to guide that study and prepare for your creatively verbose future than with an accredited writing program?
Best Online Colleges for Writing in 2018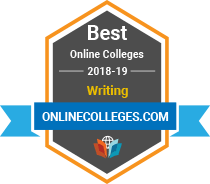 We compiled our list of the five best online colleges for writing by using data collected by the National Center for Education Statistics' Integrated Postsecondary Education Data System (IPEDS). A wide range of data points were weighed in our study by way of our unique methodology, including in-state tuition costs and number of online programs, in order to establish which online schools would be best for the nontraditional student looking to major in creative writing. For more details on our methodology for this list, see the bottom of this page.
1
Central Washington University
Distance Education Participation
37%
Number of Programs Offered
21
Central Washington University serves about 3,000 undergraduates each year. The university lands in the top spot on our five best online colleges for writing degrees due to strong graduation, admissions and writing degrees awarded rates. Central Washington University's Bachelor of Arts in English: Professional and Creative Writing program is a blend of study in liberal arts and specialized creative writing courses. Students study fiction, nonfiction and poetry, as well as business, professional, scientific and technical writing. They also learn principles of editing and publishing. The degree requires 74 units to complete, including:
32 credits in required courses
27 credits in approved writing electives
15 credits in literature, linguistics and film studies courses
Students also must complete a foreign language requirement of either two years in high school or one year at the college level.
Accreditation:
Northwest Commission on Colleges and Universities
Location:
400 E. University Way
Ellensburg, WA 98926-7501
Distance Education Participation
98%
Number of Programs Offered
64
Full Sail University originally started as a small audio recording workshop in Dayton, Ohio. The university relocated to Florida in 1989, but it hasn't shed its creative roots. FSU offers 20 fully online bachelor's and master's degree programs, mostly in creative fields such as writing, audio production, entertainment, and related fields. Students learn different modes of writing across a range of media and genres, as well as incorporating visual elements of storytelling. The online bachelor's degree program runs 32 months, while the online master's program runs 12 months. Full Sail University checks in at No. 2 on our list on the total percentage of writing degrees the university awarded to students in 2015, which was the highest of all 14 schools we analyzed. Its open admissions policy, where it accepts all applying students who have a high school diploma or a GED certificate, didn't hurt either.
Accreditation:
Accrediting Commission of Career Schools and Colleges
Location:
3300 University Blvd.
Winter Park, Fla. 32792-7429
Distance Education Participation
16%
Number of Programs Offered
4
Founded in 1846, Taylor University is a small Christian university based in Grant County, Indiana. Its distance education program was formally named Taylor University Online in 2008. Students who enroll in the university's Associate of Arts program in professional writing study article writing, freelancing, scriptwriting and traditional journalism. The degree takes 67 credit hours to complete, including 20 credits in course major classes and 47credits in general education. Major requirements include:
Media writing
Article writing I and II
Non-fiction and scriptwriting
Freelance writing
Six credit hours of electives from any of the above disciplines
Taylor University ranked head and shoulders above the competition for graduation rate, which was the highest of all 14 schools we evaluated. The university also admitted 85 percent of applicants in 2015.
Accreditation:
Higher Learning Commission
Location:
236 W. Reade Ave.
Upland, Ind. 46989-1001
4
Southern New Hampshire University
Distance Education Participation
93%
Number of Programs Offered
106
Active-duty military members or their spouses should consider Southern New Hampshire University to pursue their authorial dreams, where they can get a 30 percent discount on tuition. Those with no ties to the military will also appreciate the school, where students can choose a general creative writing program or specialize in four different areas. Specialty concentrations include:
Fiction
Nonfiction
Poetry
Screenwriting
All degree paths culminate in a Bachelor of Arts degree. Southern New Hampshire University also offers a fully online master's degree program in creative writing with the same four concentrations. The creative writing program requires 120 credit hours to complete, including 33 credit hours in elective courses.
SNHU placed fourth on our list, having admirable rankings in graduation and admissions rates, not to mention the third highest percentage of writing degrees awarded by the university in 2015.
Accreditation:
New England Association of Schools and Colleges Commission on Institutions of Higher Education
Location:
2500 N. River Road
Manchester, NH 03106-1045
Distance Education Participation
84%
Number of Programs Offered
24
Rounding out this top five list is National University, which offers a Bachelors of Arts in English with a concentration in creative writing. The degree requires 180 quarter units to complete. Students who choose this option can expect their education to focus on the following skills:
Ability to discuss writing methodologies of creative genres and produce publishable works in those genres
Ability to self-critique and edit own work, as well as work of others, to bring it to publishable quality
Core coursework is a mix of fiction, poetry, screenwriting and outdoors writing, as well as workshops in those categories. Students are also required to produce a project of publishable quality during this time. National University also offers a Bachelor of Arts in English/Master of Fine Arts in Creative Writing transition program for students who have at least a 3.0 GPA and are within six courses of completing the requirements for a bachelor's degree. The university has an open-door admissions policy and accepted 100 percent of applicants in 2015.
Accreditation:
Accrediting Commission for Senior Colleges and Universities of the Western Association of Schools and Colleges
Location:
11255 N. Torrey Road
La Jolla, Calif. 92037-1011
Writing Degree Overview
Writing is a diverse field, allowing journalists, authors, screen writers, biographers and others to make their mark in the world in a creative way. An online education for writing can help students to develop essential skills to the field and to learn about creativity, the technical aspects of writing, ways to market written work and even different forms of communication.
Online Writing Courses
Degree programs focused on writing are available in many different forms from the undergraduate to graduate level. Below are details on some of the courses that students may take while attending online colleges for writing.
In an online certificate program, students may learn about writing habits, ways to look for writing work and the writer's market. Classes are specifically geared toward writing. At some colleges, students may be able to specialize in a writing genre, such as literary fiction, genre fiction or nonfiction.
An online diploma may take up to a year or more to complete. Students could study short fiction, children's writing, poetry and more. In some cases, credits in an online diploma program may be transferable to an associate degree.
Online associate degrees often give students the opportunity to write and polish their work, study different genres and to constructively critique their own work and the work of others. Typically, students are required to take several general education classes.
In online bachelor's degree programs in writing, students may learn basic and advanced creative writing skills. They may share their writing with one another and study particularly prolific or impactful writers, such as Shakespeare. Specializations may be available in areas like fiction, nonfiction, poetry and screenwriting, but general education classes are part of a program, too.
At the master's degree level, students may be able to complete a master's of arts (MA) or master's of fine arts (MFA) degree. Programs take a wide range of approaches to help students expand their knowledge across many different mediums, including print, online and social media. Document design, research and analysis also may be part of a master's program.
Doctoral degrees in writing usually are granted in the form of a PhD. Discourse, rhetoric, technology and textual studies can be part of a program, and research opportunities are common. A dissertation or on-campus visits may be required of doctoral candidates, even in an online program; check the requirements for your particular school so you can be informed before you enroll in the program.
Career-Related Skills to Develop
Online colleges for writing may enable students to develop skills essential to earning or improving a career in the field. As students complete a writing program, focusing on the following skills could be advantageous.
Creativity: All writers need to be able to identify and create their own characters and story lines, whether they are compiling a feature story, that next novel or even a factual text. The ability to carry readers along and not lose interest is essential to good writing.
Adaptability: Writers should be comfortable with using content management systems to track the stories or individual pieces of content that they are working on. They also may need to be able to switch up story lines and plots or the direction of daily assignments at the desire of a client or editor.
Perseverance: There may be no skill more important to writing than the ability to persevere and finish a writing task. Meeting deadlines and page length expectations may be a regular, sometimes challenging, part of the job. Writers also must learn how to maintain forward momentum even when they have hit that dreaded writer's block.
Communication: Although the process of writing is often a solitary endeavor, more than one person can be involved, especially in areas such as screenwriting or video game writing, where multiple authors may be working on the same script. Even in projects that do not involve coauthors, a writer will likely work in concert with editors, copy editors, clients and/or managers. Knowing how to communicate ideas and expectations up front, as well as how to convey progress and changing goals throughout the process, can be valuable to ensuring that projects are finished as expected by all important parties.
Writing Career Outlook
Writing is the dream job for many, but it can be your real-life career if you put in the work to learn the career and distinguish yourself in the field. There are multiple areas a prospective writer can focus on; here are some of the most prominent.
Projected Job Openings
6,100
Entry-level Education
Bachelor's degree
Individuals with a talent for understanding and simplifying complex technical information often pursue technical writer careers, where their work can help millions of people understand and utilize products that improve their quality of life. Generally, in order to land a job, prospective technical writers must complete a bachelor's degree in communications, journalism or English. In some cases, employers require workers to earn a degree in a technical field, such as computer science or engineering.
On a daily basis, a technical writer is responsible for pulling together all the different facets of a product's design and boiling them down to a clean, elegant description. A technical writer must regularly communicate with the product's designers to understand how it functions; help organize the layout of publications; write and revise content about the product; and draw sketches to explain how a product is assembled.
Projected Job Openings
12,800
Projected Job Growth
-0.1
Entry-level Education
Bachelor's degree
Although people in writing and author careers all create content, the type of work they do can be as diverse as the words in the English language. Generally, however, all writers and authors choose and research topics; write drafts of material and do revisions as needed; and work closely with editors.
There are many professional avenues that writers may take. If they're interested in fiction, they may work as screenwriters, novelists or playwrights, constructing grandiose epics, tales of human struggle, or entertaining pick-me-ups. Those who are interested in nonfiction may work as bloggers, copywriters, biographers or journalists, recording salt of the earth memoirs, the truth behind national and global issues, or their own personal thoughts and feelings.
Projected Job Openings
12,400
Projected Job Growth
-2.9
Entry-level Education
Bachelor's degree
Behind every great novel, there was a great editor who was responsible for crossing out all the errant commas and bridging all the unforeseen plot holes. These professionals are responsible for transforming text to increase readability, fact checking information in articles, making decisions about what should and shouldn't be published and helping writers develop their ideas into full-fledged works.
Editing careers involve the planning, editing and coordination of written materials for publication. In order to do their job, editors need strong leadership, writing and speaking skills. They must also be able to manage their time and work under pressure to meet regular deadlines, as well as manage the writers in their care to do the same.
Editors may be required to have a bachelor's degree in journalism, English or communication. In addition, professional writing experience may be expected. People interested in this field can work as copy, assistant, managing or executive editors.
Methodology
To be included in these rankings, all colleges had to meet the following criteria for the specific subject being ranked:
Offer an undergraduate degree (either associate or bachelor's) in that subject online
Have awarded at least one degree or certificate in that subject in 2015-16
Once we had our list of schools for each subject, we ranked them on five criteria:
In-state tuition, National Center for Education Statistics, 2015-16
Graduation rate, National Center for Education Statistics, 2015-16
Accessibility, based on the admissions rate, National Center for Education Statistics, 2015-16
Program prominence, based on how many of the degrees and certificates awarded in 2015-16 were in this particular subject, National Center for Education Statistics, 2015-16
Related subjects, based on the number of similar topics for programs in relevant CIP codes that are offered at any level, National Center for Education Statistics, 2015-16
Methodology Sources
Integrated Postsecondary Education Data System (IPEDS) 2017-18, National Center for Education Statistics, http://nces.ed.gov/ipeds/
X