Operations managers can make themselves useful across virtually every industry. From start-up companies to consulting, government and scientific firms, these managers often have a significant amount of responsibility and can be regarded as top decision-makers within their companies. In some cases, their duties might even overlap with those of chief executive officers. A degree in operations management can provide the necessary education for someone hoping either to enter the field or to obtain a similar position, perhaps as a construction manager, compliance officer or production manager.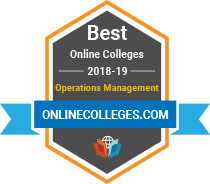 Best Online Colleges for Operations Management in 2018-19
We used our in-house methodology to analyze data points such as graduation rate, tuition costs and acceptance rate gathered by the National Center for Education Statistics' Integrated Postsecondary Education Data System (IPEDS). From this study, we bring to you our list of the 10 best online colleges for operations management. If you're curious about our methodology, you can find more details at the bottom of this page.
1
University of Wisconsin - Stout
Distance Education Participation
48%
Number of Programs Offered
26
Our No. 1 school came out near the top of our ranking metrics in multiple categories. No other institution among the best online colleges for operations management awarded a higher percentage of degrees in the field in 2015, and it had the second-highest graduation rate of any school on our list.
Here are a few of the operations management concentration courses offered through the Bachelor of Science (BS) degree program at this Wisconsin school:
Resource planning and materials management
Quality tools
Engineering economy
Project management
Occupational safety principles
Program admins recommend that students have earned an Associate of Science (AS) or Associate of Applied Science (AAS) degree before enrolling in the program. Two or more years of work experience in the management field is also recommended.
Accreditation:
Higher Learning Commission (HLC)
School Location:
712 S Broadway St
Menomonie, WI 54751
2
Florida State College at Jacksonville
Distance Education Participation
50%
Number of Programs Offered
22
The Bachelor of Applied Science (BAS) program in supervision and management at this Florida school is a degree completion program. Students need either an associate degree or at least 60 hours of transfer credit to qualify for enrollment.
The school's online bachelor's degree in operations management operates as a type of transfer agreement called a 2+2 program. This means that FSCJ agrees to accept a qualifying student's entire associate degree as transfer credit for the BAS degree.
For students who don't yet meet the transfer credit requirements, FSCJ also offers online associate degrees in business. Closely related subjects at the associate level include accounting technology, business administration and office administration.
Accreditation:
Southern Association of Colleges and Schools Commission on Colleges (SACSCOC)
School Location:
501 W State St.
Jacksonville, FL 32202
3
Albany Technical College
Distance Education Participation
68%
Number of Programs Offered
25
Online operations management degrees can be earned in full at Albany Technical College. Potential students can qualify for admission with just a high school diploma or GED. Here are a few of the subjects that students at Albany Tech are likely to study on their way to an operations management degree:
Financial accounting
Organizational strategies
Product lifecycle management
Quality assurance
Leadership
The Georgia school also offers non-degree training in operations management through its Technical Certificate of Credit (TCC) programs. The courses for the Quality Assurance Specialist certificate are a part of the operations management AAS degree curriculum. A second credential, the Quality Assurance Professional certificate, offers quality assurance training beyond what's covered in the associate program.
Accreditation:
Southern Association of Colleges and Schools Commission on Colleges (SACSCOC)
School Location:
1704 S Slappey Blvd.
Albany, GA 31701
Distance Education Participation
100%
Number of Programs Offered
82
The course schedule for the online bachelor's degree in operations management at San Diego's Ashford University is designed with busy students in mind. Most colleges align their program schedules to multi-class, 15-week semesters. Courses in this program are offered one at a time, in 5-week blocks, so students can better focus on each individual subject.
Operations management students at Ashford spend a fair amount of class time learning the modern global business climate. Emphasis is placed on the effects of globalization on operations management, as well as the behind-the-scenes processes of business administration. The program also contains training in information systems, statistics and economics.
Accreditation:
WASC Senior College and University Commission (WSCUC)
International Assembly for Collegiate Business Education (IACBE)
School Location:
8620 Spectrum Center Blvd.
San Diego, CA 92123
5
Craven Community College
Distance Education Participation
79%
Number of Programs Offered
24
This North Carolina school's AAS in business administration with an emphasis in operations management is a 69-credit program that typically takes five semesters to complete. The degree plan includes some core business administration subjects that may not appear in other operations management associate degree plans:
Financial accounting
Managerial accounting
Principles of marketing
Business law
Human resource management
The program can also be completed through part-time study, although such a schedule may require more than five semesters to complete. This flexibility can allow students whose work or family lives don't permit full-time enrollment to earn their degree on their own time.
Accreditation:
Southern Association of Colleges and Schools Commission on Colleges (SACSCOC)
School Location:
800 College Ct
New Bern, NC 28562-4900
Distance Education Participation
56%
Number of Programs Offered
24
Wayne Community College in Goldsboro, North Carolina, offers a range of business degrees online. The AAS degree in business administration/operations management approaches the field from a manufacturing standpoint.
Here are a few of the subjects that operations management students typically study at WCC:
Lean manufacturing
Team performance development
Manufacturing quality control
FDA Good Manufacturing Practices (GMP) compliance
Quantitative literacy
WCC also offers a certificate program for operations management students. The general business administration/operations management certificate requires 16 credit hours of study and contains a core course in production and operational planning. The school reports an average class size of 15-20 for its business administration programs.
Accreditation:
Southern Association of Colleges and Schools Commission on Colleges (SACSCOC)
School Location:
3000 Wayne Memorial Dr.
Goldsboro, NC 27534-8002
7
Fayetteville Technical Community College
Distance Education Participation
69%
Number of Programs Offered
27
The third North Carolina school on our list, Fayetteville Technical Community College, offers an associate degree program in business administration with a concentration in operations management. Instruction in this program focuses on analytical reasoning, problem solving and management of human, physical and information resources.
Online operations management degrees at FTCC aim to prepare graduates for a broad range of management career paths. Here are a few job fields mentioned on the program website:
Team leadership
Operations planning
Logistics and distribution
Inventory and materials management
Health and safety
FTCC reported the third-highest proportion of degrees awarded among all the best online colleges for operations management degrees. An online certificate program in operations leadership is also available.
Accreditation:
Southern Association of Colleges and Schools Commission on Colleges (SACSCOC)
School Location:
2201 Hull Rd.
Fayetteville, NC 28303-0236
Distance Education Participation
58%
Number of Programs Offered
41
The No. 1 graduation rate among all the best online colleges for operations management degrees belongs to this Kansas school, and that's not the only metric where Southwestern College stood out. It also awarded the second-highest percentage of operations management degrees among schools on our list and was home to the second-most selective admissions policy.
The online bachelor's degree in operations management at Southwestern College features a few courses like these:
Managing group dynamics
Integrative supply chain management
Information literacy
Operations quality management
The program at Southwestern also includes an extra piece of professional development. Six Sigma, a set of techniques for streamlining manufacturing production, is taught here at the "green belt" level.
Accreditation:
Higher Learning Commission (HLC)
School Location:
100 College St.
Winfield, KS 67156-6224
9
Minnesota State University Moorhead
Distance Education Participation
51%
Number of Programs Offered
20
MSU Moorhead offers an online bachelor's degree in operations management that takes 120 credit hours to complete. A unique feature of this program is the opportunity to pursue any of three professional development opportunities while on the path to a degree:
Microsoft Dynamics Customer Relationship Management (CRM) Certificate
Lean - Quality Management Certificate
Dale Carnegie Class
The first two certifications are earned in nine-credit college programs. The Dale Carnegie Class is a third-party course. The bachelor's program also includes an internship, which can help students forge new connections in the job market.
Program requirements state that students must transfer 30 credits from a technical field before enrolling. A full associate degree is also acceptable for transfer. The top associate degree or certificate programs to transfer in include manufacturing technology, robotics, computer information technology and HVAC.
Accreditation:
Higher Learning Commission (HLC)
School Location:
1104 Seventh Avenue South
Moorhead, MN 56563
Distance Education Participation
82%
Number of Programs Offered
55
The online bachelor's degree in operations and supply chain management at Franklin University combines theory and practice on a variety of difficulties facing the industry. Students learn how to address global issues, source their materials responsibly and design products with environmental impacts in mind.
Franklin's BS program includes 28 credit hours of general business instruction and 40 credit hours of operations management training. The total length of the program is 126 credit hours. This Columbus, Ohio, school focuses on adult learners, so students with transfer credit or challenging work and family schedules are likely to find the accommodations they need.
Students who have already graduated can take advantage of Franklin's subsequent bachelor's degree program. If all prerequisites are met, the subsequent program requires just 68 credit hours of business and management coursework for a second degree.
Accreditation:
Higher Learning Commission (HLC)
International Assembly for Collegiate Business Education (IACBE)
School Location:
201 S Grant Ave.
Columbus, OH 43215-5399
Degree Overview: Operations Management
Online colleges for operations management prepare students for the demands of the field through a variety of courses that cover topics such as project management, leadership and human resources management. Prospective students can learn more about these programs on this page, which includes information about coursework and the skills they can obtain from completing this degree.
Online Operations Management Courses
The coursework that is required for operations management programs depends on the specific school students enroll in, as well as the degree level they choose. The following are examples of courses students may find in an operations management degree program.
On the bachelor's level, students become familiar with the concepts of operations management and how supply chains work. Some of the courses students may take in this program include areas such as quality assurance, project management, cost and schedule control, economics and cost estimating.
Those who want to gain leadership skills and advanced knowledge of operations management in order to move up the ladder in their career can enter a master's degree program. Schools offering this degree might have coursework that teaches advanced project management theory, Six Sigma, enterprise resource planning, human behavior in organizations, international supply chain management and ethics in leadership.
Generally, doctoral degrees in operations management are designed for professionals who are interested in academic careers where they conduct research or teach college students. People who enroll in these programs may take coursework in quantitative and qualitative research methods, advanced economic theory, management and behavioral science and information technologies. In addition, students might be required to complete a dissertation based on original research or obtain hands-on teaching experience.
Career-Related Skills to Develop
Operations management professionals are responsible for the overall daily operations of public organizations and private companies. This tremendous responsibility requires many duties, which in turn require many skills to be performed properly. The following are some examples of the skills graduates may want to focus on during their education to be prepared for a career in this field.
Technology: Operations managers are required to have proficiency in several computer programs, such as Microsoft Dynamics, Savant MobileRanger, StataCorp Stata, Oracle Eloqua, Microsoft Access, NetSuite ERP and Oracle JD Edwards EnterpriseOne.
Problem solving: Operations managers are responsible for dealing with diverse areas within an organization — such as human resources, materials planning and administrative services — which means many complicated problems can arise throughout the course of business. Strong problem solving skills are needed in order to regularly put out fires before they cause major problems within the organization.
Time management: With all the hats that operations managers need to wear, they must have the ability to manage their time between all their many duties. They also must ensure that the people who work for them are effectively managing their time as well.
Instruction: In order to delegate tasks, professionals need to know how to instruct other people on how to do the work. This entails the ability to explain a task and answer questions, as well as the patience to work within other people's learning curve.
Operations Management Specializations
In order to advance in their careers, operations management professionals may choose to validate their expertise by earning a certification. These credentials are offered through several industry associations that satisfy the needs of operations managers, including the following organizations.
APICS caters to professionals in operations and supply chain management careers. The organization offers Certified in Production and Inventory Management (CPIM), Certified Supply Chain Professional (CSCP), and Certified in Logistics, Transportation and Distribution (CLTD) credentials.
The American Society of Heating, Refrigerating and Air-Conditioning Engineers offers the Operations & Performance Management Professional Certification (OPMP) for workers who can demonstrate experience in building operations management.
The National Association of Housing and Redevelopment Officials is the source of three operations management certifications: Certified Manager of Property Operations (CMPO), Certified Manager of Voucher Operations (CMVO), and Certified Manager of Maintenance Operations (CMMO).
The Professional Risk Managers' International Association has the Operational Risk Manager (ORM) certification for those who have operations management expertise in the financial sector.
Operations Management Career Outlook
As long as there are people working, there will be a need for managers to coordinate and supervise them. Job openings can vary widely based on location and funding, but here are a few particular areas that you might want to consider.
Computer and Information Systems Managers
Projected Job Openings
38,800
Projected Job Growth
11.3
Entry-level Education
Bachelor's degree
Frequently heading up the "IT" department, computers and information systems managers take the lead roles on important IT tasks. Any disaster that requires a panicked call to IT is probably going through these managers. The network is down? The servers are overheating? Need to secure data, deploy upgrades or even develop a server failover plan? These managers are the go-to people: prioritizing problems, deploying their team to fix them efficiently, then looking ahead to predict and prevent a new batch of emergencies.
For those interested in computer and information systems manager careers, a day in the life of a manager varies tremendously, particularly when an emergency arises. Typical duties involve recommending possible upgrades to company systems, planning the installation and maintenance of computer hard- and software, planning and directing the work of other IT professionals they work with and more.
Industrial Production Managers
Projected Job Openings
13,800
Entry-level Education
Bachelor's degree
Whether it's producing parts for a car — like tiny electronic chips embedded into "smart" vehicles — or cranking out snacks — like the delicious chips that go into kids' lunchboxes — industrial production managers focus on end numbers and ensure that production output meets demand. It's never a dull day for an industrial production manager who has to keep a close eye on operations, write reports, analyze numbers, hire employees and make decisions about overtime.
Sometimes called "plant managers" or "quality control systems managers," these professionals should also be prepared to interact with several other areas of management. Coordinating with employees, other managers from other departments, and representatives from other companies such as suppliers and salespeople.
Projected Job Openings
40,200
Entry-level Education
Bachelor's degree
More than a box of nails and a nail gun are required to become a construction manager. The ability to see the big picture is important for those seeking construction manager careers. While these managers may get hands-on for the job, they also oversee operations, take a look at progress and ensure that plans for construction are being followed. The middle man between the architects and the laboring team, these managers handle challenges that arise as a result of inclement weather, delayed materials, unrecorded water pipes or an unexpected badger sett on the build site, to name a few.
Construction manager careers could be right for people who like to see projects through from beginning to end and who are skilled at managing people. The job can also involve interactions with lawyers and local city inspectors, in order to ensure that their building projects are in line with local ordinances.
Projected Job Openings
17,900
Entry-level Education
Bachelor's degree
Although this field sounds abstract, logisticians actually have very down-to-earth jobs. They are the people who ensure that products get to where they need to be, whether that's Guatemala or right next door. For anyone interested in logistician careers, the field is literally about transporting specific things to specific places.
Logisticians have many different considerations to weigh, with timelines, production scale, delivery and even consumer demand fighting for front-and-center. And, while many logistician jobs are available in manufacturing, positions can be found in federal government, wholesale trade and enterprise management, too.
A bachelor's degree is typically needed for logistician careers, although an associate degree may be accepted. Industry certification can be a way to build skills and to seek new job opportunities.