In our increasingly interconnected world, someone in Kansas can Skype their friend in Scotland and talk for hours, communicating information across date and time lines whenever they please. As the internet allows such conversations to blossom and thrive, the contributions of those with careers in international relations become ever more essential. The reputations of businesses; the news of one country's politics; the products consumers will or won't buy... these happenings, once relevant only to locals, are impacting civilizations across the planet. And standing with their fingers on the pulse of this enormous river of global communication, are the students of international relations.
It's a big world out there, but studying international relations can help it seem smaller.
Featured Online Colleges for International Relations in 2018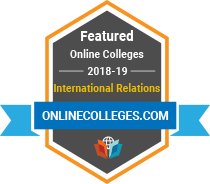 While earning a degree in international relations can be very advantageous for earning a new position or improving your standing in an existing position, it can also be time-consuming, which can be troublesome for an aspiring student who already has career or family obligations. In this situation, the flexibility of an online degree program in international relations can be the answer.
If you're in search of an accredited online program, we may be able to help. This list of featured online colleges for international relations contains only accredited schools, chosen based on data provided by the National Center for Education Statistics' Integrated Postsecondary Education Data System (IPEDS). For more details on our methodology for this list, please see the bottom of this page.
1
American Public University System
Distance Education Participation
100%
Number of Programs Offered
154
American Public University System offers a program that delves into the world of global relations, presenting topics such as diplomacy, foreign policy analysis, international organizations, global development and international relations theory. With a focus on civil engagement and social theory, and concentrations offered from comparative politics to peacekeeping, students have a lot of freedom in how they want to focus their education during this program.
The fact this college offers its program entirely online helped it earn high marks in our study, as did the school's open admission policy that gives every student a chance. American Public University System also showed the second-highest percentage of degrees awarded in this field when compared to its peers.
Accreditation:
Higher Learning Commission (HLC)
Location:
111 West Congress Street
Charles Town, WV 25414
Distance Education Participation
88%
Number of Programs Offered
70
Bellevue University offers a Bachelor of Science in International Security and Intelligence Studies program that is available entirely online. This degree program introduces students to psychology, science, cybersecurity, global affairs and military studies, all from a global perspective. The end goal for the program is to prepare students for careers in both security and intelligence, with choices in government, corporations, nonprofit, or education.
The fact you can earn this degree entirely online helped Bellevue University earn high markings in our study. Their open admissions policy — where they accept any student who applies, as long as said student has earned a high school diploma or a GED certificate — also helped, as they offer accessibility for students from all walks of life.
Accreditation:
Higher Learning Commission (HLC)
Location:
1000 Galvin Rd S.
Bellevue, Nebraska 68005-3098
3
Schiller International University
Distance Education Participation
100%
Number of Programs Offered
12
Students considering online international relations degrees will find a wide range of options with Schiller International University. The school offers an online bachelor's in international relations and diplomacy and another in international business. You can also earn an online master's degree in international business and several related fields. These programs give students the flexibility to pursue their international relations degrees at whatever level they desire, as well as offering several options for how students want to specialize their degree.
This variety of degree options offered helped Schiller earn high markings in our study of best online colleges for international relations, as did their high graduation rate: as of 2015, Schiller featured the highest graduation rate for this field among all other schools. The school's open admission policy also shows its commitment to student diversity and degree attainment.
Accreditation:
Accrediting Council for Independent Colleges and Schools(ACICS)
Location:
8560 Ulmerton Road
Largo, Florida 33771
Distance Education Participation
49%
Number of Programs Offered
47
Students considering online bachelor's degrees in international relations should consider Troy University, which offers a bachelor's degree program in political science with a focus on international politics. During this program, students are exposed to the role international politics plays in our modern world, along with best practices for peace and prosperity. This degree can serve as an excellent stepping stone when pursuing careers in fields such as law, government, military, journalism or education.
Troy University earned a place in our list due to solid marks in all areas of our methodology, from graduation rate to admissions rate. In particular, they had the third highest graduation rate of the five schools on this list, as well as the third highest percentage of degrees awarded in international relations, which is evidence of their commitment to helping students graduate with a degree.
Accreditation:
Southern Association of Colleges and Schools Commission on Colleges
Location:
600 University Avenue
Troy, Alabama, 36082
5
University of North Georgia
Distance Education Participation
23%
Number of Programs Offered
13
The University of North Georgia offers a quality Master of Arts in International Affairs that can be completed online. This online degree program endeavors to convey an advanced understanding of international systems and the global economy, focusing on issues such as terrorism, security and international affairs.
Helping the University of North Georgia stand out in our study was its overall accessibility — the highest of any of the schools we analyzed that did not offer an open admissions policy. That this school is one of the few to offer a master's degree program in international affairs entirely online was another reason it deserves to be featured on this list.
Accreditation:
Southern Association of Colleges and Schools Commission on Colleges
Location:
82 College Circle
Dahlonega, Georgia 30597
Degree Overview: International Relations
Students can learn quite a lot about interacting with other cultures and the implications of globalization on politics, economics and law by enrolling in online degree programs for international relations. Continue reading this section for a broad overview of the courses that can be found in these programs and the skills students may learn from them.
Online International Relations Courses
Whe specific coursework students will take in an online international relations degree will likely vary from one college to another, the following is a sample of the subjects that are commonly offered in such programs.
Intercultural communication: Intercultural communication explores how people from different cultures interact with each other in various situations. Students in these classes usually learn about the relationship between international conflict and public policy, how different cultures communicate in the workplace and famous intercultural theories and theorists.
World politics and governance: This class typically exposes its students to the balance of power on an international level and may include coursework in how foreign policy decisions are made, the historical framework that influences international politics, the International Criminal Court, the United Nations, the World Bank and the European Union.
Political corruption: This course and others like it focus on the consequences that corruption can have on countries on legal, political and economic levels. Students may learn about the different types of corruption and the impact they each have on society, how corruption occurs in the public and private sectors, and the relationship between culture and corruption.
International economics: Students who enroll in this class can expect to study economic principles from a global perspective. Course topics include how countries exchange currency, navigate relationships with nations that have more or less wealth and create policies that impact international economies.
Human rights: This subject is an exploration of the economic, social and political factors that affect human rights. Specific topics covered might include human rights theories, human rights law enforcement and the ways international organizations respond to violations of the laws.
Career-Related Skills to Develop
Whether students want to work in business, government, education or nonprofit organizations, online education for international relations can help them gain several valuable skills. Below are examples of some of these skills.
Interpersonal: Working in diverse environments requires strong interpersonal skills. Employees should be able to display tolerance of other people's cultural beliefs and customs, patience when speaking with those whose first language is not English, and affability to get along with people from different walks of life. Understanding other cultures first can be very helpful for creating positive interactions with their people, and the education of an international relations program can be a useful primer in this regard.
Writing: International relations programs often require several research papers throughout the course of the program, which helps students enhance their writing skills. As a result, students usually find themselves becoming more skilled in formulating messages designed to inform or persuade — a skill that can be used in many workplace contexts, particularly in international relations.
Listening: The ability to actively listen helps workers to better understand information, respond to questions accurately and make sound decisions. When performing the sometimes-delicate duties of an international relations professional, listening carefully can be nearly crucial for success.
International Relations Career Outlook
Careers in international relations can be competitive, especially considering that — by their very nature — you might find yourself competing with candidates who live in many different countries, not just your own. However, these are also careers that provide necessary services to the world at large, and they will never go out of style.
Public Relations Specialists
Projected Job Openings
30,700
Entry-level Education
Bachelor's degree
When organizations need to create — or correct — their public image, they rely on public relations specialists to help them do it. These professionals shape the world's opinion of the clients they represent. Specific job duties include writing and distributing press releases; analyzing social media posts to gauge public opinion about clients; scheduling interviews for top executives at the organizations they represent; writing speeches for clients; and answering questions from members of the media.
Public relations specialist careers are highly competitive, and many employers are looking for candidates who have a portfolio of work already established. If you don't have previous experience in the field, earning a degree in the subject might be just the thing you need: not only will you have the degree to show off, but your classwork projects can be a good start for a portfolio, as can participation in a college-sponsored internship.
Reporters and Correspondents
Projected Job Openings
4,400
Projected Job Growth
-12.1
Entry-level Education
Bachelor's degree
Journalism students who have aspirations of becoming the next Dan Rather or Ethel Payne must develop strong communication, interpersonal and computer skills in order to pursue their dream. Though not every reporter will change the course of a country's history the way Woodward and Bernstein or Nellie Bly did, even the humblest of articles provides information to the general public, which can change history all on its own as few other things can.
Generally, reporters and correspondents are responsible for researching and writing stories that are assigned by an editor; interviewing sources for those stories; editing their work for accuracy, grammar and style; and updating stories or releasing supplementary articles as new information comes in. These professionals may work for newspapers and magazines, television and radio stations, and even news websites.
Projected Job Openings
90,700
Projected Job Growth
20.4
Entry-level Education
Bachelor's degree
From camping out at an Apple store for the latest iPhone to wildly overspending on Cyber Monday sales, consumer behavior can seem nonsensical. However, unraveling and predicting the mysteries of what consumers will do and why is the fascination of the market research analyst. These professionals are responsible for understanding and forecasting sales trends by gathering data about their employer's competition; creating and administering polls and surveys; and analyzing the gathered information in order to understand how their employers can best serve the worldwide consumer market.
People who enter this field need speaking, writing, technology, analytical and persuasion skills to be effective. Employers generally want workers who have earned a bachelor's degree; in some cases, organizations look for candidates with a master's degree.
Methodology
To be included in these rankings, all colleges had to meet the following criteria for the specific subject being ranked:
Offer at least one degree or certificate in that subject online
Have awarded at least one degree or certificate in that subject in 2015-16
Once we had our list of schools for each subject, we ranked them on six criteria:
In-state tuition, National Center for Education Statistics, 2015-16
Graduation rate, National Center for Education Statistics, 2015-16
Accessibility, based on the admissions rate, National Center for Education Statistics, 2015-16
Program prominence, based on how many of the degrees and certificates awarded by the school in 2015-16 were in this particular subject, National Center for Education Statistics, 2015-16
Related subjects, based on the number of similar programs that the school offers at any level, National Center for Education Statistics, 2015-16
Variety of degree levels, based on the number of degree and certificate levels out of a possible nine that the school offers in this particular subject, National Center for Education Statistics, 2015-16
Methodology Sources
Integrated Postsecondary Education Data System (IPEDS) 2017-18, National Center for Education Statistics, http://nces.ed.gov/ipeds/
X