Biology is a field that offers a diverse range of educational and occupational possibilities. Biologists can work in the laboratory, in the field or in the classroom. They can also be found in fields that you may not think of as related at first glance, such as agriculture, conservation, health care, political lobbying and even poultry science! While there are many ways to earn a degree in biology, online biology degree programs in particular can serve as a convenient, flexible option for diving into this versatile, evolving subject.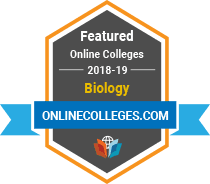 Featured Online Colleges for Biology in 2018-19
Using data from the National Center for Education Statistics' Integrated Postsecondary Education Data System (IPEDS), we have compiled a snapshot of five colleges at which you can earn a degree in biology through online courses. Find out more about the data we gathered and the methodology we used to analyze said data at the bottom of this page, once you've finished viewing our list of featured schools for online biology programs.
Distance Education Participation
74%
Number of Programs Offered
81
If a career in field research, forensic science, microbiology, park management, teaching or zoology is a goal, then Allen Community College should be on your list of potential considerations. This two-year school offers an online Associate of Science degree with an emphasis in biology, which can later be used to transfer to state public schools such as:
Kansas State University
Pittsburgh University
Washburn University
Wichita State University
Both general education and biology classes are part of this online associate degree program, and elective choices are available as well. Points to consider for Allen Community College are its open admissions policy — meaning the school accepts any applicant, so long as they have a high school diploma or a GED certificate — and its graduation rate — the second highest on this list. Furthermore, 11.42 percent of the degrees Allen Community College awarded in 2015 were in the field of biology. That degree award ratio was higher than any of the other schools on this list.
Accreditation:
Higher Learning Commission
Location:
1801 N. Cottonwood
Iola, Kansas 66749
2
Ozarks Technical Community College
Distance Education Participation
40%
Number of Programs Offered
7
Ozarks Technical Community College, also known as OTC, may be the place to pursue an Associate of Science in biological clinical science degree. The school's slogan is "Your Online Community College," and this online degree program is only offered in hybrid format, meaning some classes are Web-based and others take place at the school. The bonus is that completion of this associate degree program should aid students with transferring to a four-year college.
As the only school on our list to offer a degree specifically in biological clinical science, Ozarks Technical should certainly be considered by anyone interested in this particular biology specialty. And since Ozarks Technical boasts an open admissions policy, you should have no trouble being admitted to pursue this rare degree as long as you have a high school diploma or a GED certificate.
Accreditation:
Higher Learning Commission
Location:
1001 E. Chestnut Expressway
Springfield, Missouri 65802
3
University of Florida Online
Distance Education Participation
100%
Number of Programs Offered
18
Students who want to become a "Gator" may be interested in one of the two online biology degrees offered through the University of Florida: the Bachelor of Arts in biology or the Bachelor of Science in microbiology. Both programs are versatile, comprehensive and focused on the systems of life. Within these online biology degrees, students can find:
Courses across 17 academic departments
Potential career tracks such as conservation biologist, dietitian, food safety expert and others
Scholarship opportunities for those pursuing the online microbiology degree
The University of Florida online stands out for its stellar graduation rate in 2015 — the highest among all the online colleges for biology featured on this list. The school also scored the second highest rank for percentage of biology degrees awarded in 2015, possibly because it also offers more programs for biology than any other school on our list.
Accreditation:
Southern Association of Colleges and Schools (SACS) Commission
Location:
Gainesville, Florida 32611
4
Georgia Military College
Distance Education Participation
43%
Number of Programs Offered
21
Offering all of its associate degree programs entirely online, Georgia Military College (GMC) is a school full of educational options, including completing an online Associate of Art or an Associate of Science in biology degree. Students enrolled at GMC face no out-of-state tuition fees even if they enroll from elsewhere. Benefits to the school's online biology degrees include:
Established transfer agreements with other schools
The option to attend campus-based courses
Admissions, financial aid and advising services
GMC managed to score third place in both graduation rate and ratio of biology degrees awarded in 2015 — both solid testaments to the school's quality. Other reasons to consider GMC include its open-admissions policy and the opportunity to attend an online school that specializes in associate degrees and prides itself on its friendliness to military and veterans.
Accreditation:
Southern Association of Colleges and Schools (SACS) Commission
Location:
201 E. Greene Street
Milledgeville, Georgia 31061
5
University of Maryland-University College
Distance Education Participation
90%
Number of Programs Offered
86
The University of Maryland-University College, or UMUC, is unique among schools on this list in offering an online Bachelor of Science/ Bachelor of Technical and Professional Studies in biotechnology. In this program, students learn about all things 'bio', including the biological and chemical sciences, cell biology, bioinformatics and bioinstrumentation. The program requires professional experience or completion of an associate degree prior to admission. UMUC offers the courses for this program entirely online, although hybrid options may be available for select courses. Students can transfer as many as 90 credits into the 120-credit program.
In addition to its biotechnology degree, UMUC offers a certificate program in bioinformatics and multiple biotechnology master's programs, giving it the second- widest variety of biology-focused programs on this list. As a final cherry on top, UMUC has an open admissions policy, making it very accessible to aspiring biology majors.
Accreditation:
Middle States Commission on Higher Education
Location:
3501 University Boulevard East
Adelphi, Maryland 20783-8010
Degree Overview: Biology
Earning a degree in biology can open doors to dozens of career paths. Some of those require only a certificate to get started, while others demand graduate degrees for entry-level work. No matter the pathway a person chooses to take when seeking their dream career, it can all begin with online programs for biology. Here's a brief overview of the courses students might see and the skills they might learn while pursuing the various degrees available in the field.
Online Biology Courses
When choosing to pursue a career in biology, the options are wide open. Many students begin with a certificate or associate degree. While an associate degree usually takes two years to complete, certificates can get a student out into the workforce in as little as six months. Though the courses a student will encounter depend heavily upon their chosen program, there are some basic biology courses that tend to be universal. Here are a few that students might encounter at this level:
Human anatomy and physiology
Statistics
Microbiology
Mathematical modeling
Ecology studies
For many positions in the world of biology, a bachelor's degree will be required for entry-level work. Those seeking online bachelor's degree programs in biology can expect four years of schooling; however, those who choose an accelerated program might be able to complete their degree in less time.
As with the associate degree, the courses encountered during a biology bachelor's degree program will vary depending upon future career goals. However, these are common courses many students will see:
Evolution and diversity
Ecology
Molecular biology
General chemistry
Critical analysis of biological research
Biology graduate programs have a much more specialized slant. At this point, most students have already begun working in their chosen profession, and they are seeking higher education that will help them bolster their career. Given that, the master's program will be very individualized, but will almost always include refresher courses in the higher level points of biology, such as advanced chemistry and microbiology principles. The doctoral degree program focuses strongly on research, with a variety of courses tailored to allow students to pursue their own research opportunities.
Career-Related Skills to Develop
Those who pursue a degree in biology, whether it be an associate or a doctorate, can expect to be exposed to a variety of skills that can hold them in good stead throughout their career. In addition to powerful observational and technical skills, reviewing the results of their experiments and observations encourages students to build strong analytical and critical-thinking skills. They should also learn multiple ways to communicate their findings — a process that can be markedly different based on their audience, from other scientists to interviewers to investors to interns.
There are other skills students will want to focus on, but these will vary depending on the specific career path that is desired. For instance, zoologists will want to make sure they are prepared with outdoor survival skills for when their work takes them through remote areas. Biochemists will be exposed to a wide variety of technology, thus should focus on gaining a greater understanding of technology. And biophysicists are going to want strong math skills to succeed in their careers.
Biology Career Outlook
Those who choose to major in biology have a wealth of opportunity open to them as they move into the workforce. Students who aren't sure of what line of work they prefer upon graduation can check out these worthy options.
Natural Sciences Managers
Projected Job Openings
6,100
Entry-level Education
Bachelor's degree
Just as the name implies, natural sciences manager careers are for those who supervise the work of other scientists. Their activities might relate to research and development, quality control, production and testing. They often work closely with executives in businesses and organizations who employ a variety of scientists for creating and improving products. A large part of the job is making sure all research conducted is done so in a smooth, precise and proper manner. In some cases, natural sciences mangers might oversee others and handle behind-the-scenes work; in other instances, they might conduct research alongside their teams.
Although having a bachelor's degree is a good start, most natural sciences manager careers require several years of experience as a scientist. Some employers prefer those who hold advanced degrees in their field.
Projected Job Openings
700
Entry-level Education
Bachelor's degree
Students with an eye toward life science careers will be pleased to note the wide range of options available to them upon graduation. Life scientists can work in numerous disciplines, including plant sciences, pharmacology, stem cell research and more. Other options include work as food scientists, microbiologists, epidemiologists, zoologists.
Given the variety of paths available, one life science career might look very different than the next. However, the overall job — conducting experiments and research, examining findings, reviewing results and pursing new avenues of research — tends to be the same across disciplines. Graduates can expect to work in laboratories or controlled field areas and for a range of employers, from the private sector to government agencies.
As with other science occupations, a bachelor's degree is the starting point. Depending upon the career path, students might need to earn a master's or Ph.D. to be considered for advancement.
Projected Job Openings
4,700
Entry-level Education
Bachelor's degree
Biological scientist careers focus on study of the world around us and how every element relates to each other. They might choose to specialize in plant, animal or environmental studies, and often delve further into even more specialized areas, such as genetics, biochemistry and microbiology.
Most biological science graduates find positions in government agencies or colleges and universities, though some do work with private organizations or large corporations. Depending upon the employer, they might work with anything from creating or improving pesticides and fertilizers to developing cosmetics to researching methods of environmental protection.
As with most career options in the science field, a bachelor's degree might open doors, but higher degrees are usually required for advancement or supervisory positions. Graduates should also keep in mind that importance of laboratory experience.
Biochemists and Biophysicists
Projected Job Openings
3,100
Entry-level Education
Doctoral or professional degree
Biochemist and biophysicist careers involve the study of chemical and physical principles of living things, as well as biological processes that drive growth, heredity, disease and cell development. They may research important issues such as cancer detection and treatments, the effects of drugs and diet on the body, genetic traits and how they affect individuals, and chromosomal issues that might be passed down through generations.
Their work usually takes place in a clean and sterile laboratory and it's carefully documented for later scrutiny of results. Though these scientists often are employed by government agencies and research centers, many can be found working on college campuses, in pharmaceutical manufacturing, in chemical manufacturing or consulting.
A bachelor's or master's degree may be sufficient for basic entry-level work, almost all biochemists and biophysicists must hold a Ph.D. in order to conduct the important research necessary to the profession.
Zoologists and Wildlife Biologists
Projected Job Openings
1,900
Entry-level Education
Bachelor's degree
Those in zoologist and wildlife biologist careers focus on the animal world, including how they interact with their environment. Their work has wide-ranging implications, including studies of animal behavior, characteristics, interactions and the effect humans are having on the habitats and ecosystems of a variety of creatures.
Zoologists and wildlife biologists have numerous responsibilities in their day-to-day work. They might observe animals in various habitats, gather biological specimens and data for analysis, work with breeding programs to assist endangered species, analyze changes in ecosystems, develop conservation programs, speak to the public about various animals and write research papers explaining their findings.
A bachelor's degree is required for entry-level work in the field. However, a master's degree is often expected of those who conduct investigative or scientific work, while those who lead teams likely hold a doctorate.