Professionals in emergency management are tasked with helping organizations prepare for emergencies and natural disasters. They must lay plans and conduct drills and training when times are peaceful, and their efforts are put to the ultimate test when disaster finally strikes. During an emergency, they must spring into action, making quick decisions and allocating available resources in order to save lives. Then, once it's all over, they spearhead recovery efforts by working closely with state, local and federal officials and agencies.
A job this important can't be entrusted to people who aren't ready for it. Most people employed in the field of emergency or crisis management hold a bachelor's degree at minimum, and certain positions even require a master's degree and several years of work experience. If emergency management is your passion, then it's vital to make sure you get the education you need to do the job right.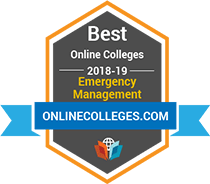 Best Online Colleges for Emergency Management
Whether you're an undergraduate student looking for the entry-level skills of a bachelor's degree or a working professional seeking to advance your career through a master's degree, you'll need a school that can suit your needs. To help you find the school that's right for you, we've utilized data from the Integrated Postsecondary Education Data System (IPEDS) to compile this ranking of the best online colleges for emergency management. These rankings can provide students with key insight into program features and highlights; learn more about the methodology we used for this list at the bottom of this page.
Distance Education Participation
19%
Number of Programs Offered
10
Adelphi University, founded in Brooklyn in 1896, is the oldest college on Long Island. This private university first began offering emergency management coursework shortly after the 9/11 terror attacks. In fact, the development of Adelphi's first emergency management degree program was led by a disaster epidemiologist who was among the first 9/11 responders.
The online emergency management programs available at Adelphi include:
A.S. in emergency services administration (up to 34 credits can be transferred in)
B.S. in emergency services administration (up to 60 credits can be transferred in)
M.S. in emergency management (no GRE required for enrollment)
Graduate certificate in emergency management (credits from this program can be applied towards the M.S. program after completion)
Accreditation:
Middle States Commission on Higher Education
Location:
1 South Ave.
Garden City, N.Y. 11530
Distance Education Participation
56%
Number of Programs Offered
24
Wayne Community College welcomes students from around the greater Goldsboro region with its open-door admissions policy, and from much farther with its online programs. Distance learners who are interested in emergency management may want to consider WCC's online associate degree program in emergency management. The curriculum is split into different aspects of the field: first-year students focus on about emergency and disaster preparedness issues, while the second year is dedicated to fire and law enforcement operations and practices.
There is also an online emergency management certificate program that boasts multiple concentrations: management, public safety, EMS management, fire services management or law enforcement management.
Accreditation:
Southern Association of Colleges and Schools Commission on Colleges
Location:
3000 Wayne Memorial Dr.
Goldsboro, N.C. 27534
3
Arkansas Tech University
Distance Education Participation
46%
Number of Programs Offered
28
Located in the heart of the Arkansas River Valley, Arkansas Tech University was founded in Russellville in 1909 with a focus on agricultural programs. The university also has a satellite location in Ozark, and it serves distance learners through eTech, its portal for online education.
While it started as an agricultural school, ATU has broadened its range of programs substantially, and one of the fields it offers is emergency management. Through ATU's Department of Emergency Management, students can pursue a B.S. in emergency management or an M.S. in emergency management and homeland security. Both programs can be completed entirely online, and the M.S. program can be completed through either a thesis or practicum option.
Accreditation:
Higher Learning Commission
Council for the Accreditation of Emergency Management Education
Location:
Doc Bryan Building,
1605 N. Coliseum Dr., Russellville, Ark. 72801
4
University of Central Missouri
Distance Education Participation
38%
Number of Programs Offered
21
Originally founded in 1871 as a teacher's school, the University of Central Missouri has evolved in more ways than one. Not only does the university educate students in many different fields, but it extends multiple programs for that education through UCM Online, its portal for distance education.
UCM Online offers an online B.S. in crisis & disaster management that comes in multiple different specializations. Students can choose to focus on business continuity, emergency management, emergency services management or environmental hazards. Each pathway requires 120 credits to satisfy degree requirements; credits can be awarded for military transcripts, professional training, earned licenses and more.
Accreditation:
Higher Learning Commission
Location:
108 W. South St.
Warrensburg, Mo. 64093
Distance Education Participation
85%
Number of Programs Offered
79
Bellevue University has more than 150 articulation agreements with colleges and universities throughout the U.S., and it accepts transfer credits from many different accredited institutions as well. Such emphasis on transfer accessibility makes Bellevue a convenient location for transfer students and nontraditional students to consider learning emergency management.
This private nonprofit university hosts an online M.S. in security management that requires 36 credit hours to complete. Students in the program are encouraged to develop leadership and emergency management skills using a homeland security philosophy. All coursework follows a preset order. The program culminates with a security management project where students conduct a real-world vulnerability study and threat assessment.
Accreditation:
Higher Learning Commission
Location:
1000 Galvin Rd. S.
Bellevue, Neb. 68005
6
SUNY College of Technology at Canton
Distance Education Participation
61%
Number of Programs Offered
15
The State University of New York at Canton was originally founded in 1906 as a two-year college. In 1987 it became part of the State University of New York (SUNY) System. This means SUNY Canton students can take online classes from any of the other SUNY institutions, which can help them to take subjects such as emergency management.
Even without Open SUNY, online students can enroll in SUNY Canton's B.S. in emergency management program, which requires between 123 and 125 credits to complete. Many classes in the program run for seven weeks and include hands-on virtual disaster simulations and hazard modeling. The curriculum is also designed to cover how to operate emergency operations and incident command centers.
Accreditation:
Middle States Commission on Higher Education
Location:
34 Cornell Dr.
Canton, N.Y. 13617
7
Fayetteville Technical Community College
Distance Education Participation
69%
Number of Programs Offered
27
Fayetteville Technical Community College serves residents of Cumberland County, North Carolina from its 150-acre flagship campus at Fayetteville. This college also has a satellite campus at Spring Lake, and it offers a wide variety of 100-percent online programs for distance learners.
FTCC students can pursue an online A.A.S. degree program in emergency management technology that requires 68 total credits for completion. Students can also pursue various 15-credit undergraduate certificate programs at this school, including disaster management, emergency management and incident command.
Accreditation:
Southern Association of Colleges and Schools Commission on Colleges
Location:
2201 Hull Rd.
Fayetteville, N.C. 28303
8
Caldwell Community College and Technical Institute
Distance Education Participation
44%
Number of Programs Offered
18
Caldwell Community College & Technical Institute serves residents of Caldwell and Watauga counties of North Carolina, with campus locations at Hudson and Boone. The college offers an online A.A.S. program in emergency management that is centered on the technical and managerial aspects of fire protection, law enforcement and emergency medical services. This program requires 66-70 credits to satisfy degree requirements, and students also can opt for a specialization in fire protection. CCC&TI also offers two online undergraduate certificate programs: preparedness and mitigation, and response and recovery. Both programs require 18 credit hours to complete.
Accreditation:
Southern Association of Colleges and Schools Commission on Colleges
Location:
2855 Hickory Blvd.
1302 Hudson, N.C. 28638
9
Arizona State University-Skysong
Distance Education Participation
97%
Number of Programs Offered
100
Skysong is home of the University of Arizona's innovation center, and it's also home to ASU Online. Headquartered at Tempe, ASU Online offers a B.S. program in public service and public policy with a specialization in emergency management and homeland security. Students must complete a total of 120 credit hours, and classes run an average of 7.5 weeks each.
Meanwhile, graduate students at ASU-Skysong can pursue a fully online Master of Arts in emergency management and homeland security. The program requires 33 credits for graduation, and students must have a cumulative 3.0 GPA in their final 60 hours of undergraduate studies to be considered for admission.
Accreditation:
Higher Learning Commission
Location:
1475 N. Scottsdale Rd. Ste. 200
Scottsdale, Ariz. 85257
10
Eastern Kentucky University
Distance Education Participation
45%
Number of Programs Offered
52
Eastern Kentucky University is a regional public university that was founded in 1906, and it serves distance learners across the country through its online portal: EKU Online. The university offers a 36-credit hour master's in safety, security and emergency management, 100 percent online. Students can choose one of three potential concentrations: occupational safety, corporate security operations, or emergency management and disaster resilience.
EKU Online also offers a 12-credit graduate certificate program in emergency management. This program uses the same curriculum and is taught by the same faculty as the master's in safety, but it can be completed in only 12 credit hours.
Accreditation:
Southern Association of Colleges and Schools Commission on Colleges
Location:
521 Lancaster Ave.,
Richmond, Kent. 40475
Degree Overview: Emergency Management
Why Pursue an Online Crisis Management Degree?
When choosing any degree program, be it online or on-campus, it can be helpful to have an idea of what coursework may look like and what skills to focus on learning. This bird's-eye look at online crisis management degree programs can show students what to expect from a program in this field.
What Online Crisis Management Courses Can I Take?
There are dozens of associate degree programs available for students seeking to earn a crisis management degree. However, it's important to note that most of these programs are intended to help students move into the bachelor's program at a later date. Therefore, the majority of the curriculum focuses on general education, with disaster preparedness mostly being explored in electives instead.
At the bachelor's level, whether a student is starting there or has completed an associate degree first, there is often the option of choosing a concentration or a specialization. This might include something that is of particular interest for a student's future career, such as hazardous materials cleanup, homeland security, or border, coastal or port security.
Those taking a bachelor's program may encounter the following courses (among others):
Hazard Mitigation and Preparedness
Managerial Issues in Hazardous Materials
Psychology of Disaster
Emergency Response to Terrorism
Chemistry of Explosives
Natural Disaster Management
There are also several master's degree programs available in crisis management. These programs dive much deeper into issues of emergency response and preparation, with topics such as:
Ethics and Decision Making
Risk Perception Awareness
Budgeting for Emergencies and Disasters
Communications Strategies for Crisis Management
Crisis Leadership and Management
Emergency management professionals can choose to take their education even further with a doctoral program. There are only a handful of these in the United States, and most have an emphasis on public policy. These degree programs are best suited for those who hope to create the policies and laws that govern emergency management protocol and response.
What Skills Are Necessary to Become a Crisis Manager?
Working in crisis management requires a particular set of skills. While some students might have natural aptitude in the following areas, time in an accredited degree program can help anyone polish their skills further.
Leadership ability: When things go sideways, officials and the public alike turn to crisis management professionals to guide them. Being able to lead wisely and effectively is more crucial in an emergency than at any other time.
Quick but comprehensive decision-making: During an emergency response, every second matters. A professional has to make split-second decisions that are still based in logic and experience.
Great communication: When writing out plans that could be scrutinized by civilians, government agencies, and other emergency management professionals, or when speaking to the media during disaster response, the ability to communicate clearly and comprehensively matters a great deal.
Strong interpersonal relations: When lives hang in the balance, it's important for emergency responders to work together in a smooth, coordinated matter. Being able to form camaraderie and good working relationships with your fellow emergency professionals can make a difference when it comes to handling the stress, violence and tragedy of disasters.
Emergency Management Career Outlook
When disaster strikes, those trained to help swing into action, responding quickly to help those in need. The following careers are a few of the positions from which crisis management professionals can aid others when that call to action comes through.
Emergency Management Director
Projected Job Openings
900
Entry-level Education
Bachelor's degree
In preparation for disasters, emergency management directors create plans and procedures for quick response. This includes training officials and response teams, requesting funds for equipment and training materials, and working with other agencies to ensure the best possible response in various situations. They coordinate with public safety officials, government agencies, nonprofit organizations and elected officials, from local law enforcement to federal government offices. When the time comes, emergency management directors are often on the front lines of the response: coordinating resources and equipment, analyzing damage assessments, and making quick adjustments as the situation warrants, such as evacuating residents, conducting rescue missions and more.
A bachelor's degree is the typical entry level requirement, coupled with years of experience in an emergency management field. Smaller municipalities might hire someone without a degree but with many years of experience. Some states require emergency management directors to obtain certification; many states also offer voluntary certifications that can enhance a crisis management resume.
Projected Job Openings
10,100
Entry-level Education
High school diploma or equivalent
Also known as public safety telecommunicators -- and to most civilians as "911 operators" -- emergency dispatchers respond to calls concerning the safety and security of the public. They determine the location and the nature of an emergency, relay that information to the appropriate first responders, and follow up to coordinate the response. While the callers wait for emergency services, the emergency dispatcher might supply medical instructions over the phone so individuals can start basic first aid or CPR, if necessary. When the response is complete, the dispatcher creates a detailed report for future evaluation by crisis management officials.
Though only a high school degree is strictly necessary to enter this job, many states require training of emergency dispatchers. There might also be other requirements, such as passing background and drug tests, earning a certain level of training or education, and serving through a probationary period.
Projected Job Openings
19,600
Entry-level Education
High school diploma or equivalent
While an emergency dispatcher might work for anywhere from a small community to the entire federal government, city dispatchers focus on a much smaller area. They might work for one emergency service, such as fire, police or ambulance, sending out only that particular service in response to calls. In this case, they coordinate with other dispatchers to determine the best course of action for emergency events that occur with their city or town.
In some small communities, city dispatchers might also work as police officers, firefighters or even ambulance drivers; they might rotate dispatching shifts with others on the emergency response team. They might also have responsibilities that go beyond that of responding to emergencies. For instance, a police dispatcher might answer officer queries about warrants or keep track of where all officers are at any given time.
As with emergency dispatchers, a high school diploma is the bare minimum for entry; however, many states require certification and additional training. Some local areas might prefer to hire those who have completed their education in crisis management, law enforcement or similar degree programs.