The career of a pharmacy technician can be a great choice for students who are interested in health care but are not sure they want to go to medical school. This profession plays a valuable role in health care; its practitioners have the critical responsibility of helping patients to obtain their medications, as well as explaining how each medication should be taken to produce results and avoid side effects. It's also a profession that requires a fair amount of education to perform properly. Fortunately, that education happens to be widely available through online courses.
On this page, you can find details about featured online pharmacy tech programs; what pharmacy technicians do; what to expect from online programs; skills and knowledge that might be useful for this career; and the outlook for select careers in the field.
Featured Online Colleges for Pharmacy Technicians in 2018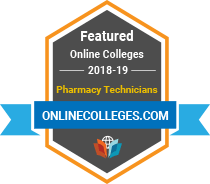 Those who are debating the merits of different pharmacy technician programs might be relieved to use our list of featured online colleges for pharmacy technician degree programs. Using data from the National Center for Education Statistics' Integrated Postsecondary Education Data System (IPEDS) and our unique methodology (focused on criteria such as number of online programs and tuition costs,) we have chosen these seven schools as particularly noteworthy. For more details on our methodology, see the bottom of this page; for our featured seven, see just below.
Distance Education Participation
61%
Number of Programs Offered
9
The nonprofit Community Care College offers pharmacy technician students the choice of earning a career diploma, which can typically be completed in one year, or an associate degree. The programs can be completed on-campus or entirely online. The programs are designed to prepare graduates to take the PTCB national certification exam.

During the program, students are able to take field trips and get hands-on experiences in retail pharmacies, filling prescriptions and preparing compounds.
Accreditation:
Accrediting Council for Independent Colleges and Schools
Location:
4242 S. Sheridan Road
Tulsa, Oklahoma 74145
2
Hutchinson Community College
Distance Education Participation
39%
Number of Programs Offered
25
Hutchinson Community College offers more than 250 online courses, with many associate and certificate programs offered completely online. Its pharmacy technician certificate program is 39 credit hours long. It includes a practicum, which gives students hands-on experience working in pharmacies.

This Kansas-based college is part of the Jayhawk Athletic Conference. Even online students may enjoy rooting for Hutchinson's 13 athletic teams in sports ranging from football to golf, volleyball and track.
Accreditation:
Higher Learning Commission
American Society of Health-System Pharmacists
Location:
1300 North Plum
Hutchinson, Kansas 67501
3
Minnesota State Community and Technical College
Distance Education Participation
39%
Number of Programs Offered
39
Students in Minnesota State Community and Technical College's pharmacy technician program can choose to earn a 36-credit diploma or a 60-credit associate of applied science (AAS) degree. Classes are online, but hands-on training takes place in the lab at the Wadena campus.

A group of local industry professionals review the curriculum, making sure the courses include useful, current content. This program was ranked No. 5 nationally by BestCollege.com in its 2016 list of Best Online Pharmacy Technician Programs.
Accreditation:
Higher Learning Commission
Location:
1414 College Way
Fergus Falls, Minnesota 56537
4
North Central Missouri College
Distance Education Participation
38%
Number of Programs Offered
28
Students at North Central Missouri College can choose between earning a pharmacy technician associate degree or a one-semester pharmacy technician certificate. The associate degree typically takes two years to complete. The certificate program prepares students for the Missouri state certification exam.

Although these programs are not fully online, major parts of their programs are available online. Toward the ends of both programs, students complete pharmacy internships. Also, both programs include a course called Employment Strategies, which assists students in finding jobs.
Accreditation:
Higher Learning Commission
Location:
1301 Main St.
Trenton, Missouri 64683
5
Pinnacle Career Institute
Distance Education Participation
72%
Number of Programs Offered
3
This fully online program can usually be completed in 11 months, and completion results in a certificate. Its goal is to prepare students to sit for the Pharmacy Technician Certification Exam and to earn the NHA's CPhT credential. Courses are career-centered and focus on skills necessary in the workplace. Students also have the chance to earn hands-on experience through externships in real pharmacies.

Pinnacle Career Institute, which is based in Kansas City, Missouri, offers students career services such as resume help, interview prep and job leads. Its online library is accessible 24/7, with an online librarian always available.
Accreditation:
Accrediting Council for Independent Colleges and Schools
Location:
10301 Hickman Mills Drive
Kansas City, Missouri 64137
6
Southwestern Oregon Community College
Distance Education Participation
55%
Number of Programs Offered
12
The online pharmacy technician program at Southwestern Oregon Community College is a 51-credit program that aims to prepare students to work in retail or hospital pharmacies. Students will graduate with certificates of completion that show they are able to assist pharmacists with preparing and giving out medications.

Students at Southwestern Oregon Community College benefit from the Teaching and Learning Center (TLC). The TLC is a resource that provides online teaching support to faculty and helps them use technology to the fullest for students.
Accreditation:
Northwest Commission on Colleges and Universities
Location:
1988 Newmark Ave.
Coos Bay, Oregon 97420
7
Ultimate Medical Academy
Distance Education Participation
N/A
Number of Programs Offered
N/A
Ultimate Medical Academy has an online associate degree program and an online career diploma program for pharmacy technicians. The associate program includes a 180-hour externship in a real pharmacy. It can typically be completed in 17 months. The career diploma can usually be done in 11 months, and it includes an externship as well. Graduates of both are generally prepared to take the PCTB exam. The Ultimate Medical Academy program provides exam-relevant content and tutoring if needed.

Ultimate Medical Academy has partnerships with national pharmacies, such as Walgreens and CVS. This may help students with job placement after graduation.
Accreditation:
Accrediting Council for Independent Colleges and Schools
Location:
9309 N Florida Ave Ste 100
Tampa, Florida 33612
Interview with an Expert
"
The flexibility of a completely online program
is very convenient for students.
Cody Yeager
Dean of Career and Technical Education
Southwestern Oregon Community College
"
Interview with an Expert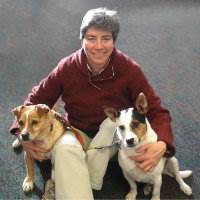 Cody Yeager
Dean of Career and Technical Education
Southwestern Oregon Community College
Q: What qualities make Southwestern Oregon Community College's online pharmacy technician program outstanding?
A: The flexibility of a completely online program is very convenient for students. We enjoy strong community support in regard to placement for cooperative work experience.
Q: What support does Southwestern Oregon Community College offer its online student body?
A: Online students have the support of the Teaching and Learning Center at Southwestern. TLC offers facilitation, support and resources for teaching, learning and technology to faculty and staff. The staff at TLC do a fabulous job of providing extensive support to both students and faculty. Our library can also be accessed online. Our tutoring center provides both in-person and online tutoring.
Q: How do you anticipate online learning might evolve in the coming years?
A: At Southwestern, we definitely see a trend toward offering more online courses and programs in the future. Students want them and many instructors also prefer this delivery method. In Allied Health, we anticipate that we will offer more hybrid and interactive delivery methods. This is clearly the future for college instruction. We are always growing and adding new courses and programs online. We want to remain current and competitive in order to offer our students the best options. In the future, I see online education continuing to be dynamic and versatile.
Degree Overview: Pharmacy Technician
From courses in pharmacology and chemistry to opportunities for hands-on experience in some of the largest pharmacy chains in the nation, students planning to work as pharmacy technicians have a wealth of knowledge available to them through online programs. Here's a primer on what you may encounter on the journey.
Online Pharmacy Technician Courses
It is possible to complete the vast majority of pharmacy technician programs, whether online or on-campus, within a very short time frame, usually about nine months. The goal is to prepare students with real-world knowledge and experience, so they are prepared to move into the workforce immediately upon graduation. Students usually receive a diploma or certificate of completion, which most employers accept as suitable for entry-level work.
Common courses a students might encounter include:
Introduction to Pharmacy Technician
Pharmacy Software Management
Pharmacy Management and Operations
Pharmacy Billing and Reimbursement
Pharmacy Sterile and Non-Sterile Compounding
Pharmacy Law and Regulations
Dosage Calculation
Therapeutics and Medical Safety
Health Science Business Procedures
An important part of any pharmacy technician's education is practical experience, which might seem difficult to acquire through an online program. However, most online schools have agreements with local and/or chain pharmacies that allow an online student to work at a pharmacy in their own community and have their experience documented by their school despite the distance. Each school has different ways of doing this, but in short: a student who needs hands-on experience for their program rarely has to travel to the school itself to get that experience. When it comes to a feature as integral as pharmacy technician externships, this is very important!
Some states require pharmacy technicians to be certified. Certification is available through the Pharmacy Technician Certification Board (PTCB) and the National Healthcareer Association (NHA). Even if the certification is not required in a certain state, it is recommended as a way to give graduates an edge during hiring time.
In some states, students who want to work in hospitals, long-term care facilities and the like must earn a higher level of education, such as an associate or bachelor's degree. Since programs for pharmacy tech at these levels are few and far between, most students opt to earn their degree in a related field, such as chemistry or microbiology, then take pharmacy courses to prepare for certification.
Career-Related Skills to Develop
Pharmacy technician programs often involve a hands-on component, which prepares students for one of the most important aspects of the job: customer service. Good customer service skills are essential when dealing with individuals seeking not only the filling of prescriptions, but information concerning their health and medication. As part of delivering a quality customer service experience, the ability to carefully listen is vital, as are verbal and written communication skills.
Much of the work a pharmacy tech does involves serious attention to detail, strong math skills, top-notch organizational skills and decision-making skills. Pharmacy technicians are often expected to figure out dosages of medications; fill prescriptions with accuracy; stay organized when handed numerous prescriptions and medication requests; and understand when it's time to refer the patient to a pharmacist or even a physician for further instruction. Though these skills are honed on the job, the use of them begins during the pharmacy technician program, in particular during those crucial externships.
Pharmacy Technician Career Outlook
Pharmacy technicians are often the first people to speak with pharmacy customers. Usually, customers know very little about their medications. Some may even be nervous about their illnesses and treatments. Pharmacy technicians play an important part in the process of getting the correct medications to patients and helping them understand their prescriptions. Below you will see a description of the pharmacy technician job and details about the outlook of the career.
Projected Job Openings
38,300
Entry-level Education
High school diploma or equivalent
The job of a pharmacy technician keeps changing as new drugs are developed and health care needs shift. More and more, pharmacists are relying on technicians to go beyond their regular duties. They aren't just selling prescriptions. They are working closely with patients to gather information about allergies and symptoms, as well as patient information needed to fill prescriptions. They are also providing needed information to pharmacists. Many even train and evaluate less-experienced technicians. Of course, techs also measure prescriptions, label drugs, answer phone calls, and work with insurance companies and doctors. Pharmacy technicians with formal training and certifications may be preferred by employers.
Methodology
To be included in these rankings, all colleges had to meet the following criteria for the specific subject being ranked:
Offer at least one degree or certificate in that subject online
Have awarded at least one degree or certificate in that subject in 2015-16
Once we had our list of schools for each subject, we ranked them on six criteria:
In-state tuition, National Center for Education Statistics, 2015-16
Graduation rate, National Center for Education Statistics, 2015-16
Accessibility, based on the admissions rate, National Center for Education Statistics, 2015-16
Program prominence, based on how many of the degrees and certificates awarded by the school in 2015-16 were in this particular subject, National Center for Education Statistics, 2015-16
Related subjects, based on the number of similar programs that the school offers at any level, National Center for Education Statistics, 2015-16
Variety of degree levels, based on the number of degree and certificate levels out of a possible nine that the school offers in this particular subject, National Center for Education Statistics, 2015-16
Methodology Sources
Integrated Postsecondary Education Data System (IPEDS) 2017-18, National Center for Education Statistics, http://nces.ed.gov/ipeds/
X