Nursing is a rapidly growing career field. This is due to several factors, the biggest being that a majority of nurses are set to retire soon, and positions are opening up that need to be filled. According to the Bureau of Labor Statistics, employment of licensed practical nurses (LPN) and licensed vocational nurses (LVN) is projected to grow at a much faster rate than the national average for employment growth. There were 728,900 jobs for LPN/LVNs in 2018, with the most substantial portion (38%) working in nursing or residential care facilities. Prospects are especially favorable for licensed practical nurses willing to work in rural and medically underserved areas or those willing to earn certifications in specialty areas such as IV therapy.
There are different types of nursing occupations, each with their own educational requirements and job responsibilities.
LPN/LVNs require the least amount of education.
RNs (registered nurses) or NPs (nurse practitioners), require more advanced schooling.
For those who are thinking about longer-term career goals, many opportunities are available for a licensed practical nurse to advance through education bridge programs.
Those wanting a practical nursing online program have many options. With almost 400 accredited online nursing schools alone, you can receive a high-quality education at schools for practical nursing. However, no accredited vocational nursing school offers wholly online LPN programs, so you can expect to do some of your work on-site at the school for certain classes or in a local clinic or hospital for your clinical hours.
In this guide, you can:
Find answers to frequently asked questions
Read about featured practical nursing online schools
See an overview of the online LPN program or the online LVN program
Gain information on the career outlook
Learn more about certifications, exams and professional organizations associated with being a licensed practical nurse
Frequently Asked Questions
The main difference between these two types of nurses is actually just the name. They are essentially the same job, but the term LVN is used in California and Texas, while the rest of the United States uses LPN. Depending on the state you live in, some minor responsibilities may vary.
Yes. A licensed vocational nurse is the first level of nursing. They are licensed but require a less intensive education program than other RNs.
It depends on the circumstances. While no state requires this, some LPN/LVN programs may require or strongly encourage you to have a current CNA certificate to enter their practical nursing online program.
While a fair amount of coursework can be completed online, no LPN/LVN programs are 100% online because these programs require hundreds of hours of clinical work.
Students can expect a strong practical nursing online program to have the following:
A reasonable NCLEX-PN pass rate, preferably with pretesting support
Accreditation, but at minimum, approval from the National Council of State Boards of Education
Suitable clinical practicum locations
Professional faculty with nursing experience
While a school itself can be accredited, you may want the practical nursing program you choose to be accredited as well. There are currently
four accrediting agencies
for nursing programs, but only the
ACEN
(formerly NLNAC) or Accreditation Commission for Education in Nursing accredits LVN/LPN programs. A fifth newer and lesser-known accreditation agency is the National League for Nursing Commission for Nursing Education Accreditation or
NLN CNEA
.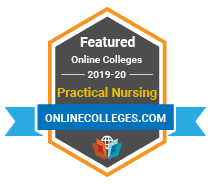 Featured Online Colleges to Become an LPN/LVN in 2019-20
With so many accredited online schools for practical nursing, how do you decide which one is right for you? On the following list of featured schools that offer a practical nursing online program, you can find information about the school itself, insight into its LPN/LVN programs and how each school supports online students. This can give you a good overview of how a school might meet your needs as you pursue an LPN/LVN program.
LPN/LVN Program Overview
Medical Terminology

When participating in a practical nursing online school, you can expect to learn an abundance of medical terminology to prepare you for your career as a practical nurse. This terminology is needed to communicate effectively with doctors, nurses, and patients, as well as to write your reports. Knowing this terminology can play a critical part in your success as a licensed practical nurse.

Anatomy

Human biology and anatomy courses can help you identify cell and muscle function along with the different parts of the body. You can also expect to learn about tissues, membranes, organs and systems and how they function. Understanding these things is essential in working with patients to help identify their symptoms and pain points. As a licensed vocational nurse, you'll need to know this information when it comes to tasks such as inserting an IV, catheter or nasogastric tube.

Psychology

Learning psychology basics is important to understanding patient needs, especially when they cannot communicate with you. Knowing how the mind works in addition to how the body functions allows for better patient care as you may be able to anticipate their needs. You can expect to learn both normal and abnormal psychological conditions at schools for practical nursing.
How to Become an LPN/LVN
Becoming an LPN/LVN can be achieved through a few paths. The amount of time it takes to complete your online LPN program depends on the type you choose and how much time you can devote to it. The general steps to becoming an LPN/LVN are listed below.
You can apply to a practical nursing online school any time after completing high school. Most community colleges and vocational schools offer LPN/LVN programs.
Once you are accepted and have completed the certification program, you can apply for Authorization to Test through your local board of nursing and the National Council of State Boards of Nursing.
Once authorized to test, you can take the NCLEX-PN exam and you should receive your results within 48 hours.
If you pass the exam, your official results and your license are mailed to you. Now is when you can start applying for a job.
If you know you want to continue your career down the line, you may want to choose to earn an associate degree in nursing rather than doing the certification program. Both allow you to be an LPN/LVN, but an associate degree program has an added benefit. Although this route can take twice as long, it may be easier to transition to be an RN or even an NP with an associate degree.
If you want to stay on the path of being a licensed vocational nurse, you can further your career by earning a specialty certification, which may give you more opportunities to work in areas such as Emergency Room LPN. Specialized skills are also helpful to become certified, such as an Advanced Life Support certification.
Career Outlook
With the growing need for nurses, especially the high need in certain locations and specialties, these online LPN programs are promising for students preparing for a career as an LPN/LVN. Keeping in mind that hospitals are not the leading employers of LPN/LVNs may help with knowing where to focus your job application efforts. Below, we cover precisely what an LPN/LVN does and how to work toward becoming one.
LPN/LVN
What Does an LPN/LVN Do?
As an LPN/LVN, your main job is to support registered nurses and doctors as they care for their patients. You may also need to provide support to patients' family members. As a licensed practical nurse, you are directly involved with patients' most basic care and aim to ensure that they are well cared for. Basic job duties vary by state, but may include:
Questioning the patient to determine the reason for the visit
Recording patient history, asking about symptoms and taking vital signs
Administering basic nursing care, such as placing IV lines, changing bandages, etc.
Giving patients medication
Helping with basic tasks, such as dressing and grooming
Explaining procedures to patients and their family members
Gathering testing instruments
LPN/LVN Certifications and Exams
The National Council Licensure Examination is the main exam that all students must take and pass to gain licensure and work as a licensed practical nurse.
Requirements: Once you finish your online LPN program, you must contact your state's nursing regulatory body to request authorization to test. Each NRB has its specific requirements for testing. Once that is approved, you can then register to sit for the test. Your test must be completed within the validity dates of your authorization.
Exam Format: Six-hour time allotment, alternative item format (more than just multiple-choice, including fill-in-the-blank and other assessment options), and computer adaptive where items are based on each candidate's ability
Certification Terms: In most states, the exam can be taken up to eight times per year with a 45-day waiting period in between attempts. Upon passing, you receive a permanent license. Each state determines the renewal period and amount of continuing education that is required to maintain your license, if any.
Earning certifications in various skills can help you appeal to multiple employers. Over 20 different types of certificates are available to licensed practical nurses, with IV Therapy as one of the most popular. It is one of the post-licensure credentials that is often required by employers.
Requirements: Pay the registration fee and the testing fee, and then pass the test with 80% or higher score
Exam Format: Multiple-choice, time-limited
Certification Terms: The certificate is valid for three years from the issue date
As one of the available 20 certifications, the Long-Term Care certification is another popular one, which may be because the highest number of licensed vocational nurse jobs are in nursing homes. Becoming certified in this area may make you more marketable to those employers.
Requirements: Pay the registration fee and the testing fee and then pass the test with 80% or higher score
Exam Format: Multiple-choice, time-limited
Certification Terms: The certificate is valid for three years from the issue date
Professional Organizations
Joining a professional nursing organization can give you the opportunity to connect with others who are pursuing the same or similar career path. Being part of a nursing organization can also provide you with the opportunity to learn from experienced professionals. Here are a few organizations you can join: