As long as businesses continue to embrace computer networking and online technologies to improve their prospects, the need for skilled information technology leaders should continue to rise as well. This may create unique opportunities for those who understand computers from both a business and technical perspective, and can use this knowledge to further an organization's goals. For such individuals, earning an education in technology management can be a valuable asset in the field. However, attending college is often easier said than done, especially for people who have a commitment to a job or to their family. In such a circumstance, an online degree program may be able to help.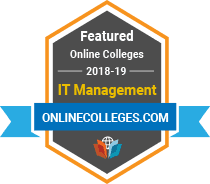 Featured Online Colleges for IT Management in 2018-19
To help students and technical professionals alike sharpen their technology and business expertise, we've created a list of five schools that offer online degree programs for IT management. This list was made possible by analyzing data from the National Center for Education Statistics' Integrated Postsecondary Education Data System (IPEDS) with our unique methodology, which weighs information such as acceptance rate, tuition costs and graduation rate to find the best colleges for online and nontraditional students. You can read more about our methodology at the bottom of this page. But first, let the spotlight focus on these five featured online colleges for IT management.
Distance Education Participation
100%
Number of Programs Offered
26
Aspen University's School of Business and Technology offers a fully online Master of Science degree in information technology that features, among others, specialized elective courses for IT project management. The program is designed for IT professionals who already hold a bachelor's degree in a technical field — such as engineering, computing or mathematics — or have two years of relevant work experience. Students who complete the program can add to their mastery of highly technical areas in information and technology operations while honing the management skills needed for senior-level IT positions at the same time. And many clearly do complete it: Aspen University awarded a higher percentage of IT management degrees in 2015 than any other school on this list!
Accreditation:
Distance Education Accrediting Commission
Project Management Institute
Location:
720. S. Colorado Blvd. Ste. 1150 N
Denver, Colo. 80246
2
Colorado Technical University-Online
Distance Education Participation
N/A
Number of Programs Offered
N/A
Colorado Technical University's Master of Science in information technology-project management degree is designed to help IT professionals sharpen their technical knowledge and business acumen. The program requires 48 credits to complete and includes 24 credits of study in core IT courses such as data management, computer security and networking/ telecommunications. The other 24 credits are spent in project management courses, such as project planning and execution, cost control and scheduling, and contracting/procurement. To conclude the program, students complete an IT technology capstone project.
Prospective students must have a relevant undergraduate degree or demonstrate a minimum of two years of experience in IT or a related field, but they have plenty of flexibility with when they earn these requirements — the program has three start dates each year, and Colorado Technical follows an open admissions policy, meaning that any applicant can be accepted to the school so long as they have earned a high school diploma or a GED certificate.
Accreditation:
Higher Learning Commission (HLC)
Project Management Institute
Location:
4435 N. Chestnut St. Ste. E
Colorado Springs, Colo. 80907
Distance Education Participation
100%
Number of Programs Offered
205
Capella University had a total enrollment of 38,802 students in fall of 2016 — perhaps due in part to the accessibility offered by its open admissions policy — and 47 percent of those students were pursuing master's degrees. One of those master's degrees being pursued was Capella's fully online Master of Science in information systems and technology management with a specialization in project management — a mouthful to say, but well worth the effort to earn.
The program requires 48 quarter credits to complete, though students can transfer up to 12 credits of approved study. Coursework includes study in foundational courses (IT, networking, database management,) core courses (IT technology management, technology enterprise, leadership) and specialized courses (project management), finishing with a capstone project. Students can either follow a guided curriculum plan or choose their own flexible curriculum plan.
Accreditation:
Higher Learning Commission (HLC)
Project Management Institute
Location:
225 S. 6
th
St. 9
th
Floor
Minneapolis, Minn. 55402-3389
4
Golden Gate University-San Francisco
Distance Education Participation
50%
Number of Programs Offered
52
Founded in 1901, Golden Gate University is a small, private, non-profit institution with locations in San Francisco, Los Angeles, Silicon Valley and Seattle. GGU's online Master of Science in information technology management degree program is structured to help students build the skills necessary to communicate effectively with business leaders about technology and information initiatives, and to then implement those initiatives afterwards. Students must have 30 credits of IT coursework at the undergraduate level to apply, and they must complete 33 credits in the graduate program to satisfy degree requirements — 24 credits in core IT courses and nine credits of electives. Golden Gate University also offers a nine-credit concentration in business analytics for IT management professionals who desire to apply data-driven analytics to strategic decision-making processes.
Accreditation:
Western Association of Schools & Colleges Senior College & University Commission (WASCSCUC)
Location:
536 Mission St.
San Francisco Calif. 94105-2968
Distance Education Participation
17%
Number of Programs Offered
13
LaSalle is a small Catholic liberal-arts university founded in 1863, and the final entry in our list of featured colleges for online IT management programs. The university's fully online Master of Science in information technology leadership strives to prepare IT professionals and undergraduate students for mid- to senior-level positions in IT management, using nine core courses in business management, technology competencies and technology management, as well as two elective courses and a capstone project. Courses are presented synchronously and last for eight weeks, leaving room to take two such courses per semester. Students must complete between 36 and 45 graduate credits total — the number depending upon each student's undergraduate coursework and professional experience — although this number can be further reduced by transferring up to six credit hours of comparable master's-level study into the program.
Accreditation:
Middle States Commission on Higher Education (MSCHE)
Location:
1900 W. Olney Ave.
Philadelphia, Penn. 19141-1199
Degree Overview: IT Management
IT management is a job that requires seeing the big picture and the little picture at the same time. At times, it can seem a little bit like being able to see into the technological future. Succeeding in this fast-paced field requires considerable education — the kind found in online programs for IT management. Here's an overview of the kinds of courses students can expect from these programs, as well as the skillsets they may acquire while taking them.
Online IT Management Courses
Typically, earning an IT management position requires a bachelor's degree and preexisting professional experience, so these programs are usually offered at the graduate level. However, online bachelor's degree programs in IT management do exist — usually as concentrations in a related major, such as business administration. Completing such a program does not guarantee you early access to an IT management position or anything of the sort, but it can prepare you for the rigors of an IT management master's degree program in a way students may find more relatable than a related degree, such as information technology or computer programming.
Students earning online master's degrees in IT management should expect to study not only information systems and computer-related topics, but also business subjects such as risk management, leadership, quality assurance and financial analysis. Much of the work of IT managers is technical project management — seeing a computer-related project from conception all the way through planning and implementation. This means that project management is a large part of the coursework students will encounter, across all degree levels.
Courses offered in an online IT management master's degree program may include:
Information systems
Project management essentials
Computer systems security
Business ethics
Enterprise systems architecture
Contracts and procurement
Analytics and data management
IT regulatory and legal environment
Additionally, many online graduate programs for IT management include capstone courses, which are courses that ask students to demonstrate learning throughout their program, as well as proctored exams. Some Master of Science programs may even include thesis projects supervised by faculty members, which require students to conduct significant research.
Career-Related Skills to Develop
Aside from the technical skills IT managers must have, there are a number of personal qualities they'll find important for doing this work. In general, IT managers should be confident and skilled with technology but also strong business leaders. Colleges offering online IT management degree programs are structured to emphasize skills such as:
Analytical skills: Part of establishing goals and coming up with ways to reach them is analyzing information about what's been done in the past. IT managers need to be able to collect and interpret data, then use their findings in order to make important decisions about future actions to take.
Business savvy: Ultimately, the work of IT managers is meant to help businesses find success. This means working with vendors and negotiating deals on equipment to keep costs down; devising plans to train teams; and communicating strategies to fellow workers. IT managers should be comfortable working in business settings and using financial, marketing, negotiating and project-management practices.
Leadership skills: An IT manager is a leader of a team. It's his or her job to communicate plans, delegate responsibilities based on people's strengths, motivate people to do their best work and offer corrections when necessary. Management skills are very important in this work.
Organizational skills: Being a project manager often means juggling a lot of tasks and staff members at one time. This requires a good eye for detail and organization, in order to ensure that all parts and projects are running smoothly.
IT Management Career Outlook
Information Technology Project Managers
Projected Job Openings
35,700
Projected Job Growth
10.2
Entry-level Education
Bachelor's degree
Those who pursue information technology project manager careers marry the principles of project management with an understanding of how different technologies work. As a result, these professionals are able to take the lead in information technology projects while keeping in mind both the business and technological realities of working on these projects. Specific duties include creating schedules and budgets and ensuring they are adhered to; keeping track of milestones; making assignments for different elements of a project and monitoring employees' progress; providing assistance with technology testing; and performing risk assessments. Those who want to pursue IT project management positions should have strong critical thinking, written and verbal communication, and negotiation skills. Workers may obtain employment with a bachelor's degree, but some organizations may require a graduate degree.
Computer and Information Systems Managers
Projected Job Openings
38,800
Projected Job Growth
11.3
Entry-level Education
Bachelor's degree
Computer and information systems managers lead the way when it comes to fulfilling employer's technology needs. These professionals look for ways to upgrade their company's computer networks with the goal of making their systems work faster or with more efficiency. When the time comes, they also research and suggest software updates to executives who make spending decisions for their company. Other responsibilities include ensuring that an organizations' data and networks are secure from breaches. These professionals may work for a variety of industries, such as computer systems, finance, insurance, management, and manufacturing companies.
According to the Bureau of Labor Statistics, many computer and information systems managers have a graduate degree. However, a bachelor's degree and related work experience may help workers qualify for entry-level work.