Whether you want to warn companies about their exposure to liabilities or help them take steps to minimize their vulnerability, the field of insurance and risk management can be an exciting, if "risky," adventure. With so much riding on the decisions made, it's not a career for the faint of heart, and neither is it one for the uneducated. Read on to learn more about our featured online colleges in insurance and risk management and the highlights of their degree programs.
Featured Online Colleges for Insurance & Risk Management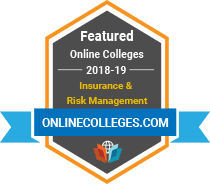 Featured here are four accredited U.S. colleges offering online degree programs for insurance and risk management, chosen based on data provided by the Integrated Postsecondary Education Data System (IPEDS). Additional details on our ranking methodology can be found at the bottom of this page. Without further ado: our featured online colleges for insurance and risk management.
1
Indiana State University
Distance Education Participation
39%
Number of Programs Offered
57
The first school on our list, Indiana State University, is a four-year public institution that was founded in 1865 at Terre Haute, IN. Total enrollment in fall of 2016 was 13,565 students… and 13 percent of undergraduate students and 41 percent of graduate students at Indiana State University were enrolled in distance-only education programs.
The university's online Bachelor of Science degree in insurance and risk management is one of only 36 such programs in the U.S., and one of only four that offers 11 or more undergraduate classes in the field of insurance and risk management. Coursework includes core study in business education, plus a concentration of nine classes focusing exclusively on insurance and risk management. The program — which was developed in conjunction with the Insurance Advisory Council — is available to first-time college students, as well as students considering transferring into ISU.
Accreditation:
Higher Learning Commission
Association to Advance Collegiate Schools of Business
Location:
210 N. 7
th
St. Terre Haute, IN
2
Southeast Technical Institute
Distance Education Participation
38%
Number of Programs Offered
11
Students seeking to enter the insurance field quickly may want to consider earning an associate degree in insurance and risk management at Southeast Technical Institute. STI offers an online Associate of Applied Science in financial services degree program that requires 68 total credits and two years of full-time study to complete. First-year coursework is designed to ground students in the principles of accounting and business law and business communications, as well as building technical competency in Microsoft Office. Second-year students are expected to take courses specific to the following aspects of the insurance industry:
Casualty, property and commercial insurance
Claims
Operations and regulations
Life and health insurance
All online faculty at Southeast Technical Institute have received special training in online teaching methods. Coursework for the financial services program is developed and reviewed annually by industry professionals and advisory committees to ensure STI delivers timely and pertinent education.
Accreditation:
Higher Learning Commission
Location:
2320 N. Career Ave.
Sioux Falls, S.D.
Distance Education Participation
87%
Number of Programs Offered
50
With an annual enrollment of nearly 10,000 students, this nonprofit college is the second-largest private university in the state of Ohio. Franklin University also has campus locations in Delaware, Pennsylvania, Indiana and Wisconsin, as well as its online college. The university offers interested students an online Bachelor of Science in insurance and risk management degree program, for which the curriculum includes:
28 credits of study in core business courses
24 credits of study in the program major
8 credits of study in major electives
Coursework in the program major and electives includes classes such as insurance company operations, global finance, fraud examination, principles of risk management and insurance, and a host of similar offerings.
The university is very amicable to transfer students — you can transfer up to 94 semester hours of previously earned college credit into the program at Franklin University. Almost 90 percent of all students at the university transfer credits from other institutions into on-campus or online degree programs.
Accreditation:
Higher Learning Commission
Location:
201 S. Grant Ave.
Columbus Ohio
4
University of Houston-Downtown Campus
Distance Education Participation
50%
Number of Programs Offered
16
Rounding out our list of featured online colleges for insurance and risk management is University of Houston-Downtown, one of four institutions in the University of Houston System. The downtown campus had an enrollment of 14,251 students in fall of 2016. That same year, about 15 percent of the university's undergraduate and graduate students were enrolled in distance-only programs.
The online Bachelor of Business Administration in insurance and risk management degree program at the University of Houston serves a dual purpose. As students earn credits toward their degree, they also complete coursework structured to prepare them to take examinations for the following widely recognized professional designations:
Chartered Property and Casualty Underwriter
Certified Risk Manager
Chartered Financial Consultant
Chartered Life Underwriter
All coursework for the program is offered online, but students who reside in the Houston area also have the option of engaging in high-impact learning experiences — such as industry meetings, group projects and oral presentations — to help them hone the interpersonal skills necessary to thrive in the field of insurance and risk management. Houston-area students can also undertake paid internships with leading Houston businesses.
Accreditation:
Southern Association of Colleges and Schools Commission on Colleges
Location:
1 Main St.
Houston, Texas
Degree Overview: Insurance and Risk Management
Insurance is a complex subject, intersecting the worlds of business, law and finance. Online degree programs can provide students with comprehensive knowledge of the insurance industry -- from the quantitative (mathematics and financial know-how) to the qualitative (how to analyze data and apply it to small businesses, large enterprises and global entities). In this section, let us provide a small glimpse into the coursework that might make up these programs and the skills such coursework is intended to provide.
Online Insurance & Risk Management Courses
Online programs in insurance and risk management are most commonly found at the bachelor's degree level, but there are other pathways as well. What the programs have in common is the goal of preparing students with the financial, analytical, and business skills required to analyze various insurance products, understand the underwriting process and use risk management principles to help businesses limit their losses.
Bachelor's degrees: These four-year programs tend to focus on a broad range of business and finance principles, as well as the different types of insurance. For those who plan to pursue insurance certifications like Chartered Life Underwriter (CLU) and Certified Risk Manager (CRM), a bachelor's degree in insurance and risk management should provide sufficient knowledge to pass the certification exam while fulfilling the educational requirements in the bargain. Common topics covered in such a program include:

Ecommerce
Commercial property risk management
Life and health insurance
Employee benefits
Underwriting

Certificate programs: Some students opt to pursue a risk management and insurance (RMI) certificate program, a program designed for those already working in the industry who wish to develop a deeper knowledge of the field. Many applicants already have bachelor's degrees in other areas. Courses for these programs might range from Health, Life, and Disability Insurance to Managing Risk with Property and Liability Insurance, to name a few.
Master's degree: If you're someone who already has industry certifications, but wants to study more advanced topics or expand their business acumen, an online master's degree program in insurance and risk management may be just what you need. In addition to advanced insurance courses, you'll likely take coursework in accounting, finance, operations and leadership, aimed at preparing you for managerial roles.
Ph.D. programs: While you don't necessarily need to pursue doctoral level studies to succeed in an insurance career, if you wish to do academic research and/or teach at the university level, a Ph.D. program in insurance and risk management is the track for you. Students are immersed in highly technical mathematical economics courses and seminars, and in just about all circumstances complete the program with a dissertation.
Career-Related Skills to Develop
Quality degree and certificate programs in insurance and risk management should teach more than just financial terminology and industry overviews. From a truly worthwhile degree program, students will also learn a variety of skills that can be applied on the job. Some of these include:
Problem-solving skills: Being able to crunch the numbers for calculations is obviously important, but all the mathematical skills in the world aren't much help for a person who can't figure out how to apply mathematics to the problems they are presented with. An insurance professional needs to be able to look at data, identify what exactly they are looking for and then develop a plan of action to reach the solution they need.
Analytical skills and a strong attention to detail: Whether creating a proposal for a client or assessing an insurance claim, being able to analyze the scenario and put it into the appropriate context is key. Tiny details about policies, circumstances or laws can turn what appeared to be a cut-and-dry scenario on its head; noticing and applying these tiny details is central to the insurance professional's duties.
Client relations: You can be highly skilled in finance, but without clients willing to put their livelihoods into your hands, your career will struggle. Professionals need to be both trustworthy and capable; nobody is going to be comfortable entrusting their future to somebody who appears dishonest or unreliable. Cultivating a good relationship with one's clients is one of the most important aspects of many careers, and insurance is no exception.
Strong communication and presentation skills: Insurance professionals should be able to present their recommendations or break down their findings in various ways, both to people who might not be as well versed in the topic as well as those who might be much more experienced in the field. An excellent way to work on this skill is to volunteer to tutor other students at your school; explaining concepts to less-experienced students is great practice for communicating these same concepts as a professional in the future.
Insurance and Risk Management Career Outlook
Insurance and risk managing professionals play a vital role in helping individuals and businesses navigate the murky future of the business world. Their skills are already in high demand, and the BLS predicts that financial careers such as theirs are only going to become more necessary in years to come. Students who earn degrees in insurance and risk management often find work in one of the following careers:
Projected Job Openings
2,200
Projected Job Growth
20.1
Entry-level Education
Bachelor's degree
People who work in actuarial careers are data gurus. They spend their days analyzing statistical data for financial cost regarding uncertainty and risk. They provide data-driven estimates and probabilities regarding the economic cost of certain events, such as death, accident or disaster. Actuaries also create and implement insurance policies, pension plans and related business services to help mitigate risk and increase revenue. If you want to work as an actuary, be prepared to spend a lot of time behind a computer creating reports with charts, tables and graphs that explain the results of your intensive data scouring. You should also be quick on your feet; you'll be defending the results of your findings in meetings with company executives, corporate shareholders, government officials and other interested stakeholders. Actuaries must have at least a bachelor's degree, and they must pass a series of exams to become certified as well.
Projected Job Openings
8,400
Projected Job Growth
-4.9
Entry-level Education
Bachelor's degree
Insurance underwriters review applications for insurance policies to gauge risk and evaluate the acceptability of applicants. Using standardized criteria and underwriting software, these professionals carefully examine applications and make the tough decision as to whether a new client is too risky to insure. They often contact other professionals in the insurance field or in a field related to the type of insurance being applied for (i.e. medical professionals for health insurance, or automotive professionals for auto insurance) before making the determination on whether or not to offer coverage, as well as to establish the premiums that applicants must pay for insurance. According to the BLS, most companies prefer candidates that have earned a bachelor's degree. Underwriters with three years of experience can earn the Chartered Property and Casualty Underwriter (CPCU) designation. There are other designations available in the field as well.
Projected Job Openings
1,600
Entry-level Education
Postsecondary nondegree award
Also known as an "insurance inspector," insurance appraisers investigate and evaluate insurance claims depending on the type of company for which they work. Some work as auto damage appraisers, inspecting vehicles that have been involved in accidents. Others inspect businesses and other real property that's been damaged to estimate cost of repair or replacement. Students who want to work in insurance appraiser careers are not required to have completed postsecondary education, but according to the BLS, companies prefer job candidates who hold formal training relevant to their fields. Licensure to work as an appraiser varies from state to state, the BLS adds.
Projected Job Openings
25,800
Projected Job Growth
-4.2
Entry-level Education
High school diploma or equivalent
After an appraiser has established what happened in an accident, a claim becomes the responsibility of a claims adjuster. These professionals interview claimants and witnesses, review police reports, and oftentimes consult with business professionals such as accountants, engineers or lawyers to confirm an appraiser's findings and resolve any payments, repairs or complaints. The bulk of the day for people working in claims adjuster careers is spent gathering information and conducting detailed research. With particularly troublesome claims, adjusters might seek legal counsel or contact claimant's medical professionals to gather additional data. People in entry-level claims adjuster careers can sometimes get started in the career with nothing more than a high school education; however, employees often prefer to hire adjusters who have earned bachelor's degrees.
Personal Financial Advisors
Projected Job Openings
23,200
Entry-level Education
Bachelor's degree
Personal financial advisors help people set up investment portfolios, as well as college, estate and retirement savings plans. They provide insight and guidance to help clients better manage their personal finances. Personal financial advisor careers can be remarkably rewarding; work centers around helping people realize both short- and long-term goals. The help of a financial advisor may be the key that sends a young student to college, or allows a family to purchase a new home, or enables a hard-working senior citizen to finally retire. Most personal financial advisor careers involve specialization in a certain area, such as retirement or financial risk management. There are a range of certifications required at the state and federal levels to buy or sell different financial products — such as stocks, bonds or annuities — or to sell insurance; specializing helps financial advisors to narrow down which kinds of certifications they want or need to earn. Most professionals in this field need at least a bachelor's degree, but employers often prefer to hire advisors who hold master's degrees and already have their certifications earned.
Methodology
Methodology
To be included in these rankings, all colleges had to meet the following criteria for the specific subject being ranked:
Offer an undergraduate degree (either associate or bachelor's) in that subject online
Have awarded at least one degree or certificate in that subject in 2015-16
Once we had our list of schools for each subject, we ranked them on six criteria, using the weights specified:
In-state tuition, National Center for Education Statistics, 2015-16
Graduation rate, National Center for Education Statistics, 2015-16
Accessibility, based on the admissions rate, National Center for Education Statistics, 2015-16
Program prominence, based on how many of the degrees and certificates awarded by the school in 2015-16 were in this particular subject, National Center for Education Statistics, 2015-16
Related subjects, based on the number of similar programs that the school offers at any level, National Center for Education Statistics, 2015-16
Variety of degree levels, based on the number of degree and certificate levels out of a possible nine that the school offers in this particular subject, National Center for Education Statistics, 2015-16
X