The popularity of the Food Network and of numerous cooking channels on YouTube attest to the fact that culinary professionals can develop exciting careers. However, in order to become a culinary professional, it is important to understand not just food, but the cooking process itself. Learning the ways flavors influence one another, the difference oven temperature makes to a dish, and how to salvage a meal that has gone disastrously wrong are all crucial in cooking, and they are also all aspects that can be learned through an online education in the culinary arts.
If you were looking for a more scientific approach to food, you can hop over to our Nutrition page and see if it is more aligned to your interests.
Featured Online Colleges for Culinary Arts in 2018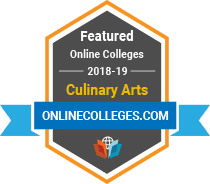 It is rare to find a school that offers online degree programs in culinary arts. However, the two institutes featured here do in fact offer such programs, ranging from one-year certificates to bachelor's degrees. Students can use this list to find details about these accredited online colleges, where they can begin or advance their career options in the food service industry. We hope you enjoy perusing the highlights of our list of featured online colleges for culinary arts.
If you were looking for a more scientific approach to food, you can hop over to our Nutrition page and see if it is more aligned to your interests.
1
The Art Institute of Pittsburgh-Online Division
Distance Education Participation
100%
Number of Programs Offered
22
This online college features three online culinary programs:
Bachelor of Science in Hotel and restaurant management
Certificate in event management
Certificate in food and beverage operations
The B.S. program requires 180 quarter credit hours to complete, while both certificate programs require 39 quarter credit hours.Areas of study cover a wide range of topics, such as culinary techniques, hospitality marketing, foodservice technology, world cuisines, nutrition, and purchasing and controlling costs.
All students enrolled at the Art Institute of Pittsburgh's online division are able to receive support from a three-person online graduation team that is available to help students from enrollment day to graduation. Students are also eligible to receive guidance from academic and finance counselors.
Accreditation:
Middle State Commission on Higher Education; Accrediting Commission of the American Culinary
Location:
1400 Penn Ave. Pittsburgh, Penn. 15222
Federation Education Foundation
2
New England Culinary Institute
Distance Education Participation
27%
Number of Programs Offered
3
This prestigious culinary institute in Vermont offers nine educational programs in culinary arts, including six completely online culinary arts degree programs:
Associate of Occupational Studies in food and beverage management
Associate of Occupational Studies in culinary arts
Associate of Occupational Studies in baking and pastry arts
Bachelor of Arts in food and beverage business management
Bachelor of Arts in culinary arts
Bachelor of Arts in baking and pastry arts
The associate-level programs require 16 months and 60 credits to complete, while the bachelor's degree programs require 36 months and 120 credits to finish. Students interested in enrolling in the bachelor's degree programs must have completed at least 60 college credits at an approved postsecondary institution.
Accreditation:
Accrediting Commission of Career Schools and Colleges
Location:
56 College St. Montpelier, Vt. 05602
Degree Overview: Culinary Arts
A career in the culinary arts field requires talent, but also knowledge of the kitchen. After all, it can be tough to whip up an excellent dish without some understanding of how to put it all together: what spices will lend the best flavor? What degree of heat produces the perfect sear? What cooking method will preserve the dish's best texture? The "banquet" of courses that make up various online programs for culinary arts can help students to develop necessary skills for success in their careers.
Online Culinary Arts Courses
Many educational programs in the culinary arts are based at the undergraduate level. Students can usually find diplomas, certificates, associate degrees and bachelor's degree programs with ease. Four-year programs are the most likely to be available online, often as part of a completion program. The following are examples of courses that are commonly included across these many different culinary arts programs.
Culinary Fundamentals: Various culinary theories and techniques will likely be explored, and students could become engaged in tasting, soup preparation, timing, development of knife skills and more. Students also may learn about protein, starches and vegetable preparation.
Nutrition: This is a particularly important component of a culinary arts education, helping students to develop knowledge about nutritional principles, food labeling and nutritional analysis of recipes. Students may be challenged with assignments such as creating a meal or menu based on nutritional concepts in a course like this.
Culinary math: Believe it or not, there is plenty of math that has to be done in the kitchen. Students would be well served to take this class, where the curriculum may cover units of measurement and conversions, as well as recipe scaling, yield tests and ratios. Analyzing costs and developing projections could also be part of a culinary math class.
Food Service and Hospitality Strategic Marketing: A class like this is more likely to be part of a two- or four-year program, such as online bachelors degree programs in culinary arts, rather than a certificate program. Typically, it introduces concepts such as budgeting, marketing research and marketing plans. Students may be asked to do case studies and to explore current issues in culinary and restaurant marketing.
Career-Related Skills to Develop
Online programs for culinary arts can help students to develop skills important to a career, even if you'll likely be practicing these skills in your home kitchen rather than a school classroom! Examples of relevant skill sets are listed below.
Taste and smell: It goes without saying that taste and smell are important in the kitchen. Food must not only be flavored well, but emit an aroma that makes a dish desirable to eat. It is very possible to become an outstanding chef without these senses, but taste and smell provide important evidence for the progress and quality of a dish that most chefs make great use of. People may already possess these skills, but they may be able to develop them further in a culinary arts program as they learn more about different styles and sciences of cooking.
Dexterity: No one wants to be sampling their chef's fingertip in their soup! Being able to handle the repetitive motions of cooking, both simple and complex, with dexterity and care is vital. Natural dexterity is a blessing, but maneuvers such as chopping, whisking and blending can all be developed through culinary arts programs with practice and patience.
Time management: It can only take a matter of seconds for a dish to become overcooked or even to catch fire, and when you're trying to handle multiple meal courses at the same time, it's very easy to lose track of those crucial seconds by mistake. Culinary arts experts must be able to plan out how much time they will need to prepare their ingredients, put them together and bring them all out as one comprehensive meal for their consumers.
Social awareness: Anyone who's worked with food before probably knows it does not take much for the pressure to rise in the kitchen, particularly with so many people working at so many different tasks: manning the grill, putting together salads, handling side dishes, washing the silverware. Social awareness of the personalities and people at work in the kitchen — and out front — can help things to stay calm instead of becoming piping hot.
Culinary Arts Career Outlook
Once a chef's education is complete, it is time to get into the kitchen, but exactly what kitchen that is and who they work for is where the excitement begins. The possibilities are diverse when talent, drive and ambition are at hand. In this section, two related but different careers in the culinary arts field are described.
Projected Job Openings
20,700
Projected Job Growth
11.1
Entry-level Education
High school diploma or equivalent
Executive chefs are involved in more than solely one thing in the kitchen. Think of them as the big boss in 'la cuisine.' They are the people planning the menu and deciding on seasonal selections as well as testing new recipes for addition. Their palate must be exquisite and their knowledge of cuisine extensive. They may decide on the hiring in their kitchen and inspect areas for cleanliness. They know what's needed as far as sanitation and safety and ensure that food and supplies are ordered as needed. Many of the skills required for executive chef careers can be learned through an education, an apprenticeship, experience in the kitchen and time on the job.
Projected Job Openings
5,700
Entry-level Education
Postsecondary nondegree award
Personal chefs use their passion to create meals for families, teams or individuals, often traveling to a home or other site to prepare and cook. Some personal chefs may live-in at homes, while others may stop by in the afternoon or several times a week. Organization is important because personal chefs typically plan out meals and menus in advance, even more so if they have extensive clientele. They grocery shop, utilize a budget and then prep at a home. Depending on the arrangement, they may prepare meals fresh or leave instructions for re-heating. The life of a personal chef is busy, but personal chef careers provide the opportunity to work in more than just one kitchen, and to tailor one's menus and options around the same repeat customers rather than generalizing one's recipe selections to reach a broad audience.
Methodology
To be included in these rankings, all colleges had to meet the following criteria for the specific subject being ranked:
Offer at least one degree or certificate in that subject online
Have awarded at least one degree or certificate in that subject in 2015-16
Once we had our list of schools for each subject, we ranked them on six criteria:
In-state tuition, National Center for Education Statistics, 2015-16
Graduation rate, National Center for Education Statistics, 2015-16
Accessibility, based on the admissions rate, National Center for Education Statistics, 2015-16
Program prominence, based on how many of the degrees and certificates awarded by the school in 2015-16 were in this particular subject, National Center for Education Statistics, 2015-16
Related subjects, based on the number of similar programs that the school offers at any level, National Center for Education Statistics, 2015-16
Variety of degree levels, based on the number of degree and certificate levels out of a possible nine that the school offers in this particular subject, National Center for Education Statistics, 2015-16
Methodology Sources
Integrated Postsecondary Education Data System (IPEDS) 2017-18, National Center for Education Statistics, http://nces.ed.gov/ipeds/
X