It's no secret that a college degree can help you take your career to another level. All across the U.S., colleges and universities are working to help students who hold some college credit return to school and complete their degrees.
In Hawaii, for example, the state university system is developing programs designed to re-engage students whose academic journey was cut short. The initiatives include state-funded scholarships, flexible class schedules, debt forgiveness programs and more.
Transferring your old credits into a renewed college effort makes good sense financially, too. Professionals who hold bachelor's degrees earn around 60 percent more than those with just a high school diploma, according to the U.S. Bureau of Labor Statistics. On this page, we'll cover how to transfer college credits to or from an online college, what kinds of classes usually transfer easily, and some important terms that every transfer student should know.
No high school
diploma
High school
diploma
Some college, no
degree
Associate
degree
Bachelor's
degree
Master's
degree
Is Transferring Credits Worth the Effort?
In a word: yes. Course enrollment fees and other per-class expenses can really pile up, and choosing not to transfer completed credits is like throwing money out the window. While it may not feel like it at the time, engaging with the credit transfer process can save you time, money and hassle in the long run.
Demystifying the Credit Transfer Process
To the inexperienced, the transfer process might seem arbitrary and overcomplicated. Let's break it down to a few of the most important points:
Typically, only credits from accredited schools will be accepted for transfer. Most public colleges and universities in the U.S. are accredited, but it's a good idea to check.
Some states work with their colleges to develop articulation agreements that earmark certain courses as automatically transferable.
First- and second- year courses that are part of either your major or the general education core tend to transfer smoothly, especially if you earned a grade of C or better.
You'll usually need to include a sealed transcript from your former school with your transfer paperwork. Your admissions office may have a transfer specialist on hand who can help you with the process, as well.
Why Do Students Transfer?
They move from one city or state to another
They finish their community college program and are ready to enroll in a four-year school
They stopped short of finishing a degree program at some point in the past and are ready to go back and finish their degree
They are exiting the military and want to earn a degree before hitting the civilian workforce
Is it right time for your transfer? Here's a quick quiz to help you decide
Have you just finished an associate degree at a community or junior college?
Are you ready to continue your education after spending some time away from school?
Do you want to train for a new career after completing a stretch of military service?
Will you have to move to a new city before finishing your current degree program?
Transfer Terms to Know
Transcript. Your transcript is the full record of your academic history, which includes all the classes you've taken and the grades you've earned. You'll usually need sealed official transcripts from past schools for your current institution to accept campus-based or online college courses for transfer credit.
Degree audit. A degree audit is a comparison of your existing academic record with the coursework requirements for a given degree program at your destination school. Not every institution offers this service, but it can go a long way toward helping you understand the credit transfer system.
Residency requirements. Most colleges and universities in the U.S. charge different tuition rates depending on where a student has established official residency. Public institutions typically require that you maintain a permanent address in the state for at least one year, but you should definitely check with your admissions rep for specifics.
Transfer agreements. Also known as articulation agreements, transfer agreements are deals made between schools that allow certain courses to transfer from one to another with a minimum of trouble. These agreements can involve just a handful of schools or encompass every public community college and university in a given state.
Can You Transfer from an On-Campus Program to an Online Program?
Provided you're headed to one of the online colleges that accept transfer credits, your campus-based credits should have the same value that they would at a brick- and-mortar school. Credits earned in the two different types of schools are largely the same, with one important exception.
As you may already know, accreditation is important for transferring college credits. Some multi-state online schools hold national instead of regional accreditation, and credits from regionally accredited schools tend to be more widely accepted for transfer. If you're looking into the best online schools for transferring credits, don't forget to check their accreditation status. Our page on college accreditation may be able to help you better understand what to look for and where to find it.
Types of Transfer Credit
Previously earned college credit is usually the simplest type of credit to transfer. It consists of past courses you've completed at other four- year colleges and universities, of which many are very similar to one another in terms of subject matter and academic rigor at a given course level.
Community college credit tends to also transfer fairly well, particularly if you're transferring credits within the same state or regional college system. Many U.S. systems of higher education create linkages between their two-year and four-year schools, in order to encourage degree completion for community college students.
Dual enrollment credit is typically earned by students who take a few college-level courses while they're still juniors or seniors in high school. Some states focus heavily on dual enrollment as an incentive to college achievement, so don't hesitate to include your dual-enrollment credits in a transfer attempt.
Advanced placement (AP) credit can be earned by students who score high enough on the AP tests administered near the end of their time in high school. To see if you qualify for AP transfer credit, arrange for the College Board to send your official scores to your destination school.
Testing & portfolio credit (CLEP, PLA, SAT, ACT) is, in a nutshell, course credit awarded for passing an appropriate test. Those who score high enough on the English portion of the ACT may be able to skip freshman composition courses, for example. CLEP tests can often be taken while enrolled.
Professional training credit, also known as job training credit or credit for life experience, is awarded for demonstrating that you already know facts or concepts that make up an introductory course in your discipline. Nursing administration students who have already worked as nurse administrators, for example, probably know the basics of nursing administration already. This can help students avoid redundant classes.
Military training credit can be especially helpful for servicemembers and veterans seeking civilian degrees in disciplines they studied during training. As an example, discharged members of the the Army Corps of Engineers are likely to have learned enough to earn a few courses worth of credit in a collegiate engineering program.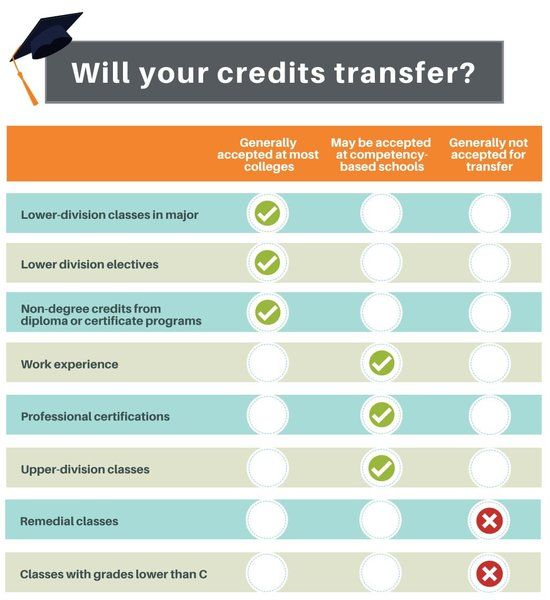 5 Steps for Transferring to an Online College Program
1. Choose a college
Choosing the right college can be tough, but it's an important first step in the process of finishing your degree. Here's a quick list of questions to help you narrow it down:
Is the school regionally accredited?
Are the tuition and fees within your comfort zone?
Is your target degree program available there?
Do you meet the residency requirements for in-state tuition?
Do they participate in any transfer agreements that might benefit you?
Are there any special financial aid programs for transfer students?
If you're still looking for ideas on where might be best to go, take a look at our list of the best online colleges for transferring credits.
2. Meet with your current advisor
If you're currently in school, your advisor should be able to help you sort out what it takes to transfer your credits smoothly. Here's a quick list of the sort of questions you can ask:
How many credits will I need before I can transfer?
Which electives should I take if I want to transfer as many credits as possible?
What transfer agreements are in place with other schools in the region?
Are there any grants or scholarships set aside for transfer students?
Remember, your advisor is there to help you work through the administrative challenges of college life. If something they tell you isn't clear, don't hesitate to ask for clarification.
3. Talk to advisors at your new school about which credits may transfer
Your current advisor isn't the only person with a vested interest in you transferring successfully. The advising department at your destination school may also have information that can help your transfer process go as smoothly as possible.
Here are some sample questions you can ask advisors at your upcoming school:
What documents do I need to provide in the transfer process?
How can I check to see which of my courses are likely to transfer?
Are there any special policies for online college transfer credits?
Do you offer any financial aid incentives for incoming transfer students?
How can I meet other transfer students on campus?
It's also a good idea to visit campus for a transfer advising session, if you have the chance. Being there in person may present you with resources you didn't expect.
4. Collect the documents your school needs
The exact materials needed to transfer can vary depending on the specific policies at the schools involved in your transfer. However, here's a list of some of the documents that may be called for:
Completed transfer application
Official transcripts from any school you've attended
Official score reports for placement tests or other exams
Documentation of prerequisite course completion (if required)
Application essays
Letters of recommendation
Proof of residency
Your conversations with your advisors should give you a pretty good idea of which documents you'll need to put together before your transfer. Most schools make a list of their necessary documents plainly available, either in hard copy or on the Web.
5. Apply
Pulling the trigger on your application is the last step of the process. If you've done all the other steps thoroughly and correctly, though, this part should be as simple as putting the right information in the right places and sending the application to your new school's admissions department.
The most important thing left to note is the series of deadlines in force at your destination school. There's usually an application deadline by which you need to submit your paperwork, a financial aid deadline that serves as the cutoff for grant, loan and scholarship applications, and -- once you're accepted -- an enrollment deadline by which you'll need to have your class schedule in order.
State Programs That Can Help Transfer Students
Most of the information we've been covering so far has dealt with transferring on a generalized scale, but active transfer initiatives in your state or region can provide you with special advantages. Here are five examples of programs available to help transfer students in states both large and small.
Transfer students in New York can take advantage of the fact that the state's university system (SUNY) is administrated with continuity in mind. Associate of Arts (A.A.) degree graduates who transfer from SUNY colleges are guaranteed admission with junior status at SUNY universities, and transfer paths exist to optimize credit acceptance.
Students in the state of Ohio can streamline their college transfer with the Ohio Transfer to Degree Guarantee (T2DG). General education courses at Ohio's public colleges are largely standardized, meaning each public institution's core can transfer easily to each other, and guaranteed transfer-to-degree pathways can further simplify the process.
The Colorado Department of Higher Education provides a catalog of Guaranteed Transfer (GT) courses that will always transfer and that apply to requirements for Associate of Arts, Associate of Science (A.S.) and most bachelor's degrees at public colleges and universities. Nearly 50 pre-set transfer degrees are available as well.
If you're hoping to transfer in Pennsylvania, the state's Transfer and Articulation Center (PA TRAC) offers an array of helpful features. It provides searchable databases of transfer degrees and course equivalencies, explains statewide transfer policies in plain language and lists step-by-step instructions for transfer students in the state.
Higher education in Florida is designed around the 2+2 system -- an approach by which students first earn an associate degree and then transfer their credits to a four-year program. Students who complete their A.A. at a public institution are guaranteed the opportunity to seek a bachelor's at a state university.
Find More Help Transferring
If it's time for you to plan your transfer, you need information that's relevant and specific. Traditional search engines can be a big help -- try putting the name of your school or state before the words "college transfer" in a Web search. You might be surprised how much info comes up.
Also, check out our state index page for more geographically focused information, or look for inspiration in our ranking of the best online colleges for transfer students.